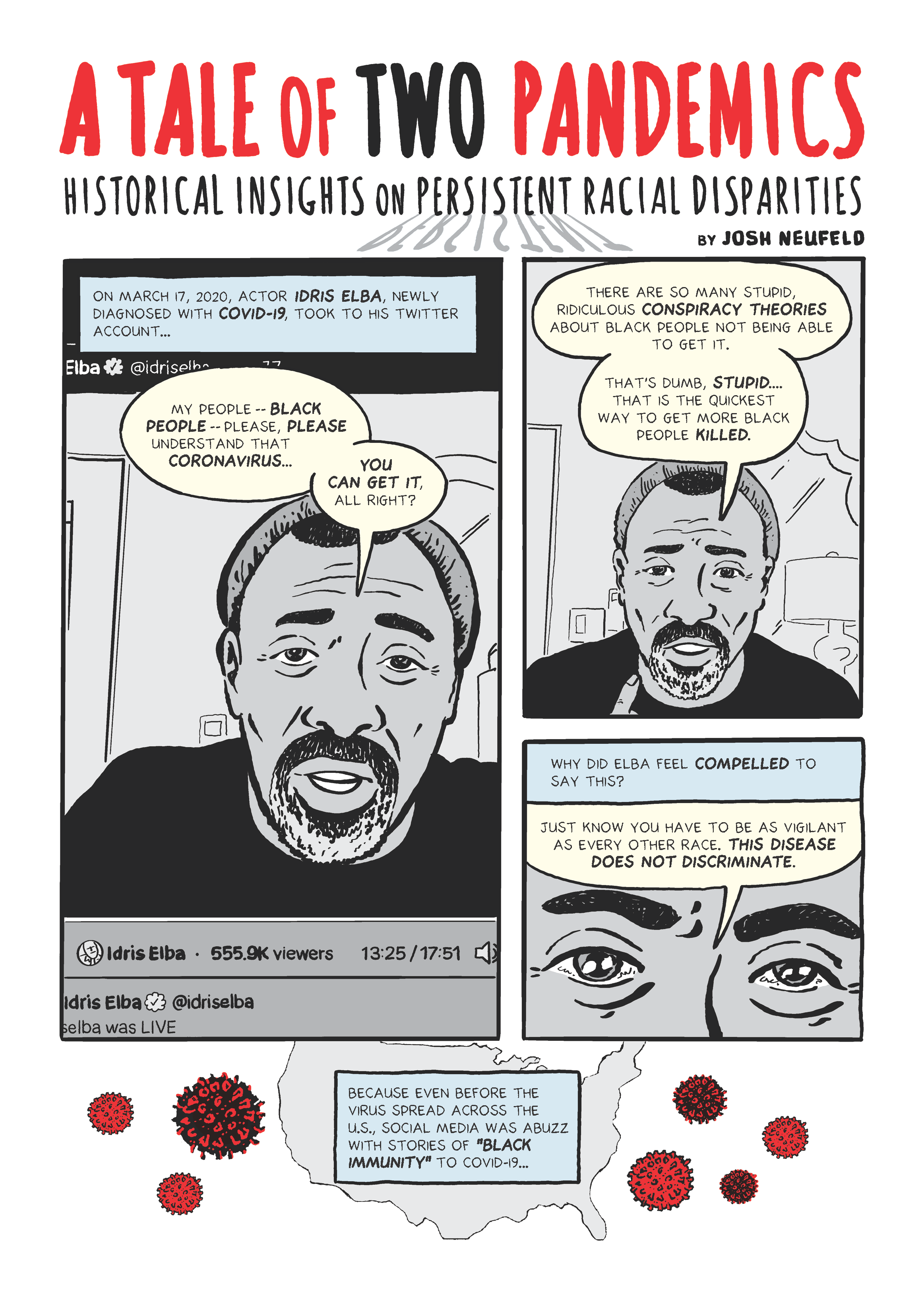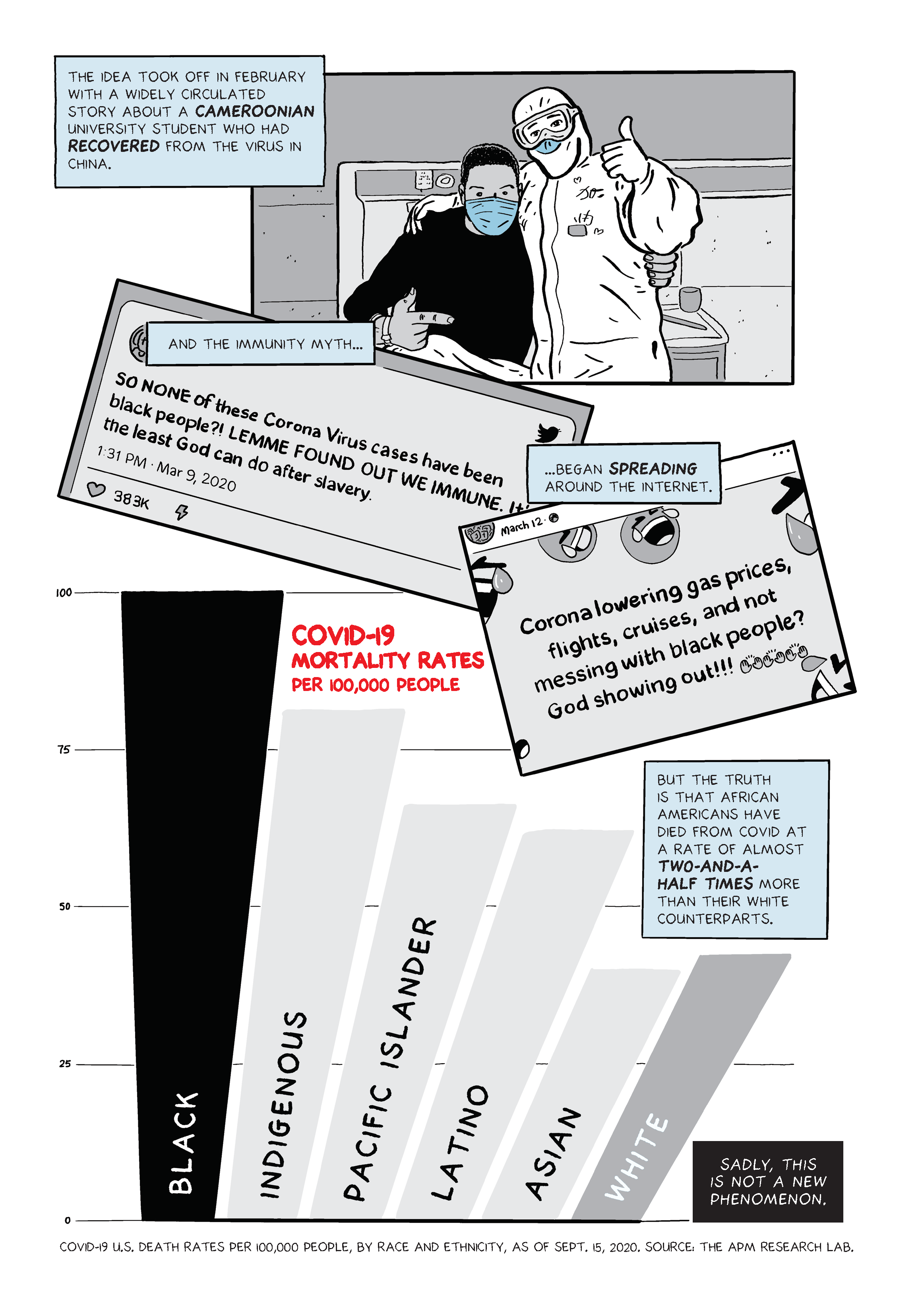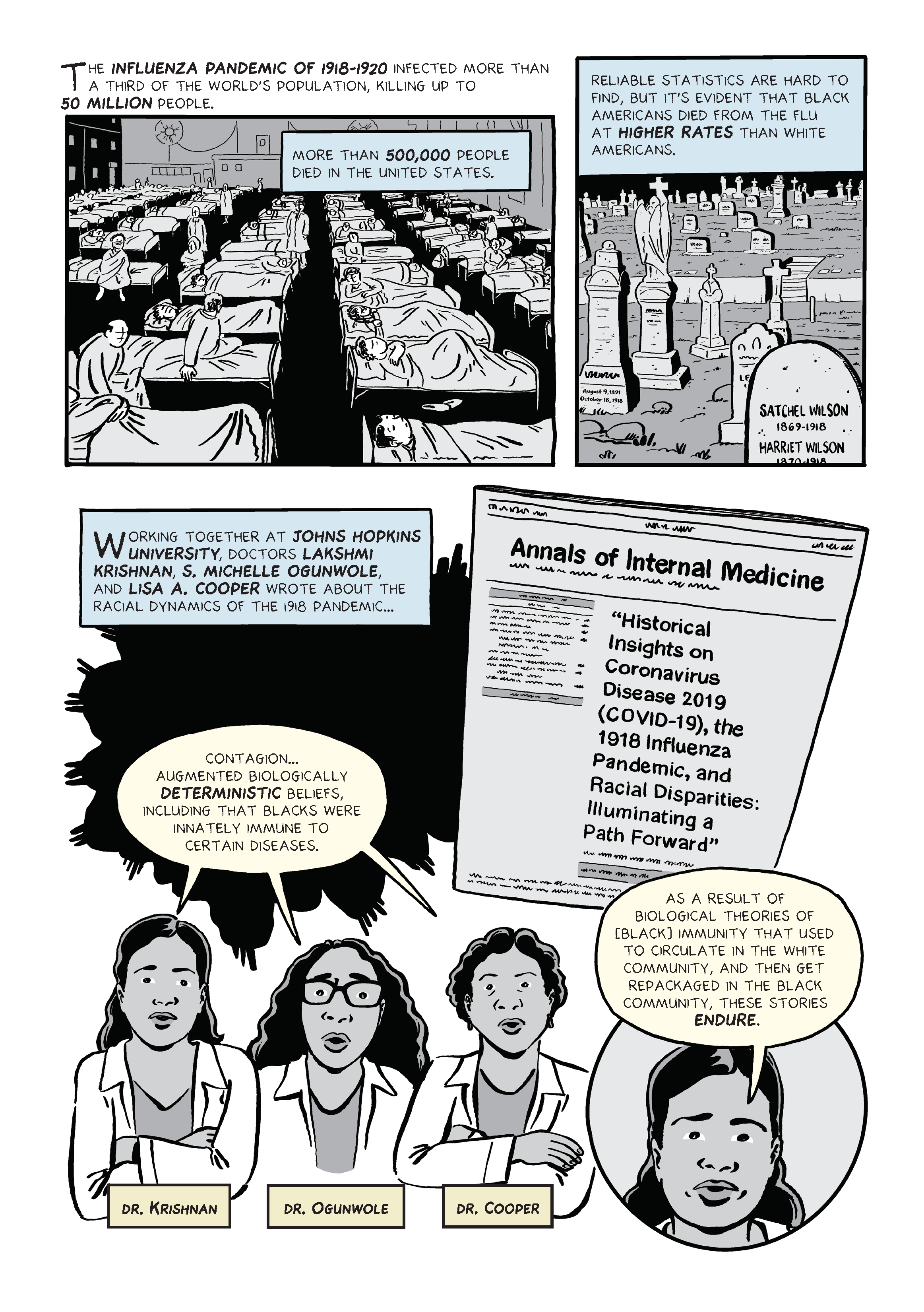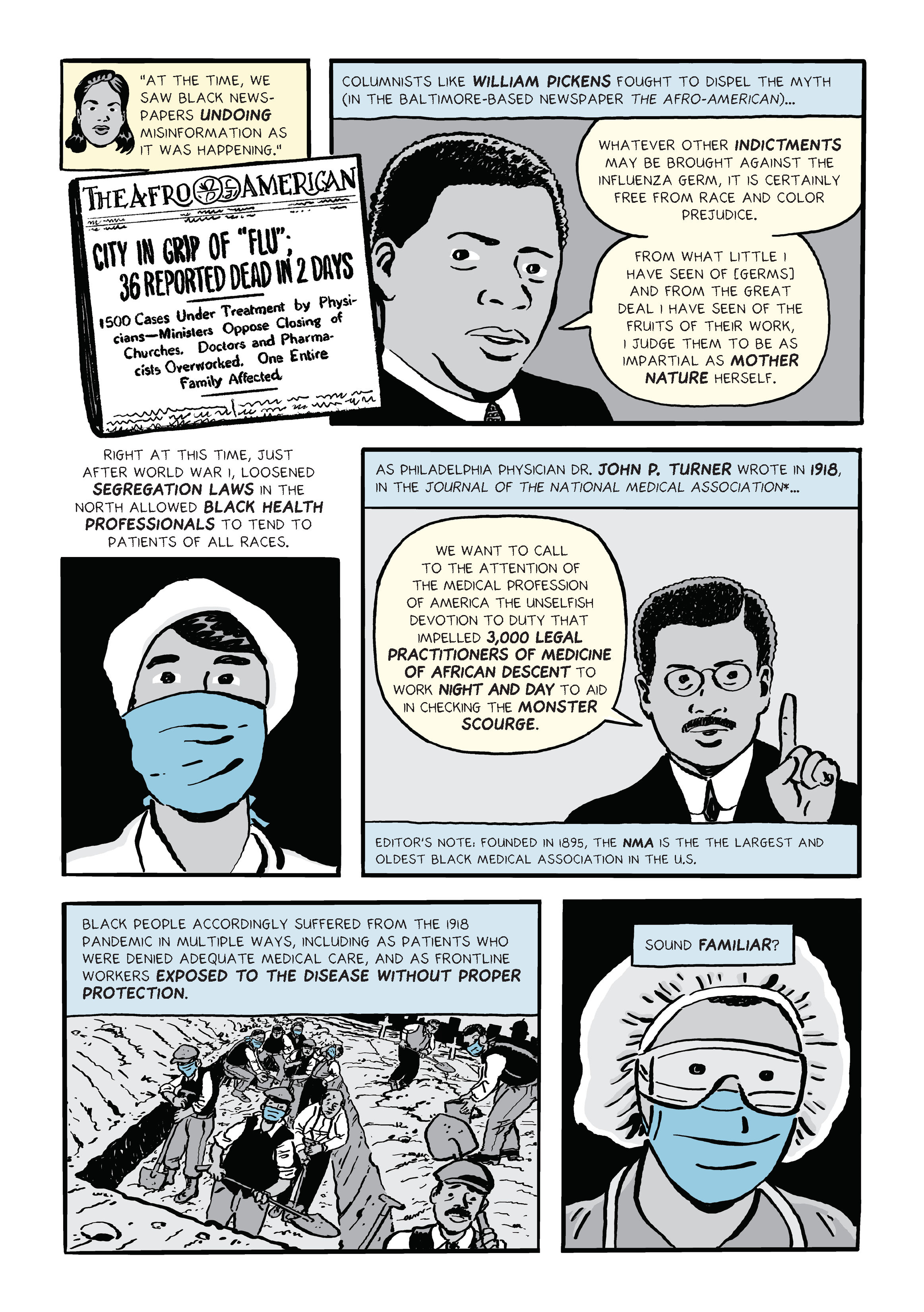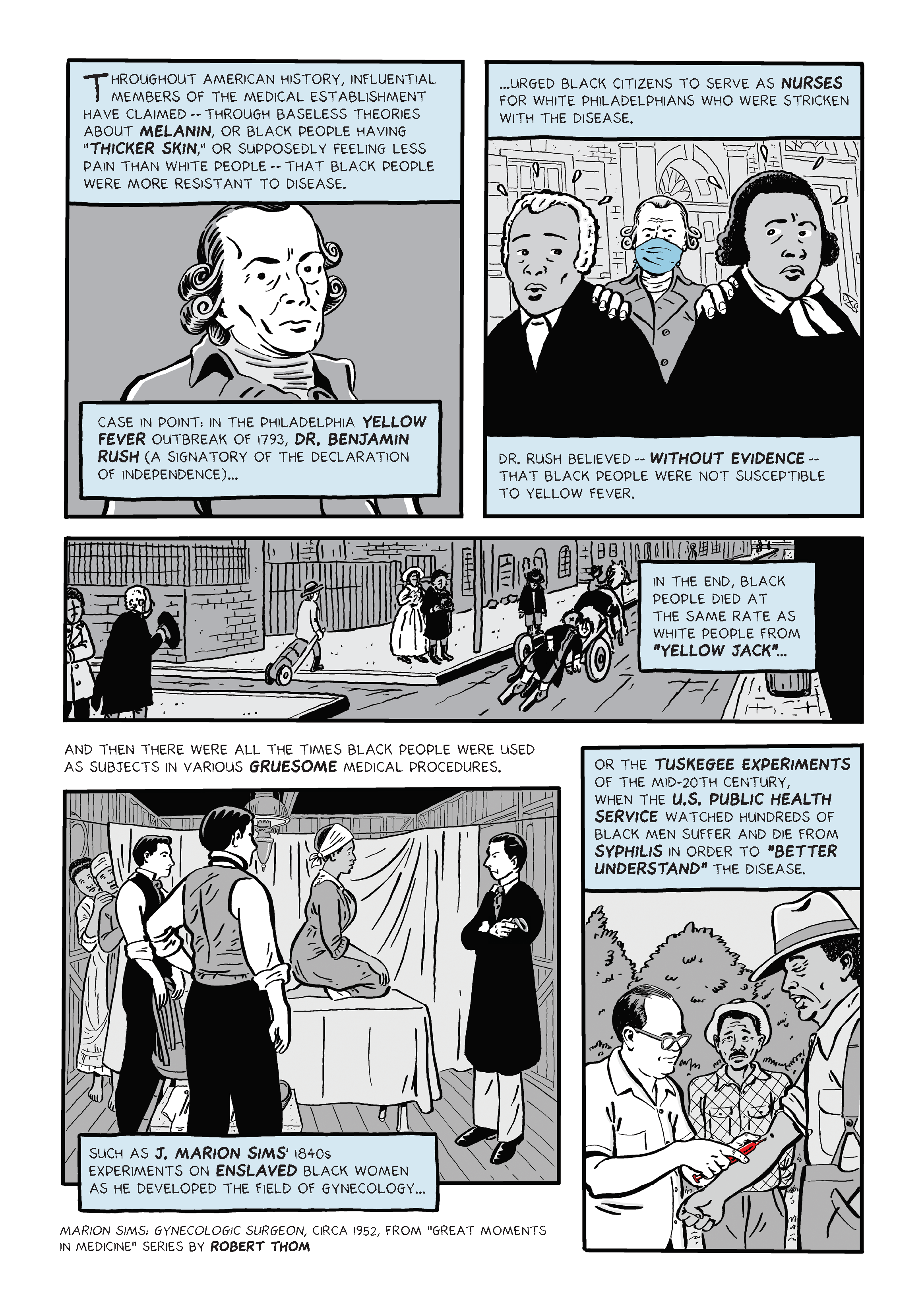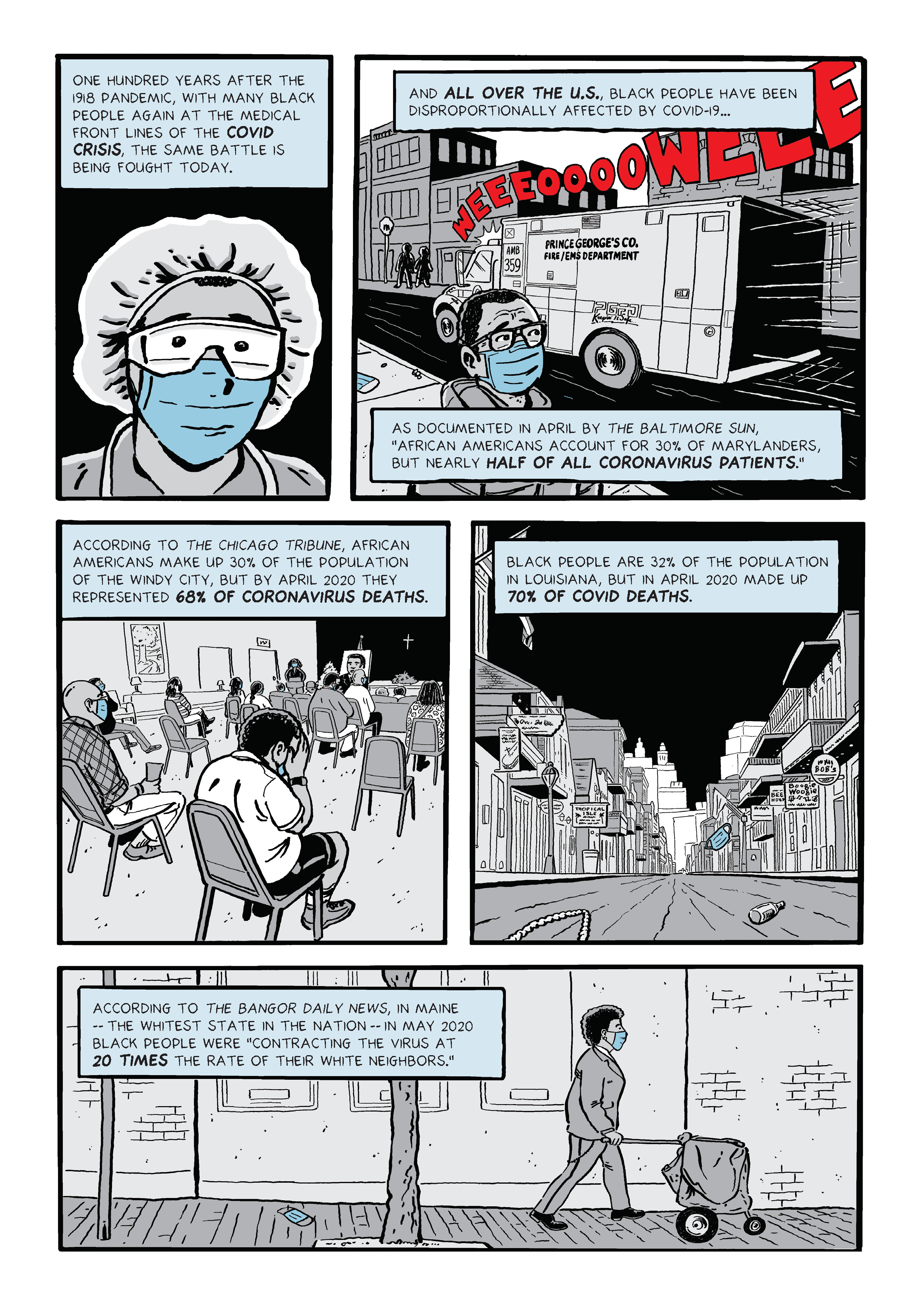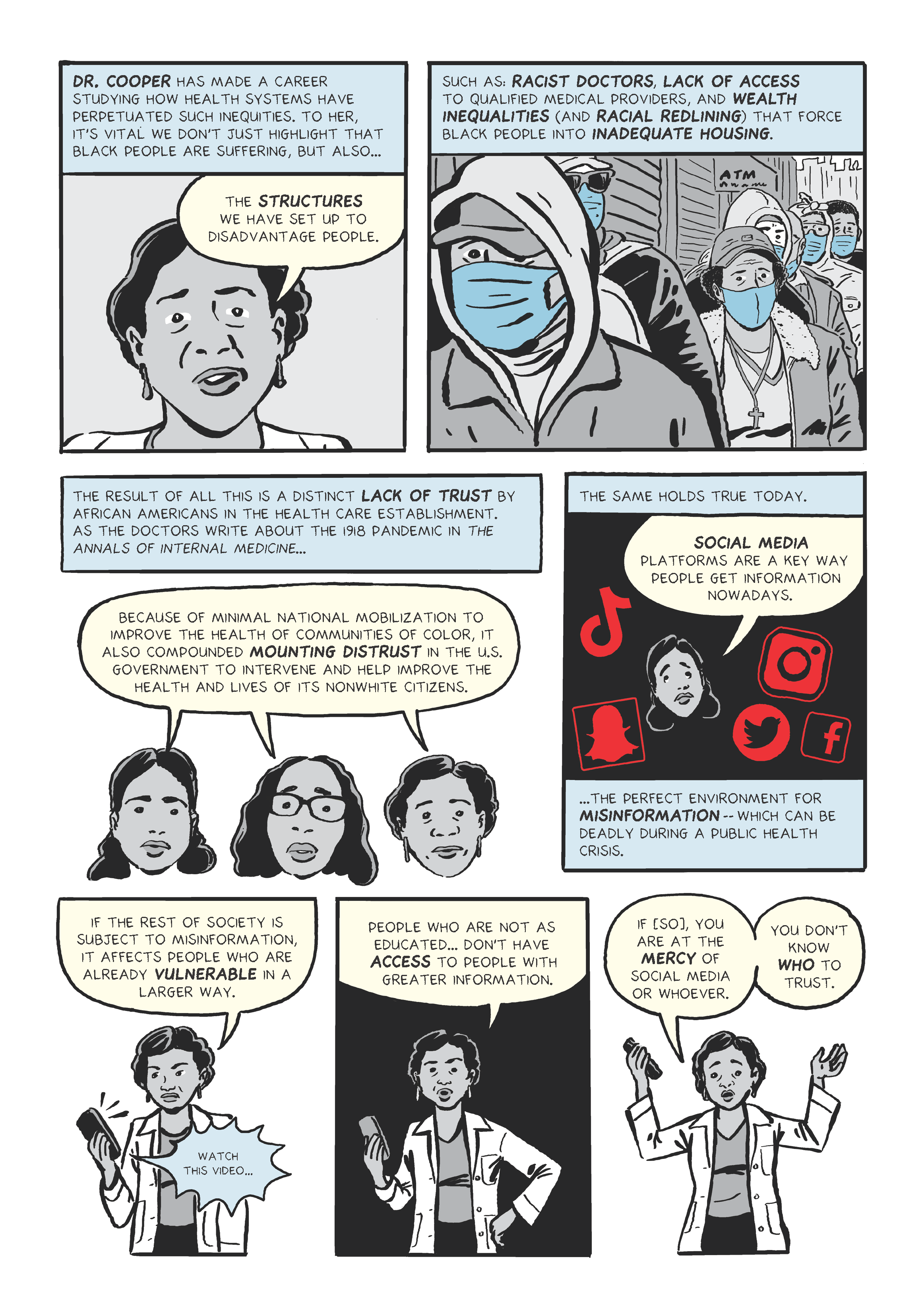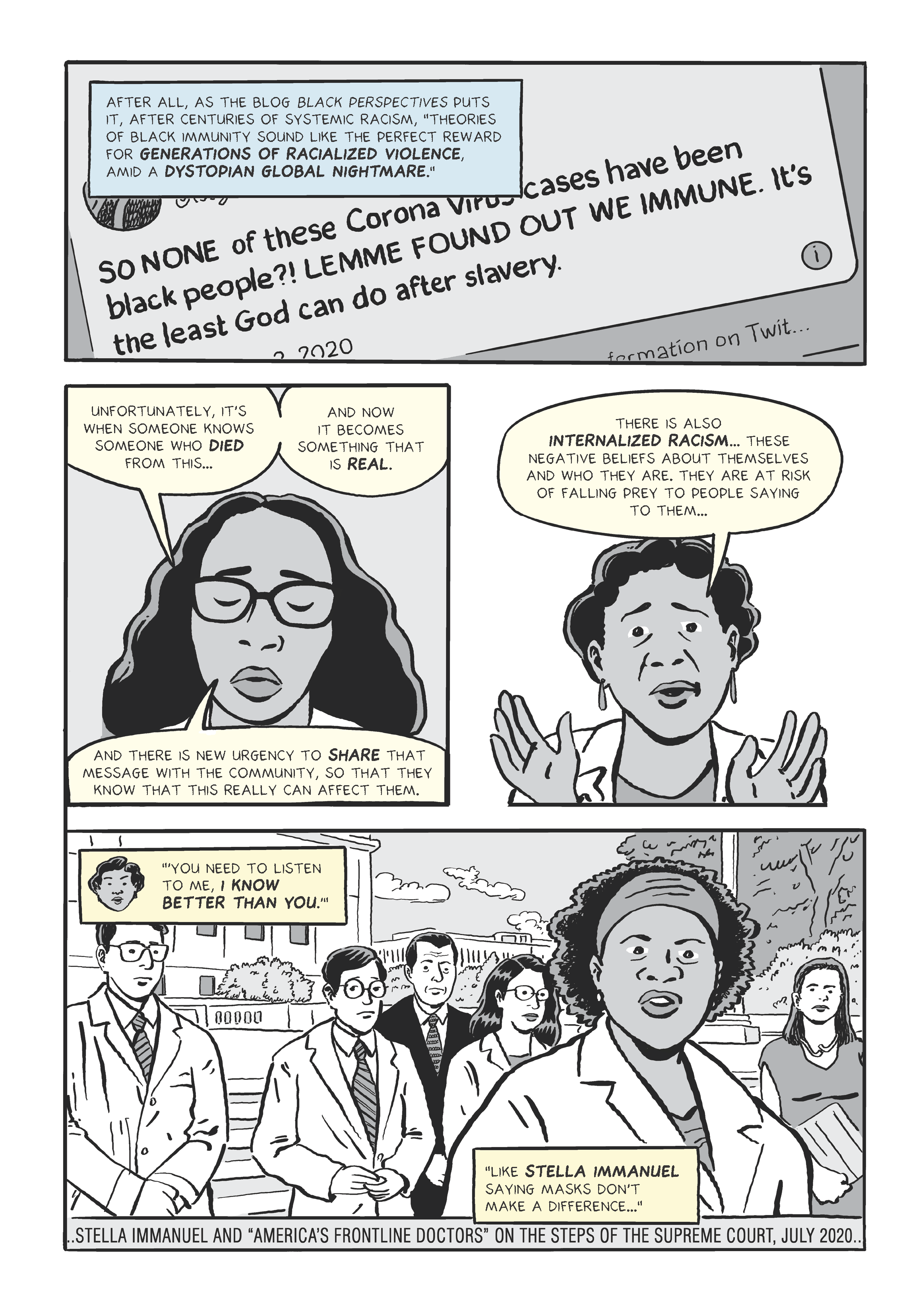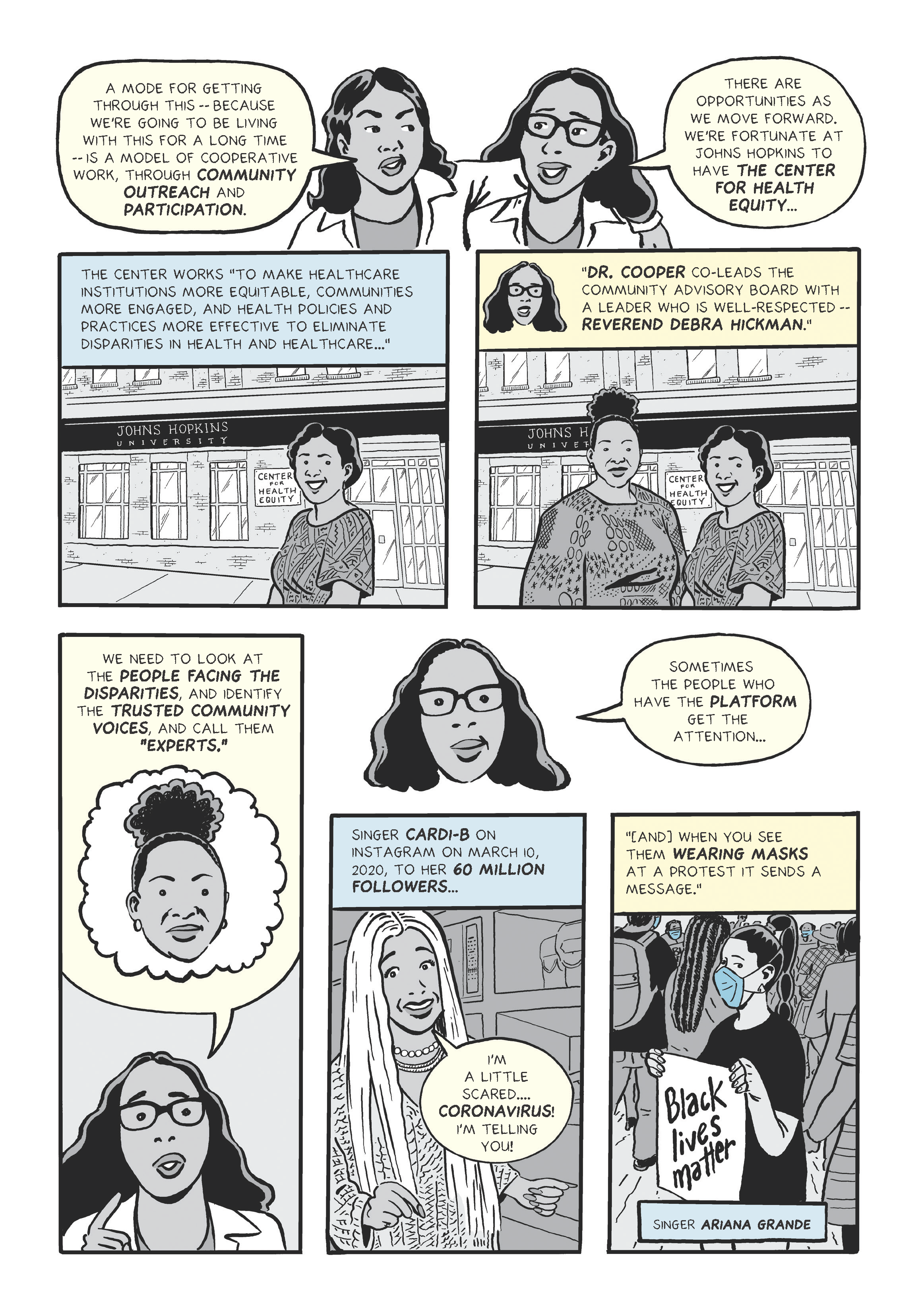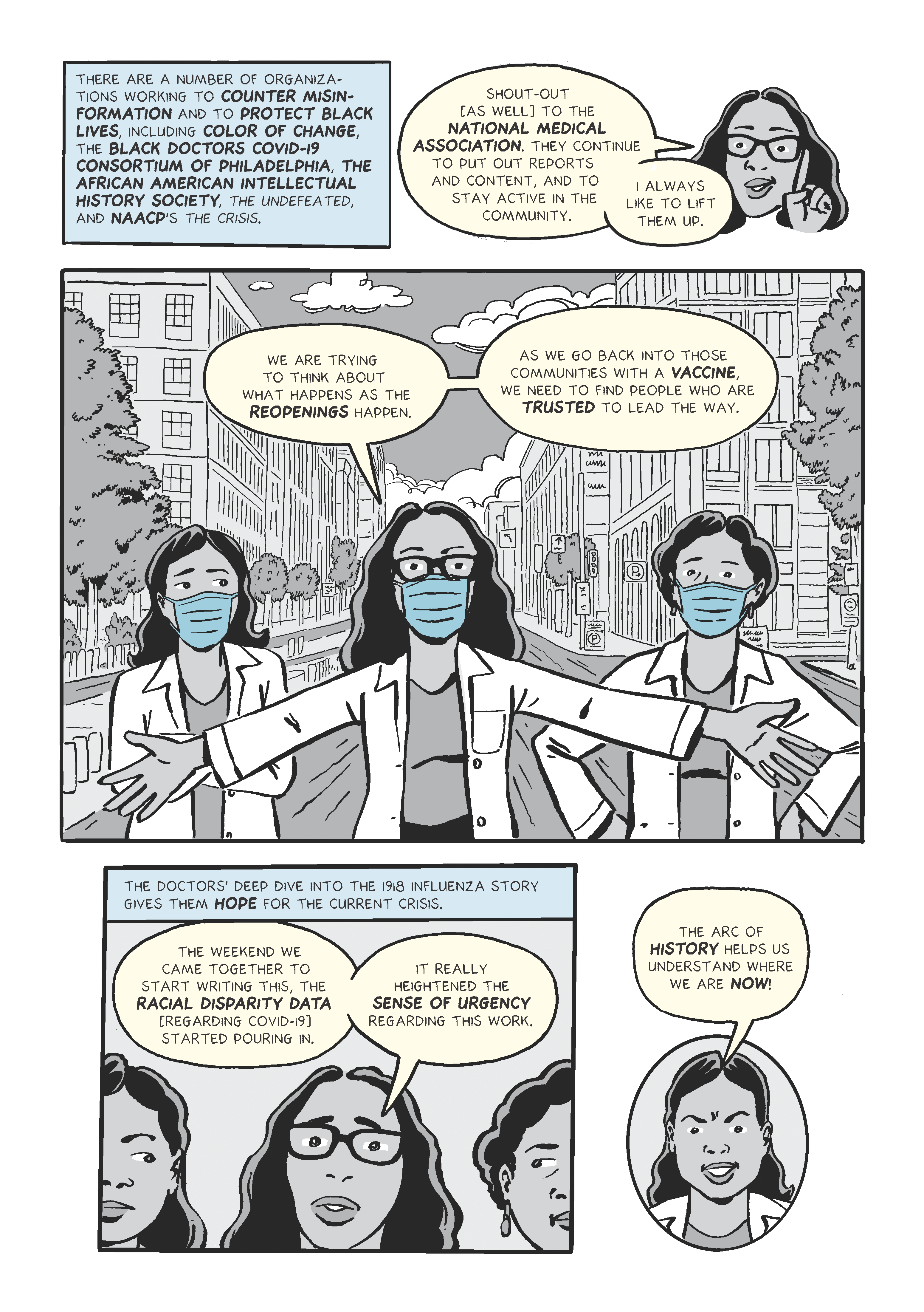 About this piece:
In a "A Tale of Two Pandemics: Historical Insights on Persistent Racial Disparities," Josh Neufeld uses the form of comics journalism to highlight a recent research article published in the Annals of Internal Medicine. The comic draws on the research article itself, along with additional sources — including interviews with co-authors Lakshmi Krishnan, S. Michelle Ogunwole and Lisa A. Cooper. The three medical doctors are the main characters of the comic, which explains racial health disparities and the spread of misinformation during the coronavirus pandemic and the 1918 influenza pandemic. The doctors' speech-bubble quotes come directly from their interviews with Neufeld. The text in rectangular boxes comprises Neufeld's own narrative — except in cases when he uses quotation marks to denote a direct quotation.
In cases where Neufeld quotes directly from the doctors' research article, he depicts the authors speaking in unison — akin to a Greek chorus. "I let their voices guide the narrative," Neufeld says. "I'm so grateful that they spoke to me about their article!"
The social media posts featured in the comic are quoted verbatim from actual posts, and many of the drawings are based on news photos — such as Associated Press photographer Bebeto Matthews' images of people waiting in line for face masks and food in New York last April. For more on Josh Neufeld's comics journalism process, please see our companion Q&A.
This piece is licensed under a Creative Commons Attribution-No Derivatives 4.0 International License, which means you're welcome to republish it, provided you credit and link back to the original source. For educators, editors and anyone else who would like to republish it in print, we are providing access to a high-resolution PDF here: Download a high-resolution PDF.
Sources and related resources:
"Historical Insights on Coronavirus Disease 2019 (COVID-19), the 1918 Influenza Pandemic, and Racial Disparities: Illuminating a Path Forward." Lakshmi Krishnan, S. Michelle Ogunwole and Lisa A. Cooper. Annals of Internal Medicine, Sept. 15, 2020.
"The Color of Coronavirus: Covid-19 Deaths by Race and Ethnicity in the U.S." APM Research Lab, last updated Nov. 12, 2020.
"Memory and Medicine: A Historian's Perspective on Commemorating Marion J. Sims." Susan M. Reverby. Perspectives on History, Sept. 17, 2017.
"The Myth of Black Immunity: Racialized Disease During the COVID-19 Pandemic." Chelsey Carter and Ezelle Sanford III. Black Perspectives, April 3, 2020.
"Canaries in the Coal Mine, COVID-19 Misinformation and Black Communities." Brandi Collins-Dexter. Discussion Paper from the Harvard Shorenstein Center on Media, Politics and Public Policy, 2020.