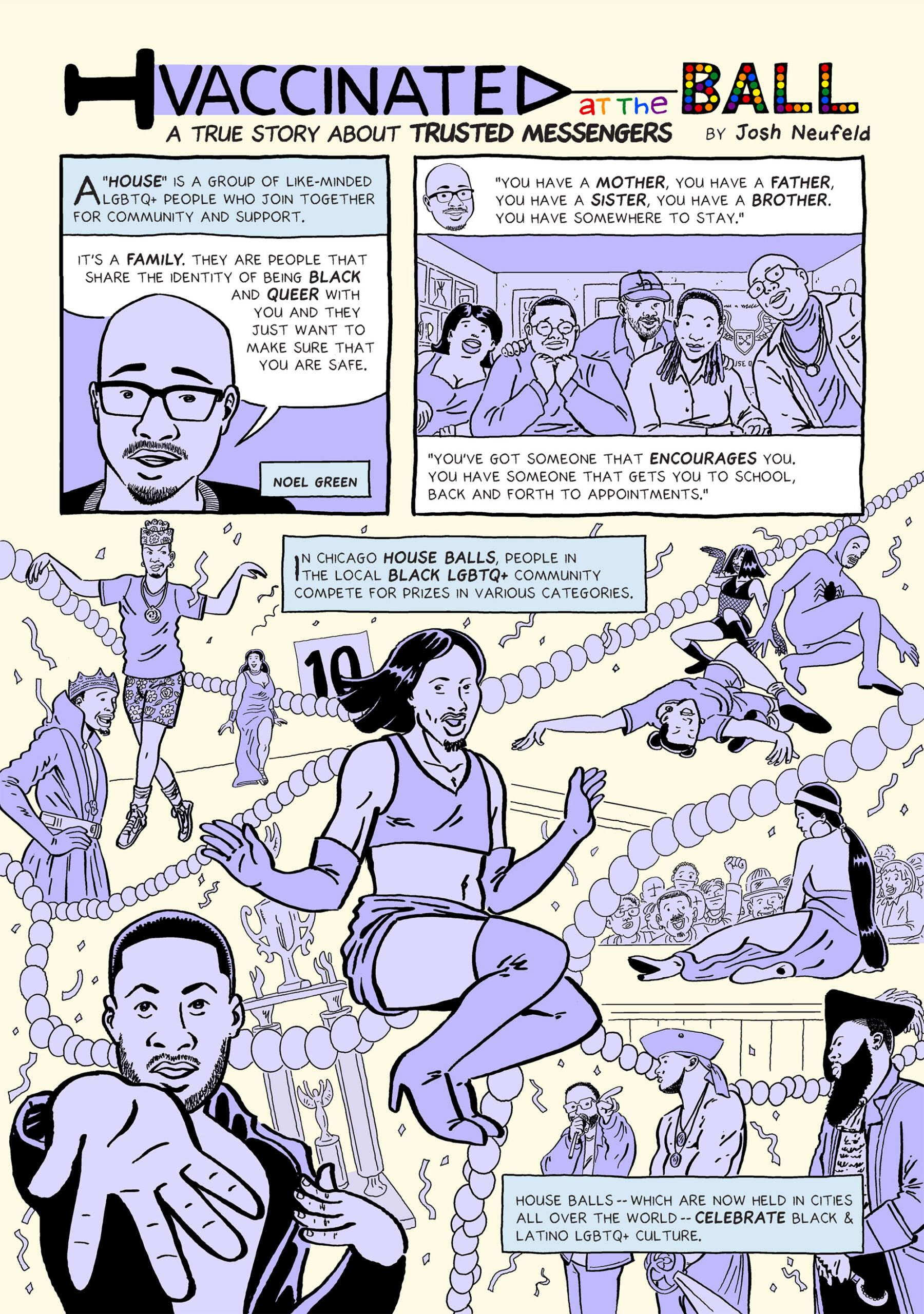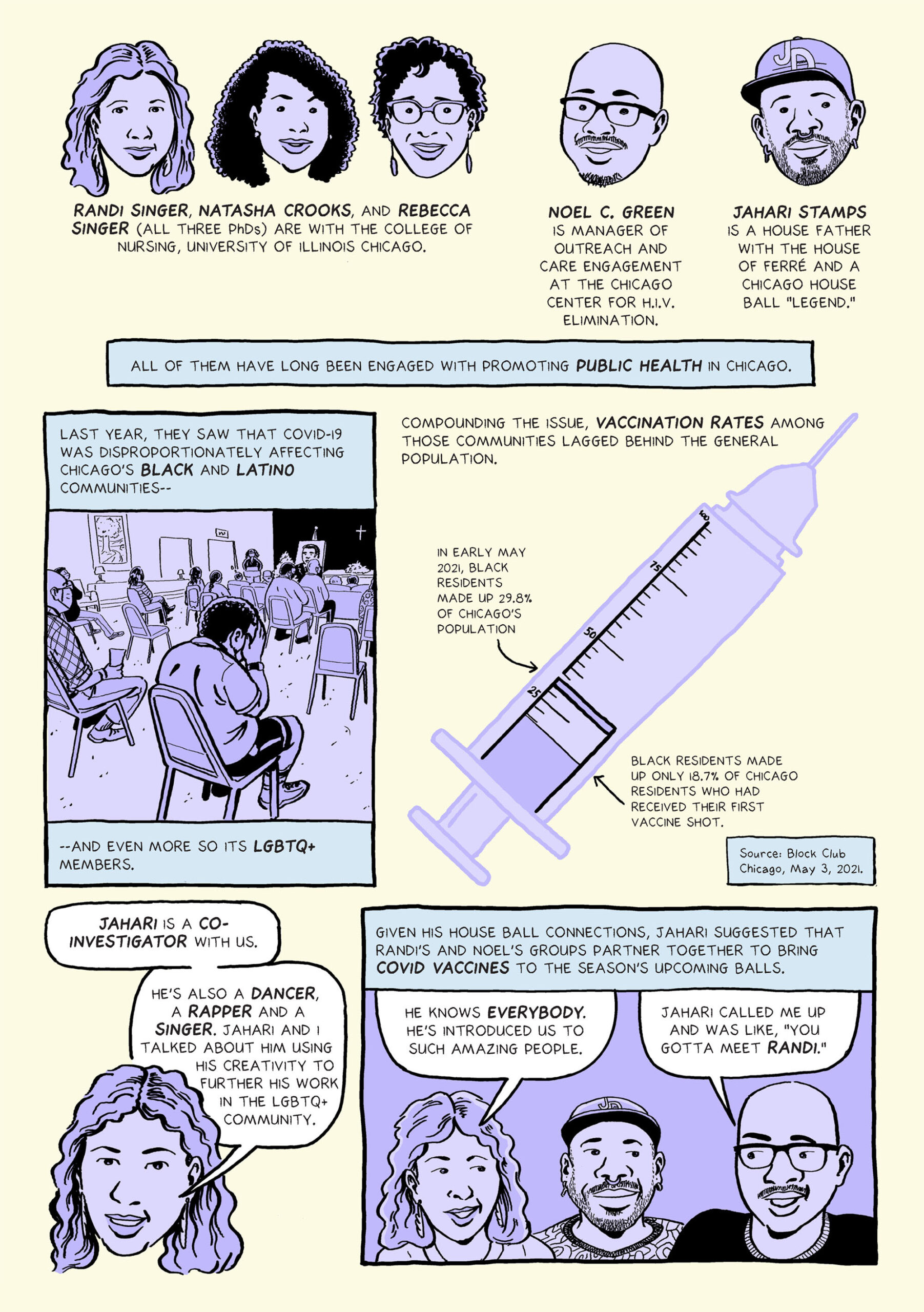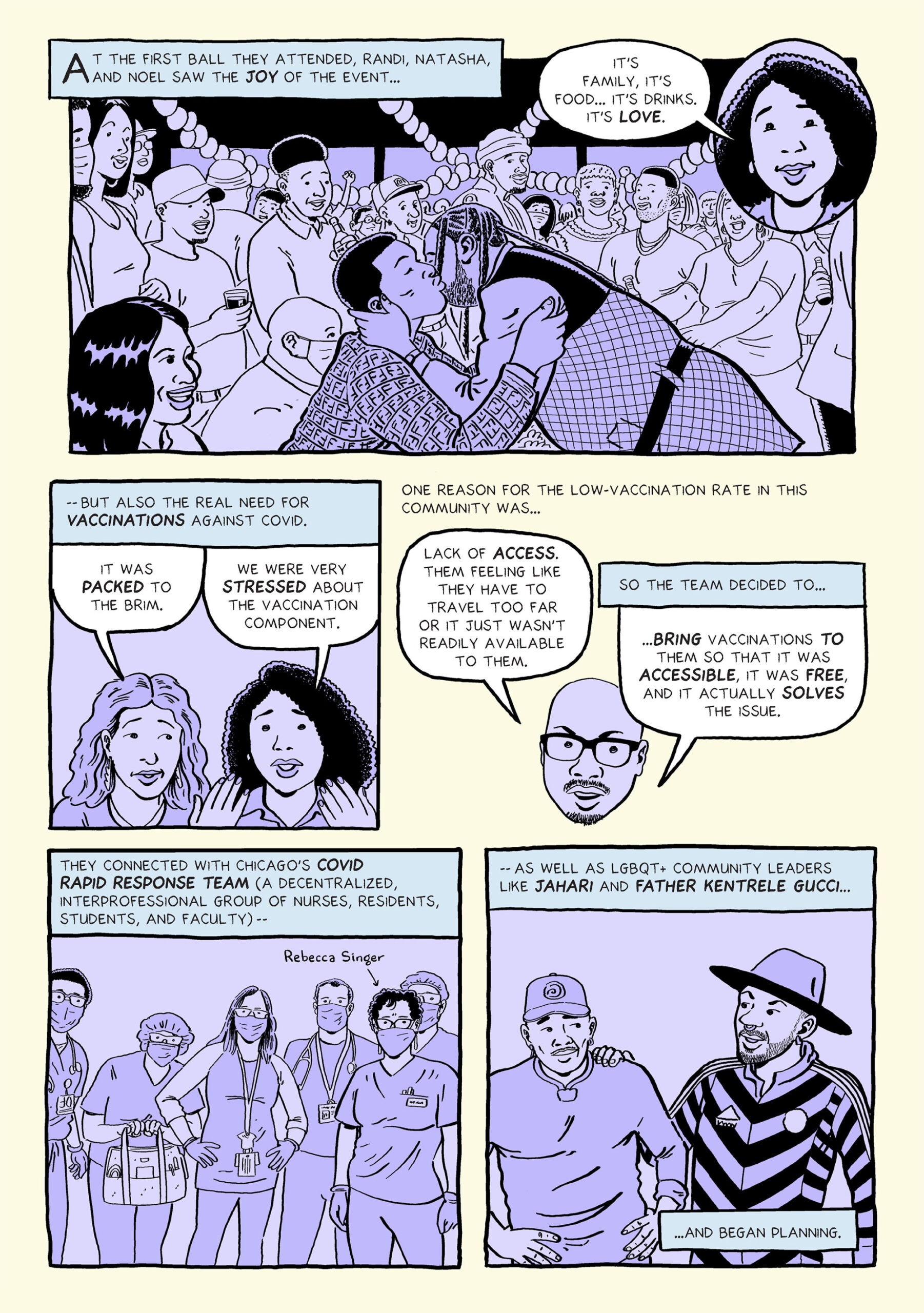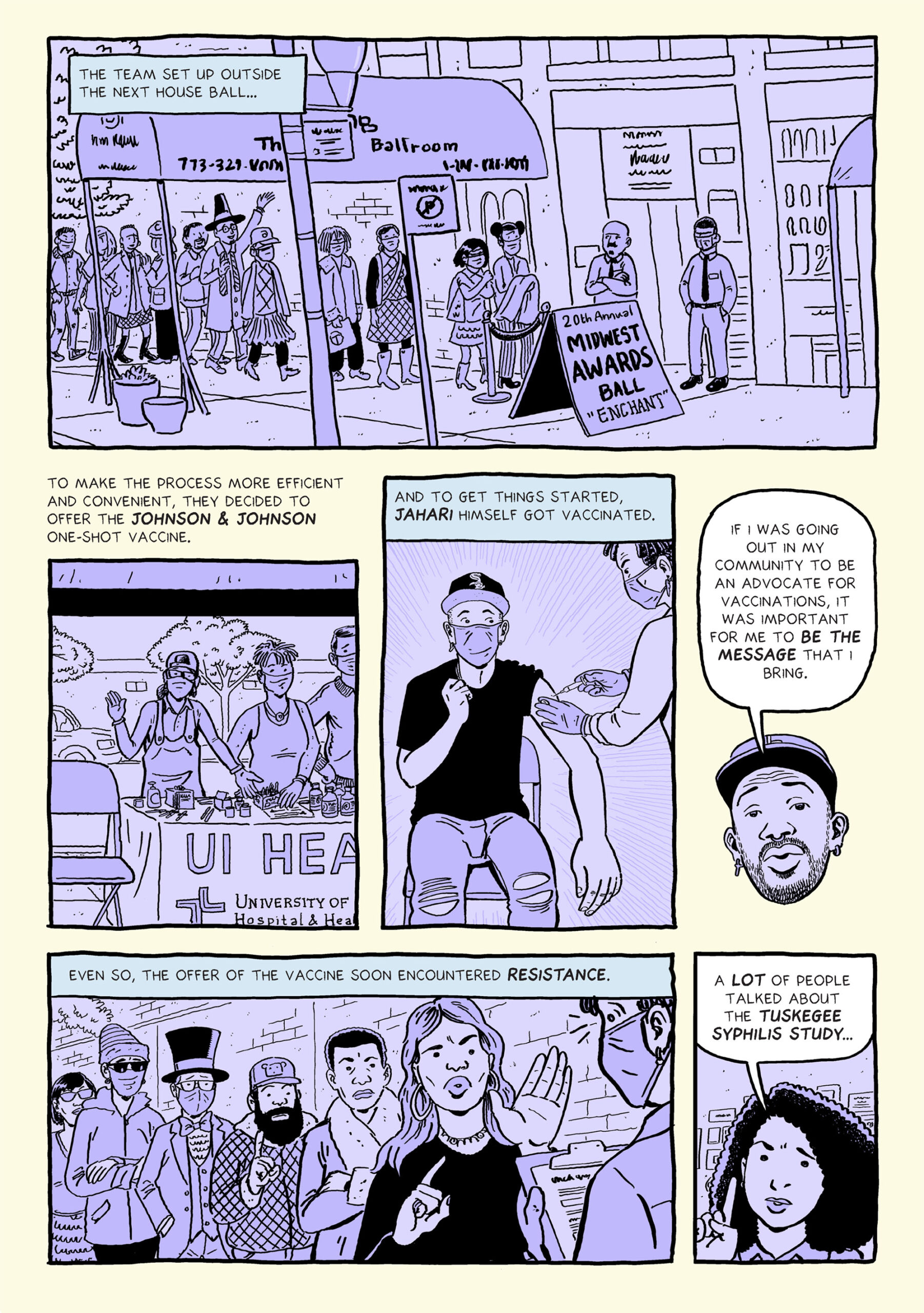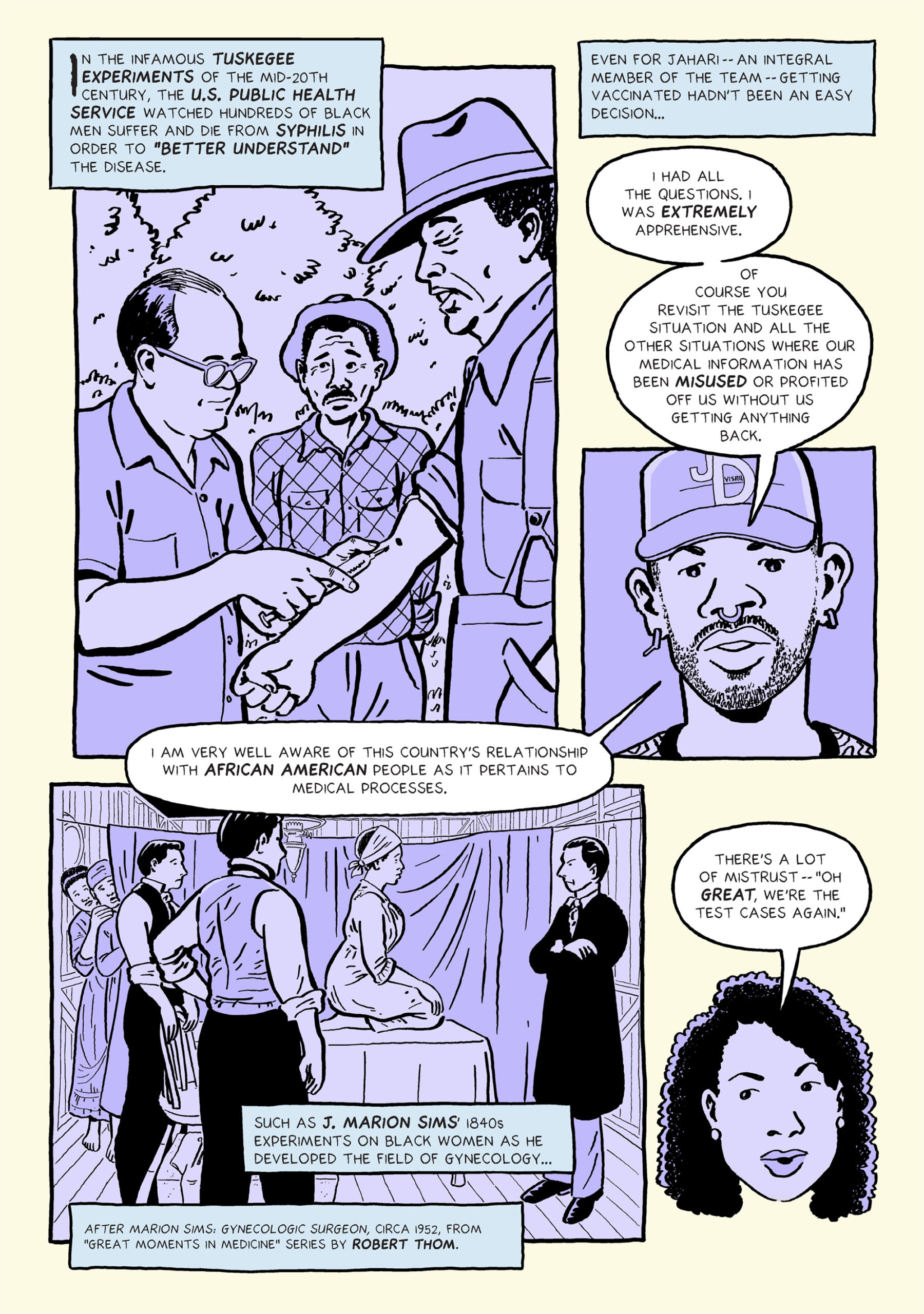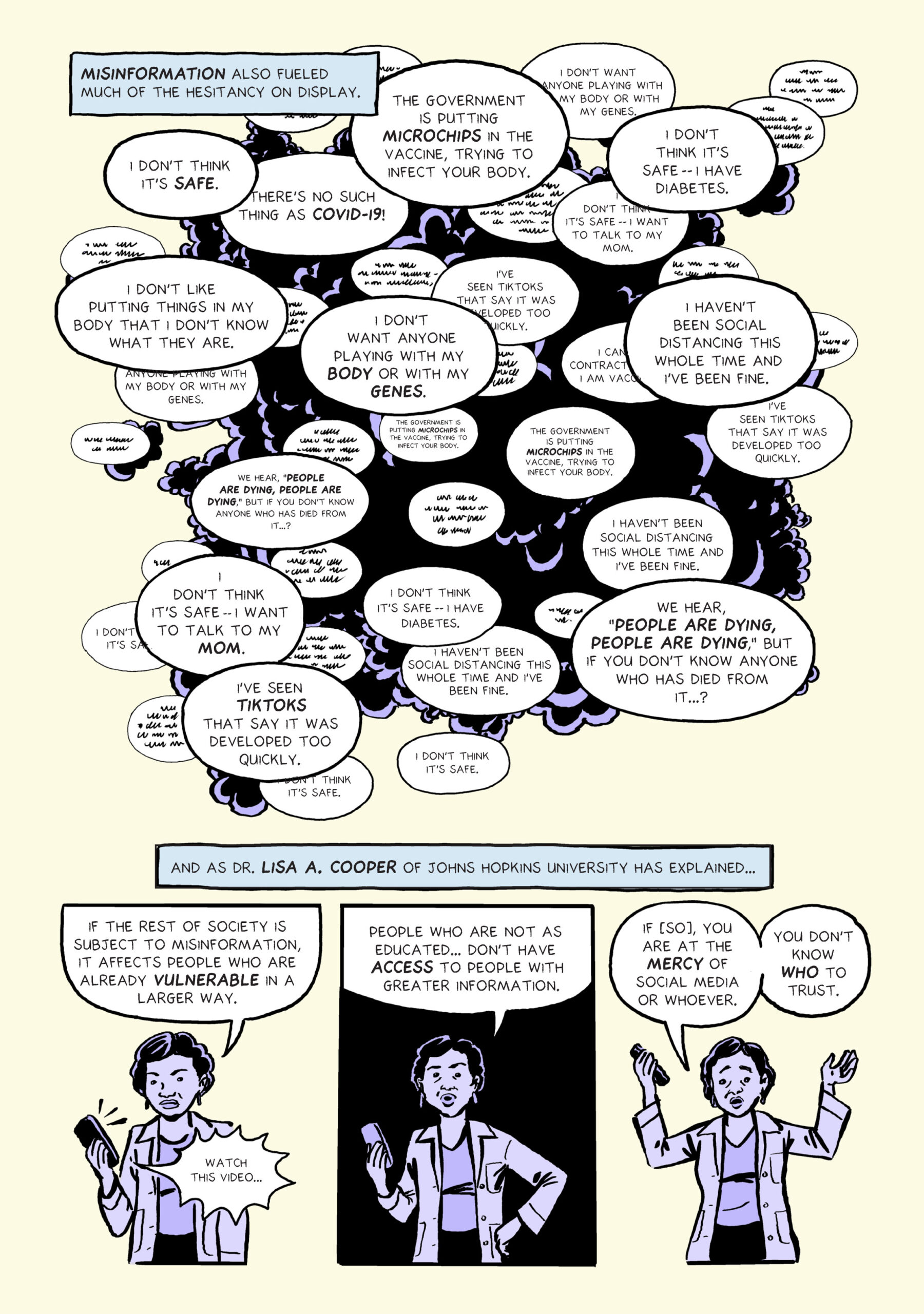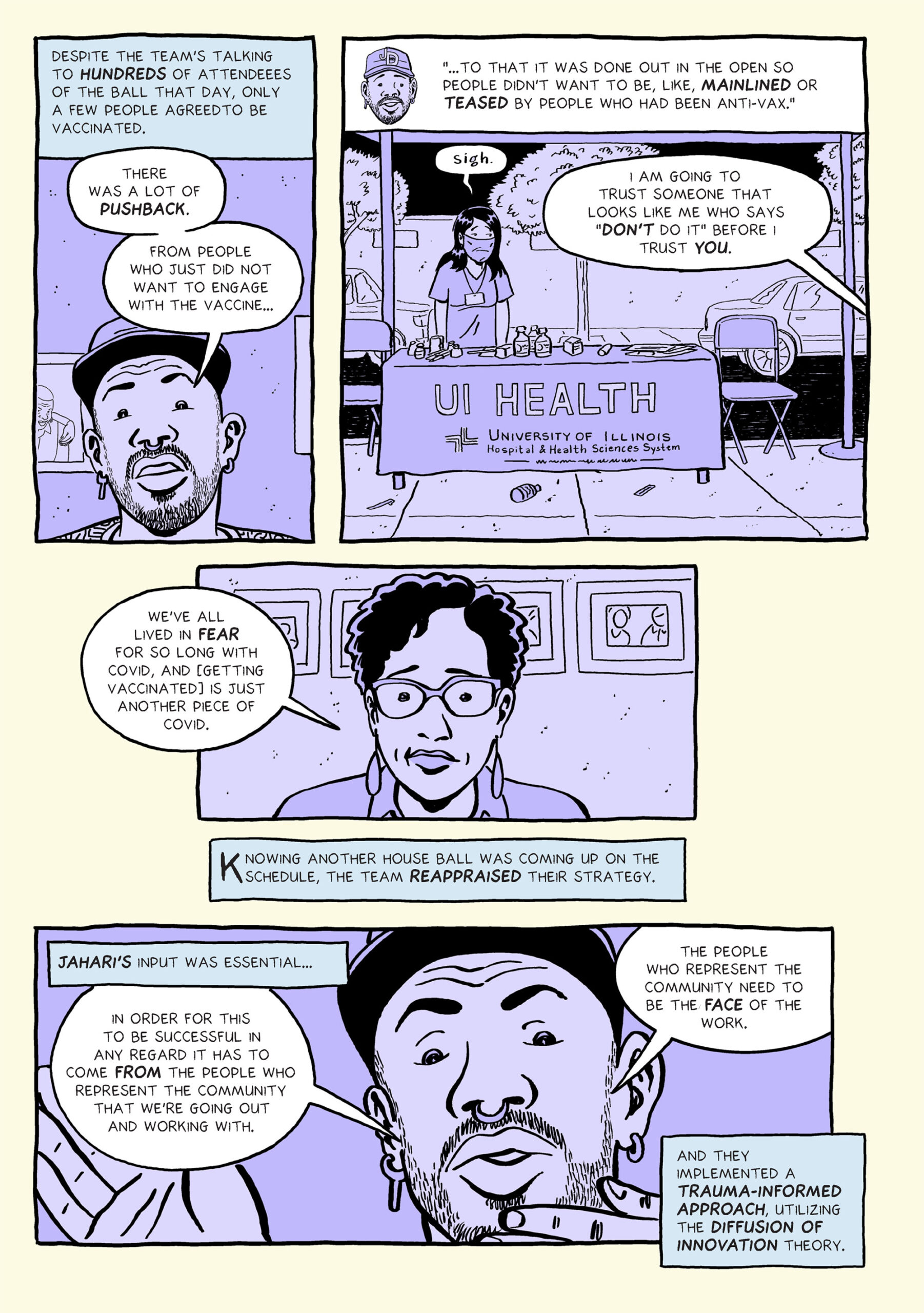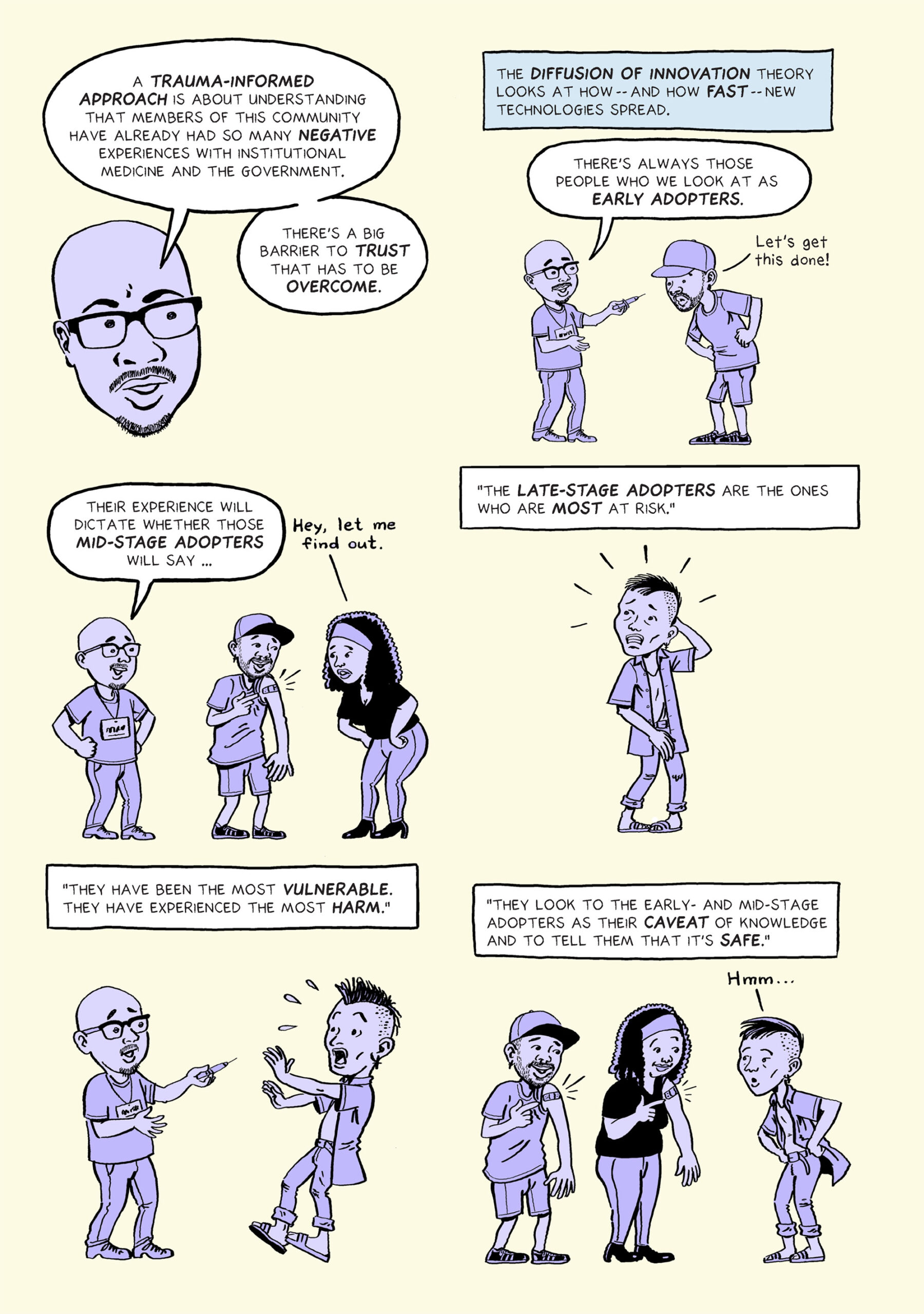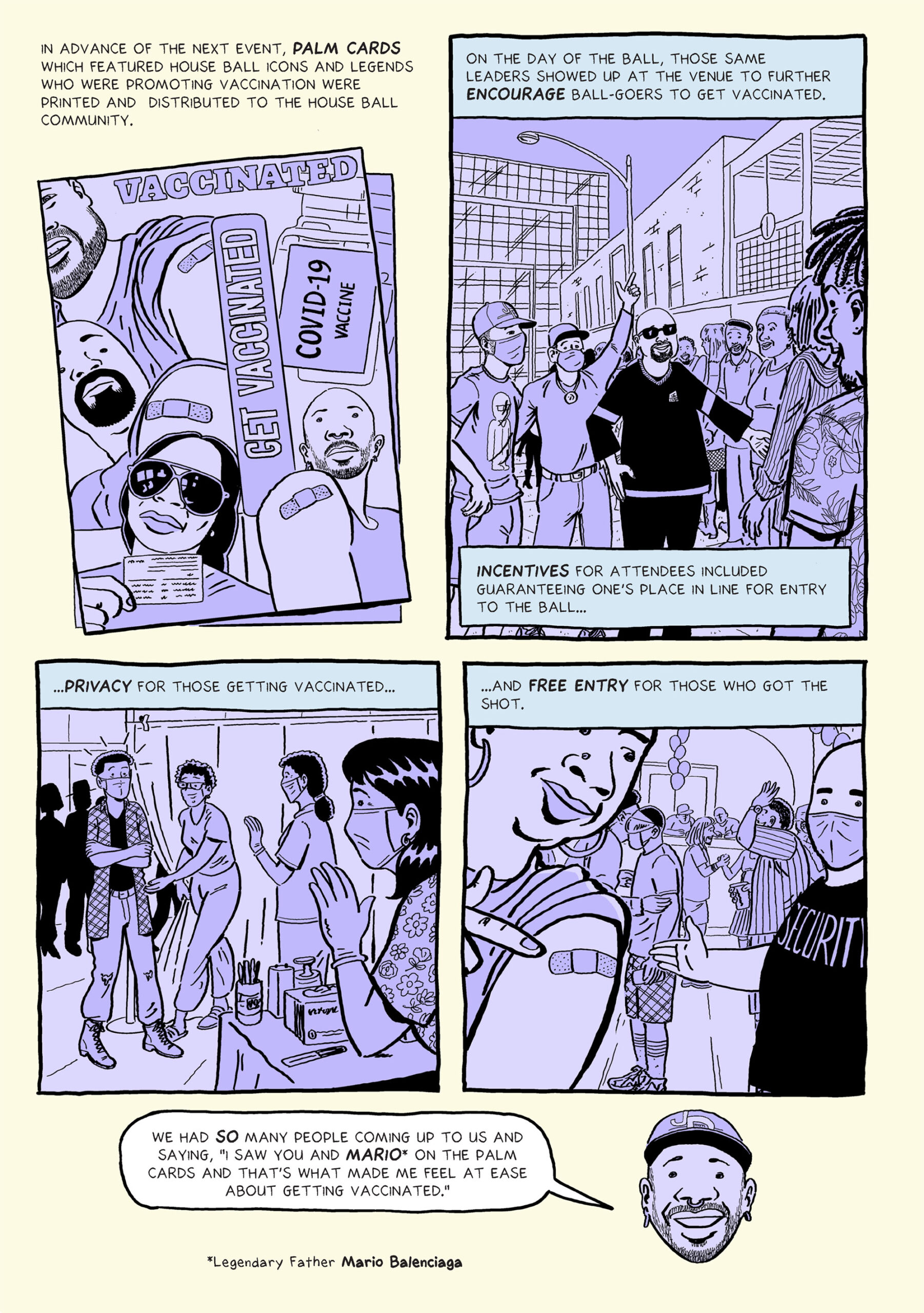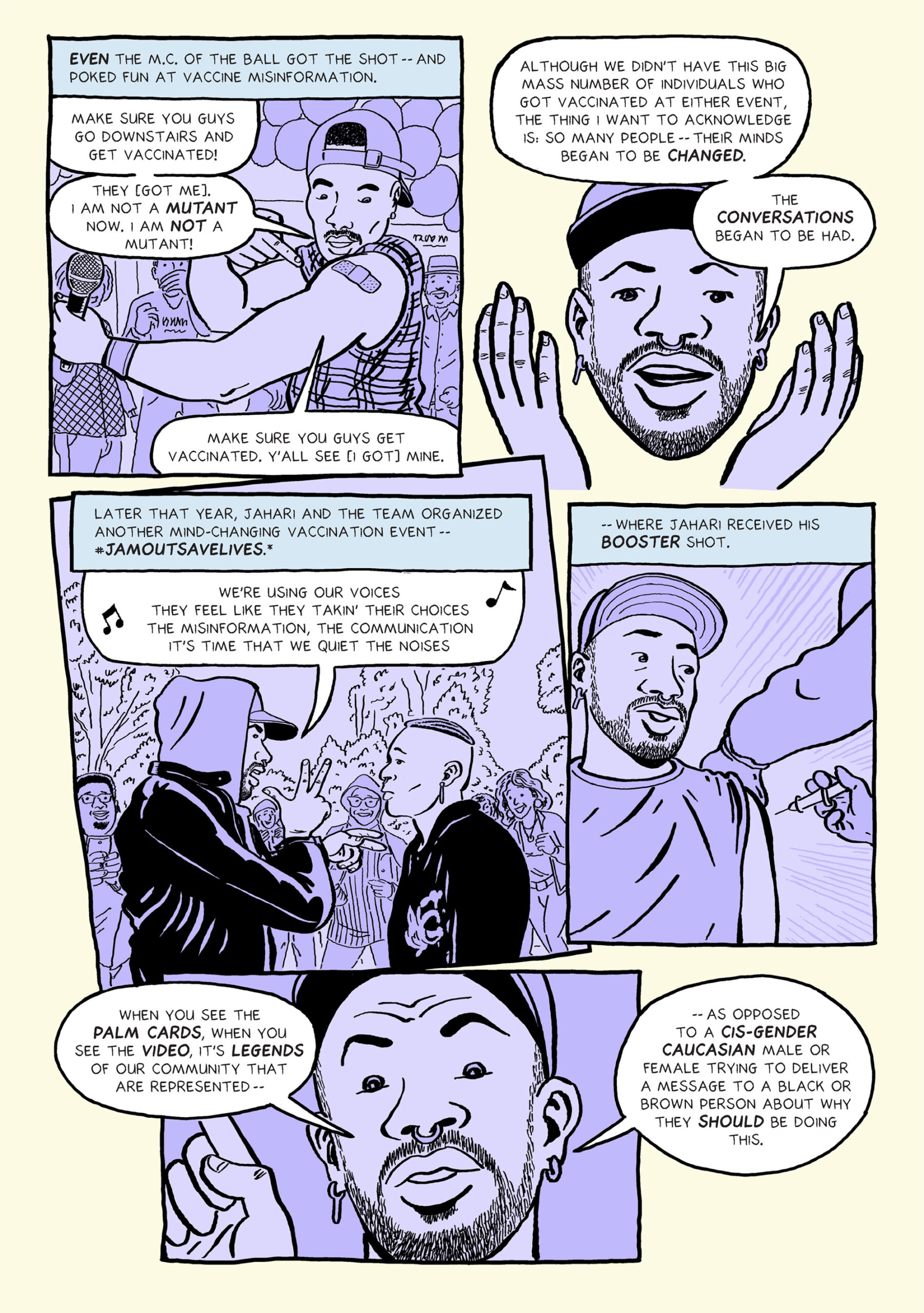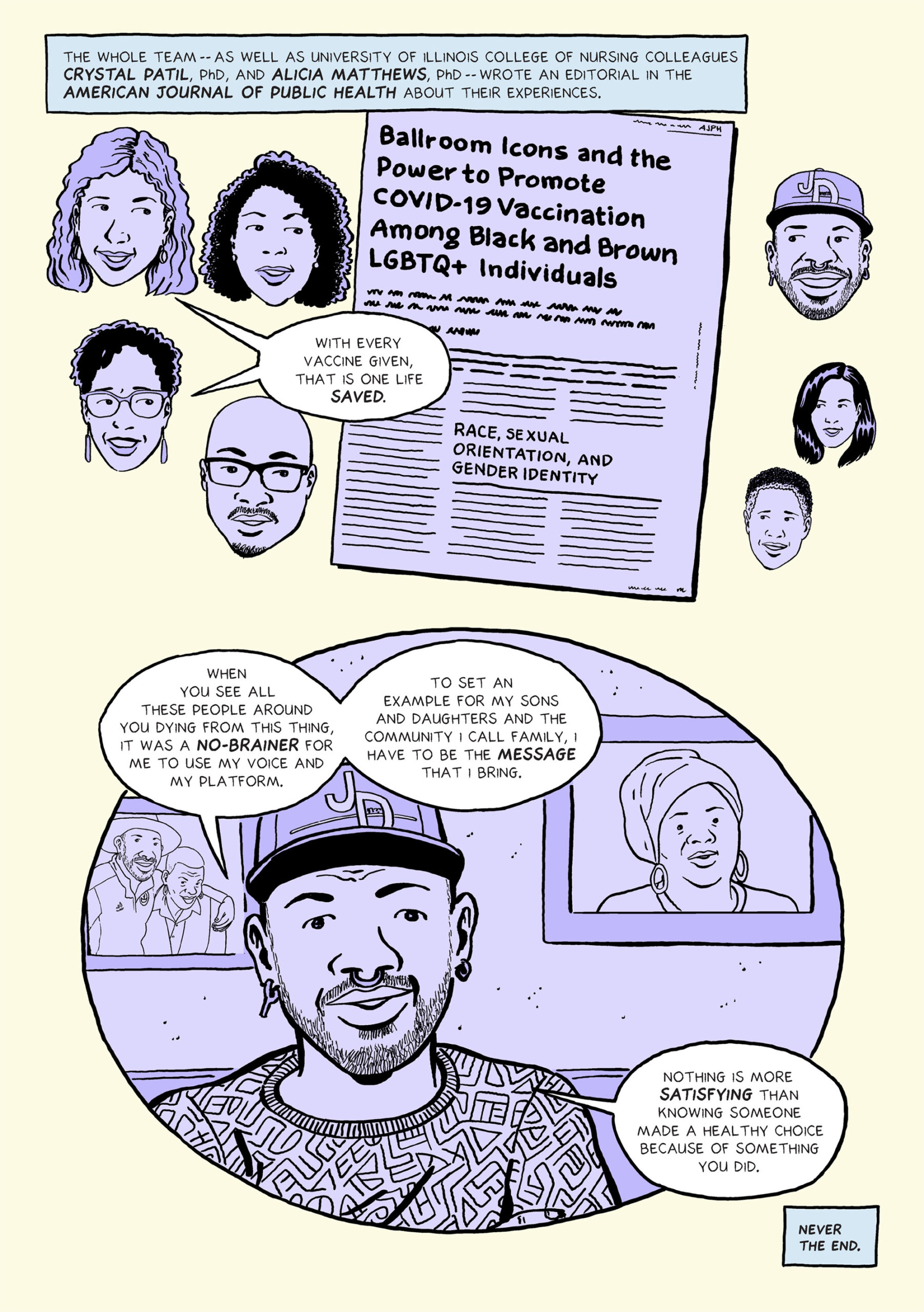 Share this piece:
This piece is licensed under a Creative Commons Attribution-No Derivatives 4.0 International License, which means you're welcome and encouraged to republish it, provided you credit and/or link back to the original source. For educators, journalists and anyone else who would like to republish it in print, we are providing access to a high-resolution PDF of the comic here: Download a high-resolution PDF.
Editor's note:
In "Vaccinated at the Ball: A True Story About Trusted Messengers," Josh Neufeld uses the form of comics journalism to highlight a recent perspective article published in the "Opinions, Ideas & Practice" section of the American Journal of Public Health. The comic draws on the article itself along with additional sources — including recent interviews with several of the co-authors, Randi Beth Singer, Natasha Crooks, Rebecca Singer, Noel C. Green and Jahari Stamps.
Those five people are the main characters of the comic, which details an effort in Chicago last year to increase COVID-19 vaccination rates among Black and Latino members of the city's LGBTQ community. The images of people attending the House balls are based largely on photos and videos of actual events, and the image of #JamOutSaveLives is based on a video that appeared on Twitter and Instagram.
The characters' speech-bubble quotes come directly from their 2022 interviews with Neufeld or quotes from the AJPH commentary. The captions in rectangular boxes comprise Neufeld's own narrative — except in cases when he uses quotation marks to denote a direct quotation. "I tried to let the voices of Randi, Natasha, Rebecca, Noel, and particularly Jahari guide the narrative," Neufeld says. "I'm so grateful that they spoke to me about their editorial, and I hope that I captured their experiences honestly."
Neufeld adds that he considers "Vaccinated at the Ball" to be "a perfect counterpart to a previous story of mine, published by The Journalist's Resource back in November 2020, 'A Tale of Two Pandemics.' In fact, a few panels in this story were taken directly from that earlier piece."
The panels and images in this piece that first appeared in "A Tale of Two Pandemics" are the image of mourners at a Chicago funeral; the panel representing the Tuskegee experiments, which is based on photos in the public record; the panel of J. Marion Sims's experiments on enslaved Black women in the 1800s, which is based on a historical painting by Robert Thom; and the panels with quotes from Dr. Lisa Cooper, whom Neufeld interviewed in 2020.
Neufeld's previous comics have covered a wide range of topics, including public health crises, academic research and journalism itself. He is best known for his book A.D.: New Orleans After the Deluge, which tells the true story of several New Orleans residents who lived through Hurricane Katrina. He is also the co-author of The Influencing Machine: Brooke Gladstone on the Media, an illustrated history of journalism, and numerous other works — including a comics journalism piece about social science research on consumer behavior.
"As I learned from nonfiction comics storytellers like Joe Sacco and Harvey Pekar, comics can often be used to create empathy and also to bring abstract concepts to life," he says. "That's why I so enjoyed the section of this story that deals with the discussion of 'trauma-informed approaches' and the 'diffusion of innovation' theory. My hope is that this piece will bring this story — and its lessons — to life in new and unexpected ways."
Sources:
"Ballroom Icons and the Power to Promote COVID-19 Vaccination Among Black and Brown LGBTQ+ Individuals." Randi Beth Singer, PhD; Natasha Crooks, PhD; Rebecca Singer, PhD; Noel Green, BS; Jahari Stamps; Crystal Patil, PhD; and Alicia Matthews, PhD. American Journal of Public Health, Dec. 21, 2021.
"Black Chicagoans Aren't Getting Vaccinated At The Same Rate As Others — And It's More Than Just Distrust." Maxwell Evans. Block Club Chicago, May 3, 2021.
"Memory and Medicine: A Historian's Perspective on Commemorating Marion J. Sims." Susan M. Reverby. Perspectives on History, Sept. 17, 2017.
"$1,000 Legendary Performance (Part 2) @ Paragon 10: Ten's Across (10th Anniversary Ball) 2021." YouTube video uploaded by Jay Garçon.
"#JamOutSaveLives." Jahari Stamps and Ryan Ryuu. 2021.
"A Tale of Two Pandemics" by Josh Neufeld. The Journalist's Resource, Nov. 16, 2020.
Related reading:
"Exploring Health and Wellbeing in the US House Ball Community: A Systematic Review." Maria Olivas, Sean Bear, Abraham Johnson and Stacy Smallwood. Spotlight on Public Health Research, Sept. 20, 2019.
"Trauma-informed Care: What it is and Why it's Important." Monique Tello. Harvard Health Blog, Oct. 6, 2018.
"Diffusion of Innovation Theory." June Kaminski. Canadian Journal of Nursing Informatics, June 19, 2011.
"Documenting Serious Issues with Comics Journalism: An Interview with Josh Neufeld." Carmen Nobel. The Journalist's Resource, Nov. 16, 2020.