This tip sheet on covering COVID-19 vaccine booster shots was updated on Oct. 17, 2022.
Uncertainty and change have been two common themes of the COVID-19 pandemic, and the recent confusion and controversy surrounding vaccine boosters — including the term "booster" — underscore the importance of journalists' role in clearly explaining the scientific process to the public.
"Thinking about how you convey to the [audience] where the uncertainty lies and then, of course, the question of how that ultimately affects them, are just some things that we have to have dialed up in our brains a little bit more than usual," says Caroline Chen, an investigative reporter covering health care at ProPublica.
The COVID-19 booster debate is unusual. There are few instances in history where vaccines have been developed during an ongoing pandemic, none of which have been of this magnitude, said Dr. Eric Rubin, editor-in-chief of the New England Journal of Medicine and an adjunct professor of immunology and infectious diseases at the Harvard T.H. Chan School of Public Health, in an email interview.
"The two examples I can think of are polio, where the question of boosters never arose, and Ebola, where boosters aren't really a consideration, at least yet, since the outbreaks resolve over the course of months," said Rubin.
Boosters, as they've been used for other vaccines, usually are given several years after the original vaccination, like the tetanus booster that's given every 10 years.
Now there's debate among researchers and experts about whether the term "booster" is proper to use at this stage of COVID-19 vaccinations.
"I still believe it's not a booster," says Michael Osterholm, director of the Center for Infectious Disease Research and Policy at the University of Minnesota. "It surely does boost the [immune] response, but I think it's like a three-prime vaccine."
By "three-prime vaccine" Osterholm is referring to primary vaccine series, which are meant to create immune response and protection in individuals who haven't received a shot before. A series can be a single dose or two or three doses, explains health journalist Katherine Wu in "A Better Name for Booster Shots," published on Oct. 5 in The Atlantic. Other researchers share Osterholm's view.
But in press releases and official documents, federal officials and vaccine makers, including Pfizer-BioNTech and Moderna, have called the third COVID-19 dose a booster. Johnson & Johnson, which has a one-dose COVID-19 vaccine, is also calling its second dose a booster.
"If we weren't in the middle of a pandemic and we had four or five years to develop these data to take to [federal agencies], we could have answered the questions, 'Will you need a third dose at this point? And what does it mean?'" says Osterholm. "But remember, we're in the middle of a crisis. We've got to make decisions on the run."
Last month the FDA granted an emergency use authorization for a Pfizer-BioNTech booster dose in certain individuals. This week the agency will hold open sessions to discuss additional issues related to COVID-19 vaccine booster shots, including whether the agency should authorize additional doses of the Moderna and Johnson & Johnson vaccines.
So how can journalists best cover medical issues like boosters and, at the same time, help their audiences understand the evolving nature of the scientific process? We asked several experts for advice. They include Chen, Rubin, Osterholm, and Dr. Michael Lauzardo, deputy director of the University of Florida's Emerging Pathogens Institute and an associate professor at its College of Medicine.
Tips for covering boosters — and helping your audience understand the scientific process
1. Err on the side of over-explaining.
Explain to your audience how the vaccine approval process works and what the agencies' decisions mean. Explain the difference between the CDC and the FDA and what each one does.
The FDA and CDC are sister agencies within the U.S. Department of Health and Human Services.
The FDA regulates food, drug, medical products and devices. It conducts inspections of manufacturing facilities and monitors drugs' post-marketing adverse events. The FDA also initiates civil and criminal litigation to enforce laws and regulations.
The FDA has several advisory committees, including the Vaccines and Related Biological Products Advisory Committee. The committees are made up of independent experts who provide advice on scientific, technical and policy matters to the agency. The agency isn't required to follow the recommendations of its advisory committees, although it usually does.
The CDC's main role is to promote health, prevent disease and injury and prepare for new health threats. It works with various partners nationally and internationally to monitor health, detect and investigate health problems and conduct research.
"We, as reporters, have an obligation to be clear about what the recommendations are, what the data is behind the recommendations and then to help people understand the areas that might be controversial."

Caroline Chen
The CDC's Advisory Committee on Immunization Practices, or ACIP, includes medical and public health experts who develop recommendations on vaccine use for the U.S. population. Like the FDA, CDC officials aren't required to follow the committee's recommendation, but they generally do.
Simply put, as explained by researchers in "Understanding FDA-Approved Labeling and CDC Recommendations for Use of Vaccines,"published in Pediatrics in September 2018, the FDA sets the prescribing information and the CDC, the practice recommendations. "Recommendations from the CDC for vaccine use may be restricted relative to FDA-approved prescribing information," the authors write.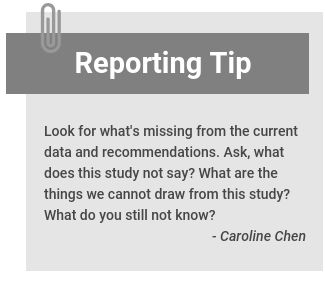 Explain that it's not up to the White House to issue vaccination guidance. In order for vaccines to become available to the public, they need to go through a regulatory process that involves the FDA and CDC.
And when the CDC recommendations are issued, explain them, too.
"We, as reporters, have an obligation to be clear about what the recommendations are, what the data is behind the recommendations and then to help people understand the areas that might be controversial," says Chen.
For instance, the CDC advisory panel didn't recommend the boosters for people with high-risk jobs. But the CDC director overruled it.
Explain to your audience that there's a lot of discussion around which populations should get a booster shot. "[Explain] here's the reason why some people feel like it's not necessary. Here are the reasons people think it is necessary,'" says Chen.
Add more context by including what other countries U.S. experts are looking at. And explain ethical considerations — for example, offering a third shot in the U.S. when a lot of people around the world haven't received their first COVID-19 shot yet.
2. Let your audience know information evolves and that's how science works.
To signal the uncertainty to her audience, Chen says she lays out what we know and don't know. She also signals potential upcoming changes by using timestamps and date markers in her stories, such as "as of Wednesday, this is the plan."
"That already indicates to our readers that it's not like this is a forever plan," she says. "I think it's important for reporters to acknowledge and even embrace that we are operating in a highly volatile scientific landscape right now with a lot of uncertainty. And our job is not to sound like we are totally omniscient."
She also highlights what's missing from current data and recommendations.
Some of the questions she asks include, "What does this study not say? What are the things we cannot draw from this study? What do you still not know?"
Explain that the decisions being made now have to be made, but the information behind them is constantly changing, said Rubin. "That means that a recommendation made now might be superseded in a month. It looks like inconsistency, but often only [it] is a reflection of new data. But that's the price one pays for having to make decisions in the heat of the battle," he said.
Osterholm adds: "Science is a self-correcting discipline by its very nature. You do, you learn, you incorporate it in. You do more, you learn and incorporate it in. And I think that what you're seeing happen right now is that we're in a period where we have enough information to make some conclusions about what's happening but not sufficient information to confirm it."
3. Talk to more than one expert, doctor or patient. Be judicious in choosing medical and scientific experts.
If you're reporting on vaccines, make sure your sources have scientific expertise in the area. And talk to more than one health expert.
If your story is about the position of the CDC's Advisory Committee on Immunization Practices, try to talk to more than one of the advisory committee members.
"I think a lot of them are open to talking to the press," says Chen. "And they come from across the country so you might have one that is closer to your hometown or your home state."
Interview national experts, but also talk to people in your community, including public health officials and hospital staff who can tell you what the picture is like in your community, she adds.
4. Don't lose sight of the unvaccinated.
In covering stories related to the COVID-19 vaccine shot, it's important to remind your audience that about 35% of the U.S. population has not yet received their first dose of a COVID-19 vaccine, according to CDC data.
"The real story here is that first dose — not the third dose," says Lauzardo of the University of Florida.
Also, during the continued global COVID-19 vaccine supply shortage, there are ethical and equity considerations.
In September, the World Health Organization Director-General Tedros Adhanom Ghebreyesus asked rich countries with large supplies of COVID-19 vaccines to stop offering boosters until the end of the year.
On Oct. 4, WHO, along with Strategic Advisory Group of Experts (SAGE) on Immunization and its COVID-19 Vaccines Working Group, issued a statement on boosters, writing, "Improving coverage of the primary vaccination series should be prioritized over booster vaccination."
They added, "Offering booster doses to a large proportion of a population when many have not yet received even a first dose undermines the principle of national and global equity."
In "Three for me and none for you? An ethical argument for delaying COVID-19 boosters," published in the Journal of Medical Ethics in October, Dr. Nancy Jecker and Dr. Zohar Lederman urge the world to follow WHO's call for a temporary moratorium on COVID-19 boosters, "because doing so will produce the greatest good, enable people to lead decent lives and promote global health equity."
They write that wealthy nations shouldn't boost vaccinated people and instead should send the vaccine doses to poorer nations where they vaccines are most needed.
As of Oct. 19, 47.8% of the world's population had received at least one dose of a COVID-19 vaccine, according Our World in Data project at the University of Oxford. Only 2.8% of people in low-income countries had received at least one dose, compared with 70.3% in high-income countries, according to the project.
For reference, here's a timeline of Pfizer-BioNTech COVID-19 vaccine booster authorization