Here's a tip if you're planning a stakeout as part of your reporting: Don't load up on doughnuts and coffee, because then you'll have to use the bathroom. Instead, take a power bar or a small energy drink.
That's one piece of advice from the three Philadelphia Inquirer investigative reporters Barbara Laker, David Gambacorta and William Bender, who exposed police officers' abuse of Pennsylvania's "Heart and Lung" disability benefit. While on leave, some had started businesses, were playing sports or running marathons.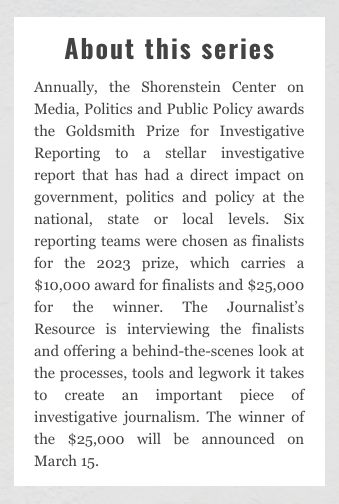 Pennsylvania's Heart and Lung Act provides full salary — with no state or federal taxes, which essentially amounts to at a least 20% raise — and medical benefits for police officers and firefighters who are injured and temporarily disabled in the line of duty. The reporters revealed that as Philadelphia was suffering record levels of gun violence, an astonishing number of police officers were deemed by union-selected doctors as unable to work: one in seven patrol officers, or 14%, far greater than the percentage of disabled police in other cities across the nation. And fact that the doctors treating the injured police officers were selected by the police union was a serious conflict of interest.
"We hadn't event spent very long digging into this before we found that this was known across city government to be a problem, for 20 years almost," says Gambacorta of police officers' abuse of the program. "There was just this tendency to shrug and point to somebody else across different city agencies because nobody wanted maybe the heat of taking on something like this."
The story started with a tip from a police department source in 2021 and led to a five-part series published in 2022. The investigation sparked significant reform, according to the team, including:
The number of officers out with injury claims dropped by 31% by the end of 2022. The number of injured officers cleared for court duty more than tripled.
An audit of the Heart and Lung program by the city controller found that the city had spent $205 million in taxpayer money on salaries for injured police since 2017, but little was being done by the city or the Police Department to stop the abuse of the system.
The police commissioner directed Internal Affairs to investigate some of the suspect officers identified by The Inquirer. At least one case has been referred to the District Attorney's Office.
State lawmakers introduced a bill to crack down on fraud and abuse within the police disability program. The bill would amend the state Heart and Lung Act by requiring the doctors to be chosen independently and not by the police union.
Two union-selected doctors left the Heart and Lung program, and one practice that evaluated most injured officers closed.
The reporters faced significant barriers, including the Police Department's reluctance to talk or share information. They had to fight for months to get the records and information they had requested. Laker says one of the police officers threatened her when she told him he was being featured in a story.
"He must have been expecting my call, because as soon as he picked up, he said, 'Oh, Barbara Laker, I know where you live,' and he named all these landmarks near my home, and he was right and so it kind of spooked me," she recalls.
Laker was rattled, but she consulted the newsroom lawyers and a security consultant and filed a police report. The story was published.
Below, Laker, Gambacorta and Bender several of their investigative reporting tips:
1. For stakeouts, take some patience with you.
Many of the police officers out on Heart and Lung disability program were working out of their homes, so the journalists, especially Laker, along with a photographer, began staking out their homes and businesses.
"We had to stake out that business for hours so we could see whether they were actually working," says Laker. "So, it was doing a lot of reporting up to that point but then proving that they were actually working on the day they said they were too injured to even go to court."
One of the hardest stakeouts was for two brothers, both police officers listed out with injuries on the Heart and Lung program, who had started a linen business.
Before staking out their business with a photographer, Laker went there by herself twice to get the layout of the street and to figure out where to park without being noticed.
On the day of the stakeout, "the photographer got in the backseat with a long lens, and we just sat there for hours until we spotted them," says Laker, adding a word of caution to other reporters: "Know that you can sit there all day and get nothing."
2. Be specific in your records requests.
Each Monday, the Philadelphia Police Department circulates an internal document in the department and among some other law enforcement officials, listing all the officers who are injured on duty and are on the Heart and Lung or a related disability program.
A source at the police department had shared one of the reports with the journalists. It included officers' rank, district, when they went out of work and whether they were cleared to report for duty.
"So we knew that document was out there and we knew exactly what to ask the city," says Bender.
He asked the city for reports throughout 2021 and then for a snapshot of previous years — like for September 2021 and for Septembers throughout the last five years. He also made it clear that he was not looking for officers' names and personal information.
"When you're requesting the records, I would just stress that you're not looking for personally identifiable medical information because that's just kind of like set off all the alarm bells," says Bender. "Just focus on the fact that you want you want numbers, not names, just to make sure that no one misunderstands your request."
Still, in this case, the request dragged on for months.
"The [city] wouldn't budge," says Bender.
Eventually Bender appealed the state's Office of Open Records, which exists to implement and enforce the state's Right-to-Know law. The city sought a few extensions. A mediation date was set and ultimately, about six months after his initial request, the city gave Bender the records he had originally asked for.
The document was helpful in showing how many officers were out and the duration of their absence, and "the high numbers who the doctors said they could not testify in court or do any kind of police work, even if they had an injured finger," says Laker.
3. Keep cultivating sources to help fill in missing data.
Even though the trio finally got the documents from the police department, all the names were redacted. They had to rely on their sources to find out who was taking advantage of the program.
"I think in a way our project is a little bit of an outlier because it's not really built that heavily on records and data," says Gambacorta. "It's been more about us having years and years of sources to call upon and having them point us in different directions, to some degree, of egregious cases they knew about."
Altogether, they complied a list of about 20 police officers.
4. For information on doctors, check medical boards and court records.
The reporters' sources had given them the names of the doctors in the Heart and Lung program, whose job it was to deem whether a police officer was unable to work due to disability. The reporters also asked the city for the names of all the program doctors since 2004 and their salaries.
"We had the dollar amounts, and we had the names confirmed with the city," says Laker. "So then we had to dig deep and research and background each single doctor, and that's what we did, and we found out that five of the seven had real questionable behavior."
They checked local federal courts and the state medical board to see if the doctors had faced any disciplinary action.
5. Dig into social media.
The reporters were following one police officer, out on the Heart and Lung disability program, who had a roofing company. They staked out his work, but never saw him do physical labor.
But on his Facebook page, he had posted about a house where he had done the roof work.
With the help of their newsroom researcher, the reporters were able to find the address of that home, track down the owner and ask him if the cop had done the roof, "and he indeed had," says Laker.
The police officer also had a LinkedIn page that listed the roofing business. And there was Yelp review about his work, posted when he was supposedly too hurt to work.
Another police officer out on injury was posting on social media about his motivational speaking business as he was traveling across the country. And another had appeared in a livestream video playing softball.
6. Check old newspaper clips online.
To get a historical sense of union agreements, the journalists looked at newspaper clips, using newspapers.com, the largest online newspaper archive consisting of more than 841 million pages of historical newspapers from more than 26,700 newspapers from around the United States and other countries.
They found a story about a settlement agreement between the city and the police union, which was signed in 2003 and gave the union the power to select the doctors "and completely tilted the balance of the disability system," says Gambacorta.
"Look for labor agreements with police and fire unions and there's always surprising stuff that gets tucked in these mega deals," he advises.
And three more quick tips:
"Follow the string. Get as much information as you can get. Get obsessed with details," says Laker. "And just keep going. Don't give up. Just keep digging and digging and digging."
Think about the bigger systemic problems the story reveals, advises Gambacorta. "Police officers maybe defrauding this disability benefit, and it's terrible, but the bigger picture of it is just sort of, how does the city Police Department tolerate this behavior and who would be the people benefiting from it and enabling it? That's what led us to the union and the doctors because it's the cops who are sort of faking their injuries or exaggerating them, obviously … but a lot of other people are benefiting from it downstream too. An often it's taxpayer money that's paying for it."
And don't wait till the end of the investigation to start writing.
"Sometimes it helps to just start writing the story, because then you see where the holes are," says Bender.
Read their stories: