Since January, the Affordable Care Act has received two major boosts.
First, the Biden administration opened the online health insurance marketplace for a special 90-day enrollment period that extended through May 15 in response to the coronavirus pandemic. On March 23, the administration extended that period for three more months, until Aug. 15.
Second, President Joe Biden signed into law on March 11 the $1.9 trillion American Rescue Plan, which includes $34 billion to make health insurance on the marketplace more affordable for many Americans.
The special enrollment period and relief package expand former President Barack Obama's health care law, also known as Obamacare, which was signed into law in March 2010. The expansion marks a major shift from the Trump administration, which attempted to take the program apart by slashing its budget for advertising and outreach and cutting in half the amount of time people had to sign up: from three months to 45 days in November and December. The Trump administration also struck down the individual mandate, which penalized people who qualified for Obamacare but didn't sign up for it.
The changes were not without consequence.
Enrollment in the marketplace declined from 12.6 million people in 2016, the year before Trump took office, to 11.4 million people in 2020. Meanwhile, the number of uninsured people rose from 26.7 million in 2016 to 28.9 million by 2019, according to the Kaiser Family Foundation, a non-partisan health policy think tank.
Then the pandemic hit, affecting millions of people who not only lost their jobs, but also faced new health challenges due to COVID-19.
Between February and June 2020, as many as 7.7 million Americans with employer health insurance coverage lost their jobs, according to estimates released by The Commonwealth Fund, a nonprofit health care research organization..
A phone survey by the Kaiser Family Foundation in February 2021 shows that about 44% of U.S. adults said someone in their household had lost a job or income due to the pandemic. Of the 1,874 people surveyed, Hispanic, Black and young adults were most likely to say their household had lost a job or income due to the pandemic.
The Trump administration decided against opening up the marketplace for a special enrollment period last year. But the Biden administration announced in January that it was reopening the marketplace two months after the regular open enrollment ended on Dec. 15.
"I think the things that the Biden administration campaigned on was building on the ACA and trying to reverse some of the increase that we've seen in uninsurance rates, so I think he's trying to everything he can to fulfill that promise," says Sabrina Corlette, a research professor at the Center on Health Insurance Reforms at Georgetown University. ("Uninsurance" is a term that simply means a lack of any health insurance coverage.)
The marketplace is now open for people in the 36 states that use the healthcare.gov federal platform. Many of the 15 states that run their own marketplaces also followed suit, offering a similar opportunity, according to the Department of Health and Human Services.
The American Rescue plan also helps more people get health insurance coverage by expanding Obamacare subsidies to higher-income people for the first time and increasing subsidies for those who have lower income for the next two years. In addition, no one will have to pay more than 8.5% of their annual income for health insurance.
Starting April 1 consumers can start benefiting from the new subsidies. On average, many monthly premiums will decrease by $50 per person, according to the U.S. Department of Health and Human Services. The agency estimates that more than 1.77 million uninsured Americans will qualify for $0 premiums. (See numbers by state here.)
"The major reason that people still remain uninsured is that they still can't afford coverage in some cases," says Sarah Lueck, a senior policy analyst at the Center on Budget and Policy Priorities, a nonpartisan think tank. "Having some assistance — even temporary assistance for this year and next year — could be really helpful."
Although Obamacare is not a new story, health care advocates urge journalists to keep their eyes on it and report on changes. Even stories conveying the most basic information are helpful to the public.
"I know the story of the Affordable Care Act is now a 10-year-old story," says Emily Stewart, executive director of Community Catalyst, a health care advocacy organization. "And I can appreciate why journalists might not right away be ready to tell just a fact-based story about the special enrollment. But it's really essential that reporters just even tell the story about the special enrollment, the timetable, especially as we near the end [of the 90-day enrollment period]."
We spoke with several health policy experts and asked them for advice for journalists. Below are five reporting tips gathered from those conversations, followed by a list of ACA basic facts to help with your reporting.
1. Encourage audiences to check their eligibility for state or federal health insurance subsidies.
"People may think that health insurance is more expensive than it's actually going to be," Lueck says. "There's significant financial help available, and I think people might not fully know unless they've gone on the website and actually looked [up] what they might be eligible for."
This calculator provided by healthcare.gov helps consumers find out if they qualify for financial help. Consumers also can find that information by going through the enrollment process on healthcare.gov. This calculator created by the Kaiser Family Foundation takes into account subsidy changes under the American Rescue Plan.
2. Find out how the pandemic has affected the work of local ACA navigators and what challenges they face during the special enrollment period.
Navigators are people trained to provide unbiased help – in person, virtually or via phone — to consumers looking to enroll in the marketplace. They're funded by the state or federal government.
"There are a lot of different tools and ways that consumers can enroll," says Lueck. "Some people might want to call the call center. Some people might use the website. Some people might have an insurance broker. But navigators are really important for a lot of folks and can be particularly helpful with complicated eligibility situations."
The Trump administration slashed funding for navigators from $63 million in 2016 to $10 million in 2020, according to the Kaiser Family Foundation.
After reopening the marketplace in February, the Biden administration provided $2.3 million to local navigators to support outreach and education, since they had already spent most of the $10 million provided to them during the regular open enrollment period in November and December. (Here's a list of how much navigator organizations received in each state.)
The amount "is woefully insufficient," says Corlette, of Georgetown University. "But I think [the navigators] are doing the best that they can."
It is not yet known if the Biden administration will increase the navigator funding for the regular open enrollment period later this year and whether it will expand that period from 45 days to three months again.
Navigators, who were able to set up enrollment events at local libraries and community centers, have had to get creative during the pandemic, many setting up virtual visits with enrollees or simply using phones.
"I think there's a fantastic opportunity right now, if navigator programs aren't already doing it, to set up a booth at vaccination sites," says Corlette.
3. Explain how the current 90-day special enrollment period is different from the marketplace's regular special enrollment period.
For the past several years, the regular open enrollment period for federal and state marketplaces has been held between Nov. 1 and Dec. 15. Consumers can sign up for a plan at other times of the year only if they have had a life-changing event such as getting married, having a baby, moving to a new zip code or county or losing their health insurance. Technically, this period outside open enrollment is called the Special Enrollment Period. There's usually a 60-day time limit before or after the life-changing event during which people can apply for a marketplace plan.
The current 90-day period, however, is very much like the regular open enrollment period even though officials are referring to it as a special enrollment period. It is open to anyone who qualifies for marketplace coverage or wants to change their marketplace plan.
"I call it open enrollment right now, because it's so broad, anyone can come in," says Cynthia Cox, vice president and director of the program on the ACA at the Kaiser Family Foundation. "And it's for a long period of time, so it's kind of like a redo of open enrollment."
4. Examine the challenges and barriers rural communities and underserved areas face when it comes to signing up for Obamacare.
The ACA has helped more racial and ethnic minorities get insurance coverage, although disparities persist, according to a 2020 analysis by the Kaiser Family Foundation, which was based on data from the American Community Survey. The analysis shows that the uninsured rate among Black people under age 65 dropped from 14.9% in 2014, when the federal marketplace opened, to 11.5% in 2018. The rate among Hispanics under age 65 fell from 24.8% in 2014 to 19% in 2018. The uninsured rate among white and Asian groups also dropped, although both have historically had lower rates compared with Black and Hispanic individuals, according to ACS data.
Access to the internet is another source of disparity.
About 25 million Americans, or 7.7% of the population, lack internet access at home in 2019, according to the Peterson-KFF Health System Tracker, an online information hub monitoring and assessing the performance of the U.S. health system. Of those who didn't have internet at home, 12% were black and 9% were Hispanic, compared with 7% white. In addition, 18% of the people living below poverty had no internet at home.
"That lack of internet access in most prevalent in rural areas and among historically underrepresented racial and ethnic groups is concerning, as this could worsen existing health care disparities," according to the tracker.
5. Explain deductibles.
A deductible is the amount consumers must pay for their health care before their insurance plan starts to pay. But explain to your audience that the deductible isn't the same thing as the cost of a plan.
For instance, an individual may find a plan on the marketplace that has a $0 premium but a $7,000 deductible. And they might assume, "well, that's useless to me," Cox says. "But it's false. It's better to be $7,000 [in debt] than $300,000 in debt, which could totally happen if you have a major hospitalization."
Cox adds: "If you're perfectly healthy and you use no health care, even if your deductible is $7,000, you pay zero dollars. And if you use a little bit of health care or you only get preventive services, then again, you pay either zero dollars or a very small amount of money."
Frequently asked questions
What is the health insurance marketplace?
Former President Barack Obama's health care law created the health insurance marketplace, where consumers can find information about private health insurance options, buy health insurance and get financial help with monthly premiums and out-of-pocket costs. The marketplace also is called the "exchange." The federal marketplace is administered by the Department of Health and Human Services.
What's the difference between federal and state-based marketplaces?
Each state can establish and run its own health insurance marketplace. It can apply for federal grants to help cover its costs. Currently, 15 states have state-based marketplaces, according to the Kaiser Family Foundation.
States have the option of establishing their own marketplace but relying on the federal marketplace for enrollment and eligibility. These marketplaces are called state-based marketplaces using the federal platform, of which there are six. Most states — 30 of them — have opted not to establish their own marketplace and solely rely on the federal marketplace. (Here's a list of states by marketplace type.)
What are Obamacare's metal categories?
Insurance plans on the marketplace come in four metal categories: bronze, silver, gold and platinum. They indicate how the plan and consumer split the cost of care, with bronze having the lowest monthly premiums and highest deductibles and out-of-pocket costs. The term "benchmark plan" refers to the silver plan. This chart by the Kaiser Family Foundation shows the average cost of benchmark plan premiums by state.
How old is the marketplace?
While the Affordable Care Act was signed into law in 2010, the marketplace opened in 2014.
What are premium tax credits?
Premium tax credits, also called premium subsidies, are refundable tax credits designed to make Obamacare more affordable for people with low to moderate incomes.
Premiums are what consumers pay each month for health insurance. The amount of the tax credit depends on a person's income with lower-income individuals receiving larger credits. In 2020, tax credits, on average, covered 85% of monthly premium costs for people who qualified. (This chart breaks it down by state and this chart show premium subsidy ranges by income.) The federal government pays the amount of the tax credit to the insurance companies each month, lowering the monthly premium for the consumer. That's why premium tax credits are formally referred to as advance payments of the premium tax credit, or APTCs. ACA premium tax credits are different from regular tax credits that are filed for the prior year.
What are cost-sharing reductions?
They are discounts that lower the amount people pay for their insurance deductible, copayment and coinsurance — or, in short, their total out-of-pocket cost. They're also called "extra savings" on the marketplace. These savings are only available for certain plans, however. This calculator by healthcare.gov helps consumers find out if they qualify for cost-sharing reductions.
In 2020, 86% of marketplace enrollees — or 9.2 million people — received a premium tax credit. More than 5.3 million people — or 50% — received cost-sharing reductions, according to the U.S. Centers for Medicare and Medicaid Services.
What are federal poverty guidelines?
U.S. Federal Poverty Guidelines, which the federal government issues annually, are used to determine financial eligibility for certain federal programs. This Department of Health and Human Services website provides poverty guidelines for 2021, listing the household sizes and corresponding income levels that signal that a household is at 100% of poverty guidelines — a common measure of poverty in the U.S. This accompanying spreadsheet shows percentage multiples of the guidelines, such as 125% or 400%, which can be used to gauge eligibility for government programs benefiting people of varying household sizes and incomes.
How does the health law affect people on Medicaid?
The Affordable Care Act's goal was to provide health coverage to uninsured individuals in two ways: by expanding Medicaid coverage to low-income individuals and by providing subsidies on the health insurance marketplace to individuals whose income was between 100% and 400% of federal poverty levels.
Medicaid is the nation's public health insurance program for people with low income. It covers one in five Americans.
However, not all states expanded Medicaid, creating the "coverage gap." This gap includes people who earn too much to qualify for Medicaid (more than 41% of federal poverty levels) and too little to qualify for tax credits on the ACA marketplace (less than 100% of federal poverty levels).
In states that have expanded Medicaid, the eligibility for the program is at 138% of poverty, essentially closing the 'coverage gap.'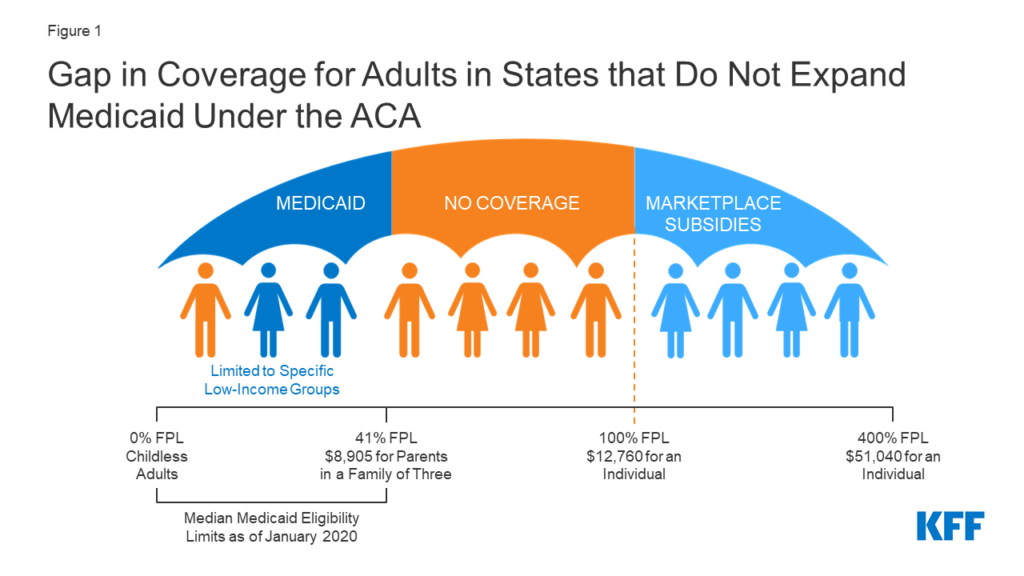 Twelve states have not expanded Medicaid (list here), leaving as many as 4 million people without insurance coverage, according to the Kaiser Family Foundation, which breaks down by state the number of people left uninsured due to the coverage gap.
The relief package Biden signed into law this month encourages states to expand Medicaid by offering to match their funding in order to cover the full cost of expanding the program in addition to the cost of covering current Medicaid enrollees. The federal government would match that funding for two years. But there's already pushback in some states. For example, the governor of Mississippi, which would receive $600 million in federal funding to expand Medicaid, already has said he opposes it.
How does the relief package help people with higher incomes?
The relief package extends subsidies for two years to people who earn more than 400% of federal poverty guidelines. Previously, these individuals didn't qualify for financial help.
For instance, a 60-year-old individual who earns $55,000 a year and is at 430% of the federal poverty level would have had to pay $634 in monthly premiums for a low-cost plan before the relief package passed. After its passage, the individual's monthly premium for the same plan falls to $146, according to the Kaiser Family Foundation.
Additional resources
After its initial publication, this piece was updated to reflect the extension of the special enrollment period from May to August.