During a panel at the 2023 Association of Health Care Journalists conference in St. Louis last month, speakers at a panel called "LGBTQ stories need LGBTQ sources: Here's how to find them," offered multiple tips and resources.
Here's some of what they shared, along with some additional resources for reporting stories about LGBTQ health.
Use style guides for correct, up-to-date language.
"When you're in a minority community, language changes all the time," said Jen Christensen, a writer, editor and producer at CNN's Medical & Climate Unit as well as a board member and the immediate past president of The Association of LGBTQ+ Journalists, or NLGJA.
Some changes in commonly-used language comes from the LGBTQ+ community, but some changes are created by those who are against LGBTQ+ rights and want to politicize the community, "and there's awful language that comes with it," she said.
Christensen advised journalists to use the least political language possible. Two good resources to help find the best language are The Association of LGBTQ+ Journalists' Stylebook and the Trans Journalists Association's Style Guide.
Bookmarking these style guides can help journalists navigate terminology conflicts. For instance, some news publications use the word queer, a term originally used as a pejorative for gay, which has been reclaimed and is now used by many LGBTQ+ people. (The "Q" can stand for either "queer" or "questioning.") But for some older people in the LGBTQ+ community, queer is still considered a slur, Christensen said. So if you want to use the word queer, explain why you're using the term.
The NLGJA also has a Rapid Response Task Force, which answers complaints about reporting that audiences and other journalists see as unfair or inaccurate. The task force contacts newsrooms about appropriate terminology and bias.
Establish connections with LGBTQ+ organizations.
Alex Sheldon, interim executive director of GLMA, formerly the Gay & Lesbian Medical Association, said for many decades, LGBTQ+ people were misrepresented or unfairly represented in the media, and that has led to an erosion of trust with media professionals.
"So establishing that trust and building it is so crucial to getting these stories right," they said.
Sheldon encouraged journalists to establish authentic relationships with LGBTQ+ organizations, "so that [they] are coming to you with more stories, and also making sure that you have the right sources of information."
There are LGBTQ+ organizations in all sorts of professions, said Sheldon. One example they gave is the National Gay Pilots Association, an organization of lesbian, gay, bisexual, and transgender aviation professionals and enthusiasts from around the world.
Sheldon recommended several resources and conferences to help improve coverage of LGBTQ+ stories, which we have listed below.
8 story ideas
Christensen offered these story ideas during her presentation:
The banning of gender-affirming care for youth: The American Civil Liberties Union every Monday updates a map of what's happening in each state and has a list of introduced bills.
Mental health of LGBTQ+ people, including youth. A 2022 National Survey on LGBTQ Youth Mental Health by The Trevor Project, a nonprofit focused on suicide prevention among LGBTQ+ youth, found that 58% of respondents reported experiencing symptoms of depression. If you're reporting and writing on this topic, include an info box with mental health resources, Christensen advised.
Ongoing restrictions on sex education: "There are a lot of opportunities to talk about whether or not there is a sex ed that's inclusive of the LGBTQ community," Christensen said.
Challenges facing older LGBTQ+ people: "There are so many couples that don't have children who can help take care of them," Christensen said. Issues to investigate include loneliness, nursing home care and poverty. There are solutions stories too. "There are a number of new residencies being built for LGBTQ+ seniors all throughout the country and it would be interesting to talk to people who are doing that," she said.
HIV, which continues to be a major public health issue in the U.S. and around the world: "It's such a huge problem in our country, particularly for communities of color, and yet, we're not covering it frequently," Christensen said. Another story idea is to look into state legislatures considering the repeal of laws that make it a crime to knowingly expose someone to HIV or other sexually transmitted infections. As of October 2022, 35 states had laws that criminalize HIV exposure. Usage and uptake of PrEP, or pre-exposure prophylaxis, is another story idea.
Bisexual communities also need more news coverage. Some studies show that bisexual people are at a greater risk of poor mental health compared with their gay and lesbian counterparts, due to factors such as stigma and what researchers call "identity invalidation," which are experiences in which others deny or refuse to accept one's identity.
LGBTQ+ people's access to medical care: Studies show there are gaps in access to care among LGBTQ+ people and they more commonly report health problems compared with non-LGBTQ+ people. LGBTQ+ people also report more medical discrimination.
Eating disorders: LGBTQ+ adults and youth are more likely to have eating disorders than their heterosexual and cisgender counterparts, studies show.
Tell positive stories too: Don't just tell the stories of pain and challenge, but also the stories of "joy and queer celebration," Sheldon advised.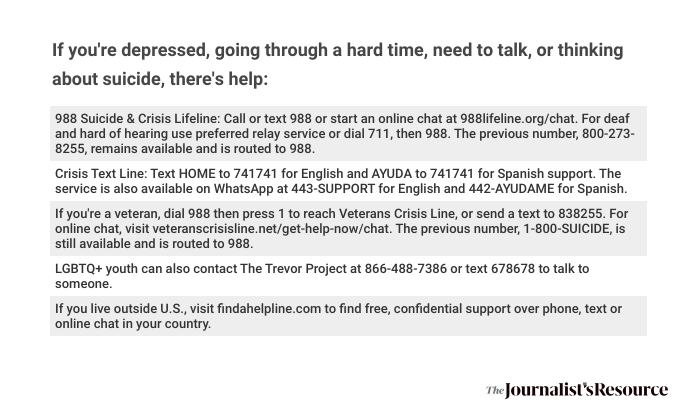 Resources
Conferences