Longitudinal Gender and Age Bias in a Prominent Amateur New Media Community
Tags: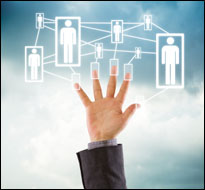 Research Findings
Despite early hopes that the Internet would foster communities based on common interests regardless of race, age or gender, studies have found that many offline sociological patterns are typically replicated in online spaces. However, few studies have tracked these behaviors at the level of the individual user.
A 2012 study published in New Media and Society, "Longitudinal Gender and Age Bias in a Prominent Amateur New Media Community," examined the impact of an individual's age and gender on content and author ratings in an online community of computer animators. The researchers, from Indiana University-Bloomington, the University of Wisconsin-Madison and the University of Notre Dame, analyzed more than a million profiles from a site for sharing amateur Flash animations — the age, gender and location of users as well as community ratings for them and their work. The data were correlated with a sample of nearly 300,000 animated movies generated and rated by community members to determine patterns of user ratings and users' age and gender.
Key study findings include:
"'Author gender' and, to a lesser degree, 'reviewer gender' had the largest effects on scores. In all analyses, male authors received higher scores than females, and male reviewers usually gave higher scores than did females…. Older males maintained their privileged status throughout."
Male site users age 20 and over typically received the highest initial ratings of all gender and age subgroups when they initially joined the site, and their scores tended to increase over time: The site "was perhaps most enjoyable for men, especially those in their 20s."
Ratings for female contributors tended to start relatively low but rose over time. Ratings for male contributors age 19 or younger tended to start just below those of older males but declined over time; young males were the only subgroup whose scores dropped over time. "Whereas young men [on the site] often either competitively over-exert themselves or are hazed [through aggressive criticism] before burning out, young women often proceed cautiously and become respected connoisseur-critics."
While younger creators and their creations receive more reviews initially, their older counterparts received more reviews over time. "This may reflect the scoring and reviewing frenzy that exists around new movies, and how old movies remain available in perpetuity."
"Young people dominated the site's population, yet older people were the site's primary beneficiaries…. In this community, regardless of gender, the old are usually venerated by the young."
"In addition to supporting previous research on male bias in contexts such as this," the authors conclude, "the current study revealed a complex age hierarchy with gender interactions."
Tags: women and work, youth
Teaching Notes
Study analysis
Read the study titled "Longitudinal Gender and Age Bias in a Prominent Amateur New Media Community."
What are the study's key technical term(s)? Which ones need to be put into language a lay audience can understand?
Do the study's authors put the research into context and show how they are advancing the state of knowledge about the subject? If so, what did the previous research indicate?
What is the study's research method? If there are statistical results, how did the scholars arrive at them?
Evaluate the study's limitations. (For example, are there weaknesses in the study's data or research design?)
How could the findings be misreported or misinterpreted by a reporter? In other words, what are the difficulties in conveying the data accurately? Give an example of a faulty headline or story lead.
Newswriting and digital reporting assignments
Write a lead, headline or nut graph based on the study.
Spend 60 minutes exploring the issue by accessing sources of information other than the study. Write a lead (or headline or nut graph) based on the study but informed by the new information. Does the new information significantly change what one would write based on the study alone?
Compose two Twitter messages of 140 characters or fewer accurately conveying the study's findings to a general audience. Make sure to use appropriate hashtags.
Choose several key quotations from the study and show how they would be set up and used in a brief blog post.
Map out the structure for a 60-second video segment about the study. What combination of study findings and visual aids could be used?
Find pictures and graphics that might run with a story about the study. If appropriate, also find two related videos to embed in an online posting. Be sure to evaluate the credibility and appropriateness of any materials you would aggregate and repurpose.
Class discussion questions
What is the study's most important finding?
Would members of the public intuitively understand the study's findings? If not, what would be the most effective way to relate them?
What kinds of knowledgeable sources you would interview to report the study in context?
How could the study be "localized" and shown to have community implications?
How might the study be explained through the stories of representative individuals? What kinds of people might a reporter feature to make such a story about the study come alive?
What sorts of stories might be generated out of secondary information or ideas discussed in the study?