Does Blogging Empower Women? Exploring the Role of Agency and Community
Tags: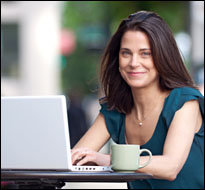 Research Findings
Studies have shown that online participation varies according to class, race and ethnicity as well as age and gender. Although women are rare among the ranks of A-list bloggers, more women blog then men, according to earlier research. What motivates women to blog, and in what ways do they find the practice empowering?
A 2012 article in the Journal of Computer-Mediated Communication, "Does Blogging Empower Women? Exploring the Role of Agency and Community," tested the extent to which blogging provides women with an increased sense of agency or an enhanced sense of community. Researchers randomly assigned 214 female university students to write either a personal or issue-related blog (referred to as a "filter blog"). The number of blog visitors and comments were each randomly manipulated to be high or low. The researchers also surveyed a random sample of 340 female bloggers chosen from a Web directory of woman-authored blogs.
Key study findings include:
Personal journal bloggers experience psychological empowerment through an enhanced sense of community, while filter bloggers do so through increased feelings of agency.
"It appears that, psychologically, filter bloggers seem to assume a pulpit mentality and treat their online output as a form of publishing that benefits from any and all forms of receiver activities on their blogs, whereas personal bloggers appear to treat the blog as a form of support group that thrives on active participation by a group of commenters."
The experiment found that usage metrics such as page visits and number of comments are meaningful for bloggers. The authors note that "for personal bloggers, any indication of external validation is motivating," referring to both comments and site visits. Filter bloggers, meanwhile, are motivated primarily through the number of visits their site receives, regardless of the number of comments left.
The authors noted that "it may be argued that just as the subjective experience of free will does not necessarily make it real … the subjective experience of psychological empowerment does not render one truly empowered to change one's circumstances. There is reason to believe, however, that psychological empowerment is likely to lead to actions toward changing one's environment."
A related 2012 study, "The Therapeutic Value of Adolescents' Blogging About Social-Emotional Difficulties," found that teen girls who blogged about emotional difficulties helped to "alleviate users' self-perceptions and negative emotions and, consequently, contribute to their ability to cope with difficulties in their offline environment."
Tags: technology, gender
Teaching Notes
Related media
Read the issue-related Huffington Post article titled "Why BlogHer Is a big deal -- to Katie Couric, Martha Stewart, President Obama and Me."
What key insights from the news article and the study in this lesson should reporters be aware of as they cover these issues?
Study analysis
Read the full study titled "Does Blogging Empower Women? Exploring the Role of Agency and Community."
What are the study's key technical term(s)? Which ones need to be put into language a lay audience can understand?
Do the study's authors put the research into context and show how they are advancing the state of knowledge about the subject? If so, what did the previous research indicate?
What is the study's research method? If there are statistical results, how did the scholars arrive at them?
Evaluate the study's limitations. (For example, are there weaknesses in the study's data or research design?)
How could the findings be misreported or misinterpreted by a reporter? In other words, what are the difficulties in conveying the data accurately? Give an example of a faulty headline or story lead.
Newswriting and digital reporting assignments
Write a lead, headline or nut graph based on the study.
Spend 60 minutes exploring the issue by accessing sources of information other than the study. Write a lead (or headline or nut graph) based on the study but informed by the new information. Does the new information significantly change what one would write based on the study alone?
Compose two Twitter messages of 140 characters or fewer accurately conveying the study's findings to a general audience. Make sure to use appropriate hashtags.
Choose several key quotations from the study and show how they would be set up and used in a brief blog post.
Map out the structure for a 60-second video segment about the study. What combination of study findings and visual aids could be used?
Find pictures and graphics that might run with a story about the study. If appropriate, also find two related videos to embed in an online posting. Be sure to evaluate the credibility and appropriateness of any materials you would aggregate and repurpose.
Class discussion questions
What is the study's most important finding?
Would members of the public intuitively understand the study's findings? If not, what would be the most effective way to relate them?
What kinds of knowledgeable sources you would interview to report the study in context?
How could the study be "localized" and shown to have community implications?
How might the study be explained through the stories of representative individuals? What kinds of people might a reporter feature to make such a story about the study come alive?
What sorts of stories might be generated out of secondary information or ideas discussed in the study?