Achievement Growth: International and U.S. State Trends in Student Performance
Tags: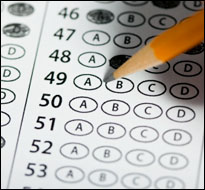 Research Findings
Despite U.S. education initiatives such as No Child Left Behind (2003) and Race to the Top (2009), a 2011 report found only modest gains in reading and math scores in the past decade.  While the outcomes of these assessments can be problematic, in an age of increasing global competitiveness — and billions of federal dollars spent on education — tests can help policymakers to better understand how well these current policies are working.
A 2012 report from the Harvard Kennedy School, "Achievement Growth: International and U.S. State Trends in Student Performance" (PDF), estimated learning gains in math, science and reading for the United States and 48 developed and transitional countries from 1995 to 2009; the researchers also analyzed student performance in 41 U.S. states between 1992 and 2011. The test scores examined were for students in the  4th and 8th grades, or their approximate international equivalent.
The study findings include:
U.S. students have experienced only modest educational gains since 1995. Test score performance improved annually by 1.6% of a standard deviation — about "one additional year's worth of learning." Per-capita spending was found to have no effect on testing outcomes.
The United States ranks 24th of 49 countries — in the middle of the pack — for test score improvement overall.
The three top-performing countries, Latvia, Chile and Brazil, showed annual growth of the equivalent of more than two additional years of schooling. The three worst-performing countries, Sweden, Bulgaria and Thailand, showed test-score declines. The authors observed "no significant pattern between original performance and changes in performance across countries."
U.S. states adhered to the "catch-up" theory that lower-performing ones caught up to better-performing ones. Additionally, the majority of states that registered gains over the time period did so for both low- and high-achieving students.
Individual U.S. states varied widely in educational gains. Maryland, Florida and Delaware showed the largest gains, equivalent to at least two years of additional learning; Iowa, Maine, Oklahoma, Wisconsin and Nebraska showed the lowest gains, equivalent only to about one-half to three-quarters of a year's worth of learning.
U.S. student performance steadily declined after the 4th grade and continued throughout high school.
The authors suggested that "the failure of the United States to close the international test-score gap, despite assiduous public assertions that every effort would be undertaken to produce that objective, raises questions about the nation's overall reform strategy. Education goal setting in the United States has often been utopian rather than realistic."
Tags: metastudy, municipal, youth
Teaching Notes
Media analysis
Read the study-related MSNBC report titled "Harvard Study: U.S. 'Middling, Not Stellar' in Student Achievement Gains."
What key insights from the news article and the study in this lesson should reporters be aware of as they cover issues relating to public school education reforms and academic performance?
Study analysis
Read the full study titled "Achievement Growth: International and U.S. State Trends in Student Performances" (PDF).
What are the study's key technical term(s)? Which ones need to be put into language a lay audience can understand?
Do the study's authors put the research into context and show how they are advancing the state of knowledge about the subject? If so, what did the previous research indicate?
What is the study's research method? If there are statistical results, how did the scholars arrive at them?
Evaluate the study's limitations. (For example, are there weaknesses in the study's data or research design?)
How could the findings be misreported or misinterpreted by a reporter? In other words, what are the difficulties in conveying the data accurately? Give an example of a faulty headline or story lead.
Newswriting and digital reporting assignments
Write a lead, headline or nut graph based on the study.
Spend 60 minutes exploring the issue by accessing sources of information other than the study. Write a lead (or headline or nut graph) based on the study but informed by the new information. Does the new information significantly change what one would write based on the study alone?
Compose two Twitter messages of 140 characters or fewer accurately conveying the study's findings to a general audience. Make sure to use appropriate hashtags.
Choose several key quotations from the study and show how they would be set up and used in a brief blog post.
Map out the structure for a 60-second video segment about the study. What combination of study findings and visual aids could be used?
Find pictures and graphics that might run with a story about the study. If appropriate, also find two related videos to embed in an online posting. Be sure to evaluate the credibility and appropriateness of any materials you would aggregate and repurpose.
Class discussion questions
What is the study's most important finding?
Would members of the public intuitively understand the study's findings? If not, what would be the most effective way to relate them?
What kinds of knowledgeable sources you would interview to report the study in context?
How could the study be "localized" and shown to have community implications?
How might the study be explained through the stories of representative individuals? What kinds of people might a reporter feature to make such a story about the study come alive?
What sorts of stories might be generated out of secondary information or ideas discussed in the study?