What's the best length for online news videos? Recent research
Tags: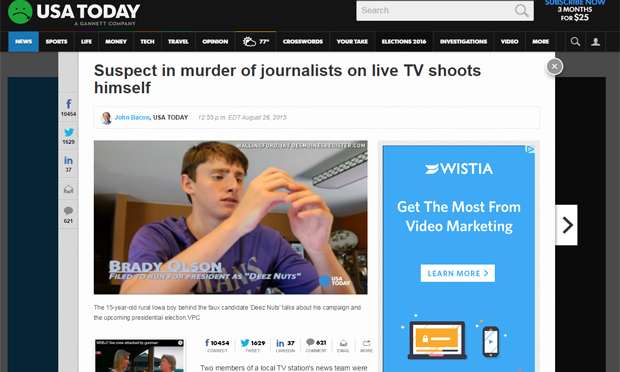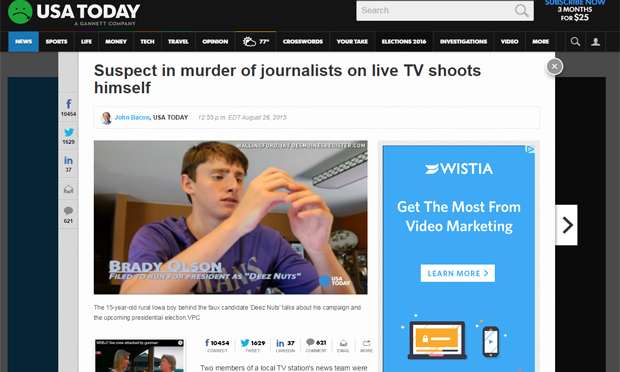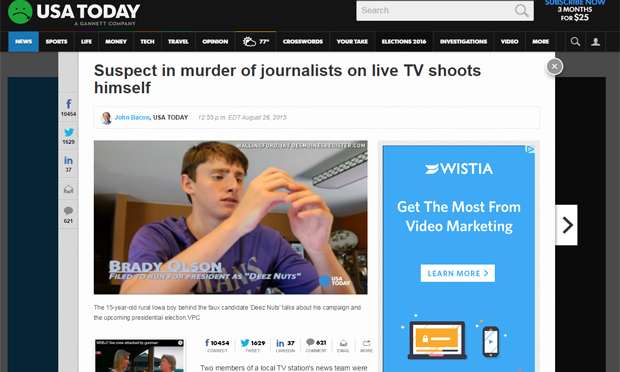 For many news organizations, a common approach to producing online video is that shorter is better. There is no industry standard for how to create news videos that are guaranteed to grab viewers' attention and keep an audience glued to a website. Media leaders have been experimenting with video for years, trying to figure out what viewers like and want while also trying to understand the success of videos posted on YouTube and other video-sharing platforms.
Meanwhile, many thousands of news videos, produced with considerable effort, continue to garner just a few hundred views at best, prompting news managers to question the return on investment of precious staff time.
Still, a 2014 report from the Pew Research Center found that more than six in ten adults in the U.S. watch online videos and that 36% of all adults watch news videos. A number of studies have focused on the length of videos on YouTube, which has more than 1 billion users. Pew, for one, looked at the issue in 2012 and found that the median length of the most popular videos was 2 minutes and 1 second — longer than the median length of a local TV news story but shorter than the most common length for a network evening news package. ComScore Inc., a media measurement and analytics company, released a report in 2014 noting that the duration of the average online video — not counting online video ads — was 4.4 minutes.
In 2014, the Tow Center for Digital Journalism at Columbia University released a multimedia report chronicling the challenges newsrooms face as they work to make video an editorial tool from which they can profit:
It is still unclear what the best length is for a news video — and it is possible that tastes and standards will change over time, as the differing opinions in the ongoing debate over shooting mobile vertical videos suggest. But new research from the University of Texas at Austin offers some insight. A 2015 study published in the Newspaper Research Journal, "Longer, Higher Quality Videos Preferred by News Viewers" examined the characteristics of video to gauge people's preferences. By using an online survey of 107 people, the authors sought to determine whether shorter news videos really are better. The authors of the study were Peter S. Chen and Gina Masullo Chen of the University of Texas at Austin and Nicholas Wilson and Chen-Wei Chang, both of the University of Southern Mississippi.
Key findings were:
Viewers preferred high-quality videos over low-quality videos. While prior research indicates that people can tolerate lower-quality videos if they like the content, this study suggests viewers "would not tolerate content they found uninformative, bad, not enjoyable or not worth recommending to others."
People liked longer videos better than shorter ones. Long videos averaged 2.08 minutes in duration. Short videos averaged 24 seconds.
When both quality and length were considered, people preferred long, high-quality videos to other types of video, including short, high-quality ones.
A video's quality influences what audience members think of a news organization, and having longer videos heighten that perception.
The authors note that their findings have important implications for news organizations, many of which have required reporters in recent years to take on the added task of producing and editing news videos, sometimes without much training. "The drive to get more videos online, particularly shorter ones, by staffs that lack visual training may backfire for news organizations over time," the authors state. "Like many solutions to the newspaper crisis, posting online videos will not solve the problem of attracting an online audience unless it is done with quality." The authors stressed the need for additional research into other aspects of video — for example, audio quality and composition — to understand what compels viewers to start and stop watching.
Related research: A 2011 report published in Journalism Studies focused on the popularity of YouTube videos and suggested that "more relaxed content practices are rewarded with a higher number of views, while adherence to traditional production practices does not predict popularity." A 2015 report from the Reuters Institute for the Study of Journalism at the University of Oxford examines the state of digital news across various countries.
Key words: online news, news websites, news video, newsroom strategy, multimedia, digital content, digital media
Citation: Chen, Peter S.; et al. "Longer, Higher Quality Videos Preferred by News Viewers," Newspaper Research Journal, 2015, Vol. 36 (2). doi: 10.1177/0739532915587291.
We welcome feedback. Please contact us here.
Media/analysis tips
Analysis assignments
Read the issue-related article from Nieman Lab titled "After the Launch of its Long-awaited Web Redesign, The Wall Street Journal Hopes to Spur Innovation."
What key insights from the news article and the study in this lesson should reporters be aware of as they cover these issues?
Read the full study titled "Longer, Higher Quality Videos Preferred by News Viewers."
What are the study's key technical terms? Which ones need to be put into language a lay audience can understand?
Do the study's authors put the research into context and show how they are advancing the state of knowledge about the subject? If so, what did the previous research indicate?
What is the study's research method? If there are statistical results, how did the scholars arrive at them?
Evaluate the study's limitations. (For example, are there weaknesses in the study's data or research design?)
How could the findings be misreported or misinterpreted by a reporter? In other words, what are the difficulties in conveying the data accurately? Give an example of a faulty headline or story lead.
Newswriting and digital reporting assignments
Write a lead, headline or nut graph based on the study.
Spend 60 minutes exploring the issue by accessing sources of information other than the study. Write a lead (or headline or nut graph) based on the study but informed by the new information. Does the new information significantly change what one would write based on the study alone?
Compose two Twitter messages of 140 characters or fewer accurately conveying the study's findings to a general audience. Make sure to use appropriate hashtags.
Choose several key quotations from the study and show how they would be set up and used in a brief blog post.
Map out the structure for a 60-second video segment about the study. What combination of study findings and visual aids could be used?
Find pictures and graphics that might run with a story about the study. If appropriate, also find two related videos to embed in an online posting. Be sure to evaluate the credibility and appropriateness of any materials you would aggregate and repurpose.
Class discussion questions
What is the study's most important finding?
Would members of the public intuitively understand the study's findings? If not, what would be the most effective way to relate them?
What kinds of knowledgeable sources you would interview to report the study in context?
How could the study be "localized" and shown to have community implications?
How might the study be explained through the stories of representative individuals? What kinds of people might a reporter feature to make such a story about the study come alive?
What sorts of stories might be generated out of secondary information or ideas discussed in the study?