Urban charter schools and student gains: 2015 findings from Stanford University
Tags: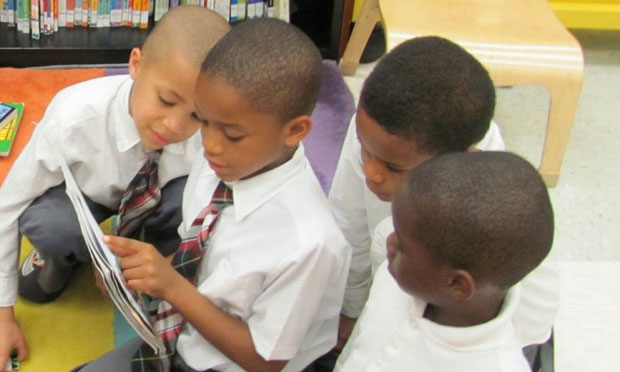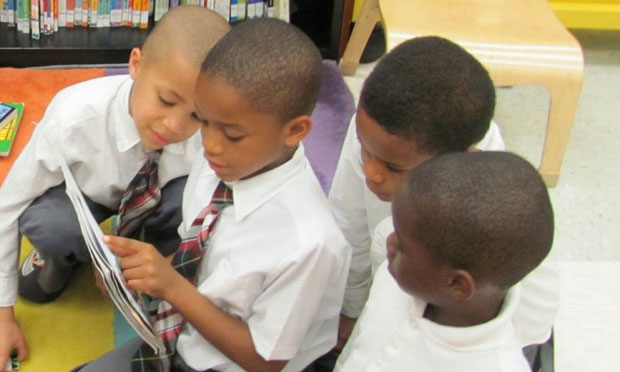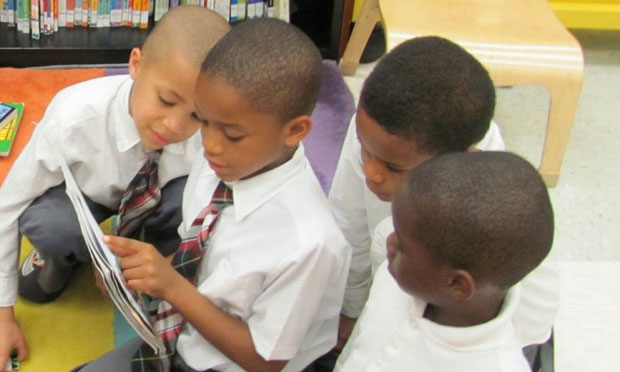 As of 2014 there were approximately 6,400 charter schools in the United States serving more than 2.5 million children, according to the National Alliance for Public Charter Schools. The growth of charter schools has been controversial, and scholarship over the past decade has been mixed on their ability to improve outcomes for students who might otherwise be compelled to enter lower-performing schools. Evidence does suggest that charter schools may be more important and relatively effective in urban areas. Still, researchers are just getting to the point where they can assemble sufficiently large datasets to draw more general conclusions about the impact of charter schools.
A 2015 study from Stanford University's Center for Research on Education Outcomes (CREDO), "Urban Charter School Study: Report on 41 Regions," examines the direct contribution of charter schools in raising student test scores over a given year — what scholars call the measurable "value added" in student growth — in 41 regions of 22 states. The researchers partnered with the states' education departments to analyze some 1 million records for charter students and a matched group of comparison traditional public school students over the period 2006 to 2012.
Research findings include:
Urban charter school students showed "significantly higher levels of annual growth in both math and reading compared to their [traditional public schools] peers…. These results translate to urban charter students receiving the equivalent of roughly 40 days of additional learning per year in math and 28 additional days of learning per year in reading."
While the overall picture bolsters the case for charter schools, there is significant regional variation: 26 urban areas saw gains in math among charter school students, while 11 saw relative declines; 23 areas saw gains in reading, while 10 saw no such improvements. Eight urban areas among the 41 saw little difference between charter school and traditional public schools for students.
Among the urban areas that saw notably positive results among charter school students, Boston, Newark, Memphis and Washington, D.C., were standouts. Comparatively negative outcomes were found for cities in Florida, Texas and the Southwest.
Gains are particularly noteworthy among Black, Hispanic (and English-language learners) and special-education children: "Gains for these subpopulations amount to months of additional learning per year." However, "These results are partially offset … by the negative impact on math and reading growth experienced by white students enrolled in urban charter schools and for Native American students in math."
"Across all urban regions, black students in poverty receive the equivalent of 59 days of additional learning in math and 44 days of additional learning in reading compared to their peers in [traditional public schools]. Hispanic students in poverty experience the equivalent of 48 days of additional learning in math and 25 days of additional learning in reading in charter schools relative to their peers in [traditional public schools]."
"Despite the overall positive learning impacts, there are urban communities in which the majority of the charter schools lag the learning gains of their [traditional public schools] counterparts, some to distressingly large degrees. In some urban areas, cities have no schools that post better gains than their [traditional public school] alternatives and more than half the schools are significantly worse."
The analysis is the third major study issued by the Stanford research group, which also published widely discussed — and somewhat controversial — findings in both 2009 and 2013. The researchers have stated that no one study will be definitive, but the accumulated evidence makes a stronger case over time. Observers of the 2015 findings note two important points: First, the 2015 report has fairly different conclusions than reports from prior years, suggesting no obvious bias; Second, although this wide-view level analysis is important, it is not quite as valid as some of the research done on charters based on admissions lotteries (which focus on a relatively small sample of charters). Analyzing districts where there are randomized lotteries helps rule out research confounding issues, as populations with certain characteristics may be predisposed to selecting in or out of charter schools.
Below are detailed breakouts of the study's results according to urban area (see more here on the meaning of the statistical term "standard deviation"):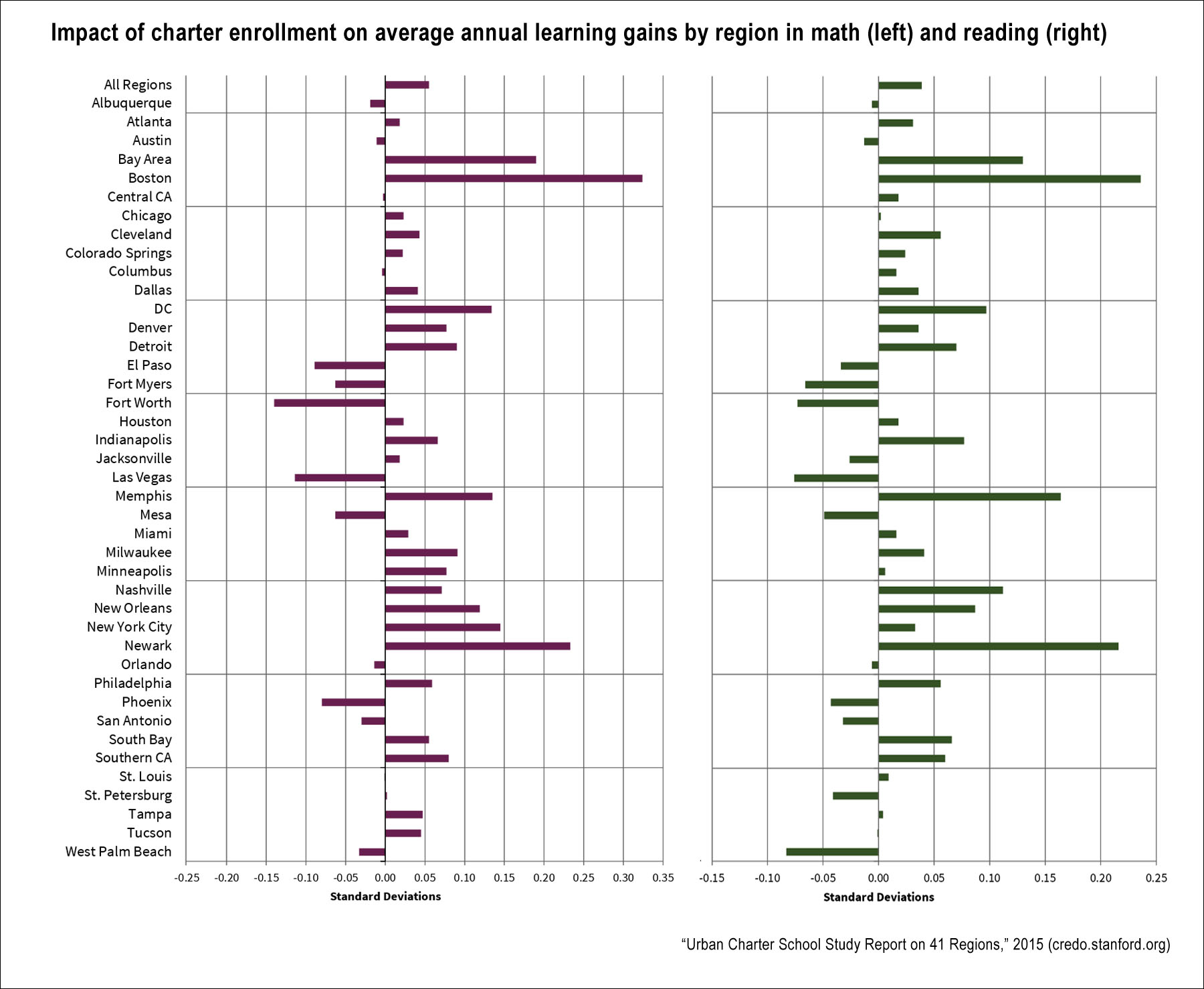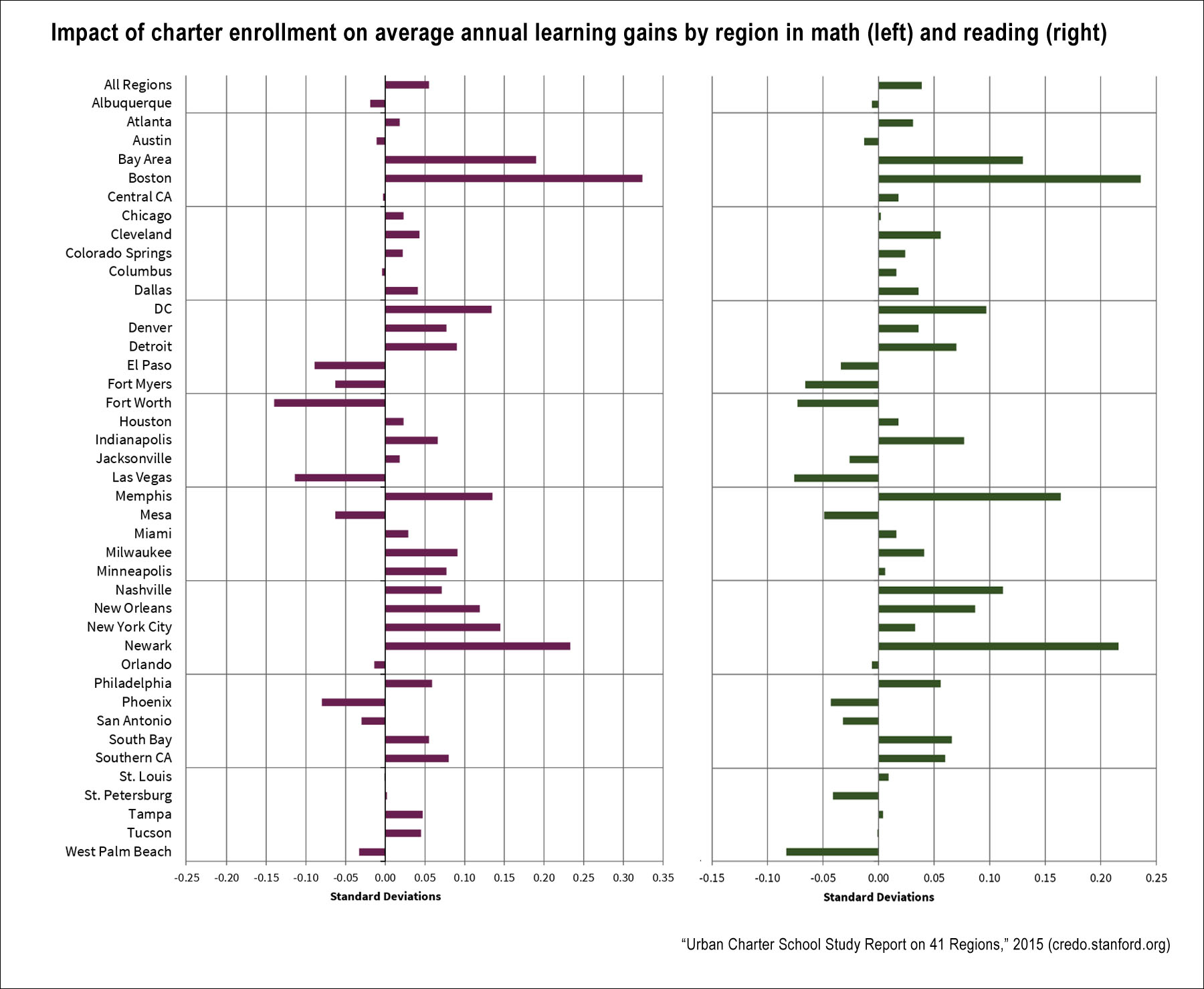 Keywords: African-American, Hispanic, Latino, charter schools, children, youth
Citation: "Urban Charter School Study Report on 41 Regions, 2015," Stanford University's Center for Research on Education Outcomes (CREDO).
We welcome feedback. Please contact us here.
Media/analysis tips
Analysis assignments
Read the study-related Seattle Times article titled "Stanford Study: Urban Charter School Students Have Academic Edge, but Are Differences Meaningful?"
Reporter's use of the study: Evaluate what the reporter chose to include and exclude from the study. Would the audience have acquired a clear understanding of the study's findings and limits from this article?
Reporter's use of other material: Assess the material in the article that is not derived from the study. For example: Does the reporter place the study in the context of other research and to what effect? Does the reporter include reactions to the study from other researchers or interested parties (e.g., political groups, business leaders, or community members) and are their credentials or possible biases made clear?
Read the full study titled "Urban Charter School Study: Report on 41 Regions 2015."
What are the study's key technical terms? Which ones need to be put into language a lay audience can understand?
Do the study's authors put the research into context and show how they are advancing the state of knowledge about the subject? If so, what did the previous research indicate?
What is the study's research method? If there are statistical results, how did the scholars arrive at them?
Evaluate the study's limitations. (For example, are there weaknesses in the study's data or research design?)
How could the findings be misreported or misinterpreted by a reporter? In other words, what are the difficulties in conveying the data accurately? Give an example of a faulty headline or story lead.
Newswriting and digital reporting assignments
Write a lead, headline or nut graph based on the study.
Spend 60 minutes exploring the issue by accessing sources of information other than the study. Write a lead (or headline or nut graph) based on the study but informed by the new information. Does the new information significantly change what one would write based on the study alone?
Compose two Twitter messages of 140 characters or fewer accurately conveying the study's findings to a general audience. Make sure to use appropriate hashtags.
Choose several key quotations from the study and show how they would be set up and used in a brief blog post.
Map out the structure for a 60-second video segment about the study. What combination of study findings and visual aids could be used?
Find pictures and graphics that might run with a story about the study. If appropriate, also find two related videos to embed in an online posting. Be sure to evaluate the credibility and appropriateness of any materials you would aggregate and repurpose.
Class discussion questions
What is the study's most important finding?
Would members of the public intuitively understand the study's findings? If not, what would be the most effective way to relate them?
What kinds of knowledgeable sources you would interview to report the study in context?
How could the study be "localized" and shown to have community implications?
How might the study be explained through the stories of representative individuals? What kinds of people might a reporter feature to make such a story about the study come alive?
What sorts of stories might be generated out of secondary information or ideas discussed in the study?