Last updated: December 5, 2012
2010 policy paper in Science exploring the consequences of policies relating to the export of ivory from African countries.
China's life satisfaction, 1990-2010
Last updated: November 29, 2012
2012 study in the Proceedings of the National Academy of Sciences on declining life satisfaction and discontent over time in China.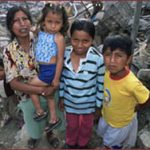 World Bank: Poverty levels in the developing world
Last updated: March 19, 2012
2012 report based on 850 surveys from 130 countries, covering 1.23 million households and providing a statistical snapshot of some 90% of the population of the developing world.