The law and social science of stop-and-frisk tactics by the police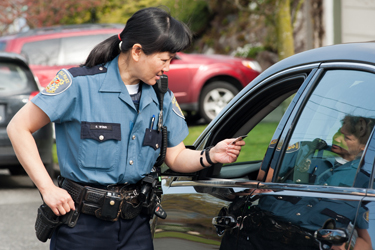 By Rachael Stephens
March 18, 2015
The year 2014 was a landmark one for police incidents in the news, as debates roiled over accusations of racial bias, the use of excessive force and perceived over-militarization. Key cases included the July and August deaths of Eric Garner and Michael Brown, both of whom were black, unarmed and killed by white officers, as well as alleged "revenge killings" of two police officers in Brooklyn in December. All brought long-simmering questions about policing, fairness and justice to a boil, and in response President Obama created the Task Force on 21st-Century Policing.
In a December 2014 poll by USA Today and the Pew Research Center of 1,507 U.S. residents, those surveyed stated nearly 3-1 that the officer who killed Garner by placing him in a chokehold should have been indicted on criminal charges. The same poll reports that nearly 9 in 10 believe that police officers should wear body cameras so that interactions with members of the public are consistently documented.
Long before the deaths of Brown and Garner, police tactics and use of force have been the subject of longstanding concern. Starting in the late 2000s the "stop and frisk" tactic was a flash point of protest, and concerns over it and the similar "jump-outs" are re-emerging. In 2013 a New York judge ruled that stop-and-frisk had to be reduced and reformed, but the case has undergone a number of legal reversals. Following the November 2014 shooting of Akai Gurley by a New York City police officer, there are pending reforms on stop-and-frisk tactics in public housing. Meanwhile, in Chicago, the ACLU issued a report in March 2015 alleging that the police department has disproportionately targeted the city's African-American community with stop and frisk tactics.
In a 2014 research review in the Annual Review of Law and Social Science, "The Law and Social Science of Stop and Frisk," Tracey Meares of Yale Law School surveys recent scholarship on the effectiveness of the tactic, referred to as "stop, question and frisk" (SQF) in the study. Meares also reviews related laws and discusses the theory of procedural justice and how it pertains to public perceptions of, and interactions with, the police.
Overall, the research indicates that the relationship between levels of SQF and crime reduction is not strong:
Studies indicate that it is difficult to conduct SQF in a way that does not damage the relationship between the public at large and police:
Research on how members of the public tend to interpret and understand their interactions with police officers found they tend to focus on just a few aspects of their interaction:
Research indicates that treatment of the public during interactions can have a serious impact on police legitimacy:
Judgments of the acceptability of police actions are increasingly based on their evaluation of the procedural justice of the action in question. "Legitimacy … can be a key driver of a healthy and properly functioning democratic government," Meares writes. "Thus, as the most common of police actions, stops and frisks should be employed in ways that enhance good government rather than detract from it."
Related research: A 2014 study by the RAND Corporation, "Evaluation of the Shreveport Predictive Policing Experiment," looks at the potential impact of predictive policing — using data to create models showing where and when crime might occur, and distributing patrol and enforcement resources accordingly. The researchers, Priscillia Hunt, Jessica Saunders and John Hollywood, studied the implementation of a 2012 pilot project in six districts of the police department in Shreveport, La. They conclude: "Predictive policing is not an end-all solution, but rather a tool that must be used in concert with other policing resources as part of a broader anti-crime effort."
Keywords: policing, youth, African-American, crime, profiling

We welcome feedback. Please contact us here.
Citation: Meares, Tracey L.. "The Law and Social Science of Stop and Frisk," Annual Review of Law and Social Science, September 2014, 10:335-52. doi: 10.1146/annurev-lawsocsci-102612-134043.