Private prisons: Research, data and controversies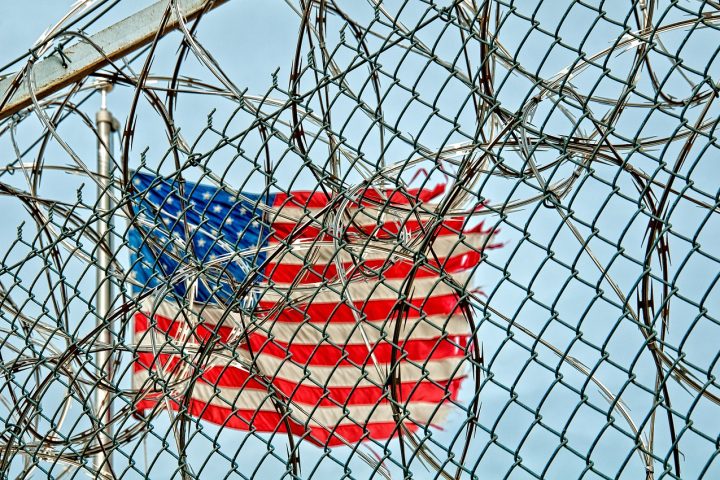 By David Trilling
July 12, 2017
With over 1.5 million people behind bars, the United States has the highest incarceration rate of any nation after the Seychelles. A rising number are held in prisons run by private companies. Supporters say these private prisons save money. Yet a growing body of academic research suggests that while privately run facilities may be cheaper, they are worse for inmates' rights and raise questions about business ethics.
Private companies run prisons for both the federal government and 29 states. Together these house about 8 percent of inmates around the U.S., according to government figures, a number that has risen quickly in recent years. The private prison population grew 80 percent between 1999 and 2010, according to a 2017 paper. In addition, hundreds of thousands of undocumented immigrants pass through privately run detention centers each year.
In the final months of the Obama administration, the Justice Department concluded that private prisons were more dangerous and less effective at reforming inmates than facilities run by the government. After a years-long review, it decided to start phasing them out.
But the Trump administration reversed that pledge, arguing that the Obama-era directive "impaired" the ability of the Federal Bureau of Prisons — which runs all federal prisons — "to meet the future needs of the federal correctional system."
Who are the for-profit companies running prisons?
The Justice Department's 2016 decision would have affected only a small number of federal prisons housing about 22,000 inmates. These are run by a handful of companies, including GEO Group and CoreCivic, which together booked $4 billion in total 2016 revenues. In notes to investors (links above), these companies list the prisons they operate and describe risks to their businesses, such as regulatory reform.
They have received some attention from Congress in recent years. In 2016, Sen. Ron Wyden, a Democrat from Oregon, introduced a bill called the "Ending Tax Breaks for Private Prisons Act." Wyden designed the legislation to stop these companies taking advantage of some legal IRS loopholes. In early 2017, Rep. Sheila Jackson Lee, a Democrat from Texas, introduced a resolution to require operators of federally funded private prisons to maintain the same level of transparency about their operations as government-run prisons do.
While Congress discusses curbing the private-prison industry, its lobbying power has caught the attention of journalists. The Washington Post revealed in 2015 that Sen. Marco Rubio, a Republican from Florida, was one of the largest beneficiaries of donations from the private prisons industry and that he oversaw an expansion of private prisons when he led the Florida House of Representatives. The companies have spent millions on lobbying Congress in recent decades. And President Trump's inauguration fund received donations of $250,000 each from CoreCivic and the GEO Group, USA Today reported. The companies "stand to make big gains under President Trump's tough new immigration orders," the newspaper said.
Immigration policy
In 2016, 73 percent of beds for immigrant detention were located in privately run facilities, a spokesperson for U.S. Immigration and Customs Enforcement (ICE) told journalists. In 2009, that figure was about 49 percent. Many activists attribute the rise to legislation that requires ICE to maintain some 34,000 beds. ICE interpreted this so-called "bed mandate" (or "immigrant detention quota") as an instruction to fill those beds, which it realized, in part, by turning to private contractors.
Besides concerns about effectiveness of private prisons and prisoners' safety, immigration advocates and some scholars argue that private companies are driving immigration detention policy in the interests of profit.
Indeed, a 2016 study found that at least two private prison companies helped craft immigration policy in Arizona, which then was copied by other states. The authors observed that "immigrants and noncitizens continue to grow in detainment and are creating profit for the private prisons that house them."
The Department of Homeland Security, the agency that oversees ICE, criticized the private detention facility program in 2016 for a lack of accountability in its solicitations, how it often awards no-bid contracts, and "an imbalance of power that sometimes allows contractors to dictate or unduly influence conditions of care, population management, and other practices." But when the Department reviewed the use of private facilities later that year, it declined to order they be closed, largely due to "fiscal considerations."
Other policy questions
The merits of private prisons are debated not only in government. Policy wonks are also divided — often along partisan lines. Supporters, such as the conservative-leaning Texas Public Policy Foundation, say they save the government money; the companies operating them claim they are better at reforming prisoners and reducing recidivism. Others, such as the progressive-leaning Americans Civil Liberties Union, argue that they are, as the Justice Department found, less safe and less effective at reforming inmates. The research papers and law journal articles below look at different angles of the debate, including how private prisons are financed and whether they save money; inmate recidivism and effects on their mental health; how different countries have handled privatization; and concerns about transparency.
Selected research and law journal articles:
"Who is in Private Prisons? Demographic Profiles of Prisoners and Workers in American Private Prisons"
Burkhardt, Brett C. International Journal of Law, Crime and Justice, 2017. DOI: 10.1016/j.ijlcj.2017.04.004.
Abstract: "Who is in private prisons? This seemingly straightforward question has received surprisingly little attention in the United States. This paper analyzes national prison data to provide demographic profiles of prisoners and workers in private prisons in the United States and to compare them to prisoners and workers in state and federal prisons. It summarizes data on jurisdiction, sentence length, race, and citizenship of prisoners, as well as the race and gender of correctional officers. Results reveal differences between private and public prisons with respect to both prisoners and workers. Specifically, private prisons detain inmate populations that are disproportionately non-white, under federal jurisdiction, and serving short sentences; and they employ officers that are disproportionately female and black or Hispanic. These results depict the private prison sector as distinct from its public counterpart — both in terms of prisoner and staff composition. A discussion considers the implications of these findings for equity in punishment."
"The Social and Political Impact of the New (Private) National Security: Private Actors in the Securitization of Immigration in the U.S. Post 9/11"
Moreno, Karina; Price, Byron Eugene. Crime, Law and Social Change, 2017. DOI: 10.1007/s10611-016-9655-1.
Abstract: "Neoliberal ideology has driven privatization across the globe steadily since the 1970s, advocating that the only way to meet macroeconomic objectives is to privatize public enterprise. As a result, market-like mechanisms are now embedded into what was traditionally public domain; this is the context under which immigration enforcement currently operates. […] the ability of private actors to push for a more securitized state, due to their profit motive, results in a distortion of securitization that negatively impacts the groups it disproportionately targets, such as Latinos, immigrants, and Muslims in the U.S."
"How Privatization Affects Public Service Quality: An Empirical Analysis of Prisons in England and Wales, 1998–2012"
Alonso, José M.; Andrews, Rhys. International Public Management Journal, 2015. DOI: 10.1080/10967494.2015.1048913.
Abstract: "[W]e find that privately managed prisons do perform better on dimensions of quality, such as confinement conditions and prisoner activity, which are more easily measured, whereas public prisons perform better on dimensions of quality, such as levels of order and prisoner safety, which are less easily measured and managed."
"Private Prisons and the Emerging Immigrant Market in the U.S.: Implications for Security Governance"
Saldivar, Karina Moreano; Price, Byron E. Central European Journal of International and Security Studies, 2015.
Abstract: "The purpose of this work is to examine the role and involvement of the two largest private prisons corporations in the U.S., Corrections Corporations of America (CCA) and The GEO Group Inc., in the immigration policy making arena. Recent news reported the role of the private prison industry in sponsoring and drafting Arizona's immigration bill, Senate Bill 1070. Following Arizona's SB 1070, 36 state legislatures proposed copycat bills. This is alarming because immigrants and noncitizens continue to grow in detainment and are creating profit for the private prisons that house them. […] We find that both CCA and the GEO Group Inc. spent over 90 percent of their lobbying dollars between 2003 and 2012 in states that proposed Arizona copycat bills."
"To Privatize or Not? Addressing Public Values in a Semiprivatized Prison System"
Reynaers, Anne-Marie; Paanakker, Hester. International Journal of Public Administration, 2016. DOI: 10.1080/01900692.2015.1028637.
Abstract: "Through public-private partnerships (PPPs), the Dutch government is experimenting with private sector involvement in its prison system. Although considered a promising alternative to traditional public procurement in terms of efficiency and effectiveness, there is a paucity of empirical data on the impact of PPPs on other important public values, such as transparency or responsiveness, in the specific context of the penal sector. Studying the first Dutch detention center PPP, this article sets out to provide empirical insight into the safeguarding of public values in semiprivate governance settings and seeks to uncover the challenges and opportunities for prison (semi)privatization."
"Do Private Prisons Really offer Savings Compared with their Public Counterparts?"
Kish, R.J.; Lipton, A.F. Economic Affairs, 2013. DOI: 10.1111/ecaf.12005.
Abstract: "Private contracting of public services has been alleged to reduce costs. We address the critical question of whether private contracting really saves money, using the U.S. prison privatization experience as an example. Although the consensus in the literature identifies such savings, we raise economic issues of incomplete contracting, asymmetric information and moral hazard, which complicate matters. We discuss explicit, implicit, and agency costs that show that measuring the savings and quality impact of private contracting is more challenging than the literature suggests, and often inconclusive. This may suggest caution in designing solutions to cost pressures."
"Are Private Prisons to Blame for Mass Incarceration and its Evils? Prison Conditions, Neoliberalism, and Public Choice"
Aviram, Hadar. Fordham Urban Law Journal, 2016.
Abstract: "One of the frequently criticized aspects of American mass incarceration, privatized incarceration, is frequently considered worse, by definition, than public incarceration for both philosophical [and] ethical reasons and because its for-profit structure creates a disincentive to invest in improving prison conditions. Relying on literature about the neoliberal state and on insights from public choice economics, this Article sets out to challenge the distinction between public and private incarceration, making two main arguments: piecemeal privatization of functions, utilities, and services within state prisons make them operate more like private facilities, and public actors respond to the cost/benefit pressures of the market just like private ones. This Article illustrates these arguments with several examples of correctional response to the conditions caused by the Great Recession, showing how public and private actors alike adopt a cost-minimizing, financially prudent approach, sometimes at the expense of prison conditions and inmate human rights. This Article ends by suggesting that, in a neoliberal capitalist environment, prohibitions and litigation alone cannot improve prison conditions, and that policymakers need to consider proper market incentives regulating both private and public prisons."
"The Privatization of Prisons and its Impact on Transparency and Accountability in Relation to Maladministration"
Headley, Andrea; Garcia-Zamor, Jean-Claude. International Journal of Humanities Social Sciences and Education, 2014. ISSN: 2349-0373.
Abstract: "The privatization of government services has been a means by which to increase efficiency, quality, and save money. Given this, much research has delved into the potential negative side effects of privatization, which include loss of transparency and accountability. Further, research points to the need for transparency and accountability as it relates to fighting maladministration. Thus, this paper applies this framework to the context of privatized prisons, to provide an exploration and theoretical approach to the question 'are private prisons more susceptible to maladministration than public prisons?' The paper also identifies three main structural factors, in regards to transparency and accountability that are associated with private prisons, which can lead to maladministration. These factors are the vagueness of contracts, the agency problem, and the lack of open access laws, specifically the Freedom of Information Act, which further promote incentives to conceal information."
"Privatization of Prison"
Khey, David N. The Encyclopedia of Crime and Punishment, 2015. DOI: 10.1002/9781118519639.wbecpx175.
Abstract: "Experimentations with prison privatization have occurred historically, but only since the 1980s have they become an integral part of the correctional systems in a growing number of countries. Along with the implementation of harsher penalties and longer sentences, prison overcrowding became a precursor to the popularity of private correctional facilities. Prison privatization is the process by which the government of any given country gives the authority to incarcerate inmates to a private corporation through the formation of a contract, which specifies the guidelines and standards that the private prison needs to fulfill. The private corporation is usually given a certain amount of money every day for each inmate it imprisons. In this way, private prisons are able to act as a supplement to public prisons by alleviating overcrowding. Privatized prisons are publicized as being less expensive, more efficient, constructed faster, and more rehabilitative. However, hidden costs, accountability problems, lower-quality staff, and corruption are factors that hinder the progression and reputation of private correctional facilities, and are causing some countries to reevaluate the allocation of inmates to private prisons."
Government resources:
Other resources:
We welcome feedback. Please contact us here.