Journalists frequently contact us looking for research on a specific topic. While we have published a number of resources on how to understand an academic study and how to pick a good one — and why using social science research enriches journalism and public debate — we have little on the mechanics of how to search. This tip sheet will briefly discuss the resources we use.
Google Scholar
Let's say we're looking for papers on the opioid crisis. We often start with Google Scholar, a free service from Google that searches scholarly articles, books and documents rather than the entire web: scholar.google.com.
But a search for the keyword "opioids" returns almost half a million results, some from the 1980s. Let's narrow down our search. On the left, you see options "anytime" (the default), "since 2013," "since 2016," etc. Try "since 2017" and the results are now about 17,000. You can also insert a custom range to search for specific years. And you can include patents or citations, if you like (unchecking these will slightly decrease the number of results).
Still too many results. To narrow the search further, try any trick you'd use with Google. (Here are some tips from MIT on how to supercharge your Google searches.) Let's look for papers on opioids published in 2015 that look at race and exclude fentanyl (Google: "opioids +race -fentanyl"). Now we're down to 2,750 results. Better.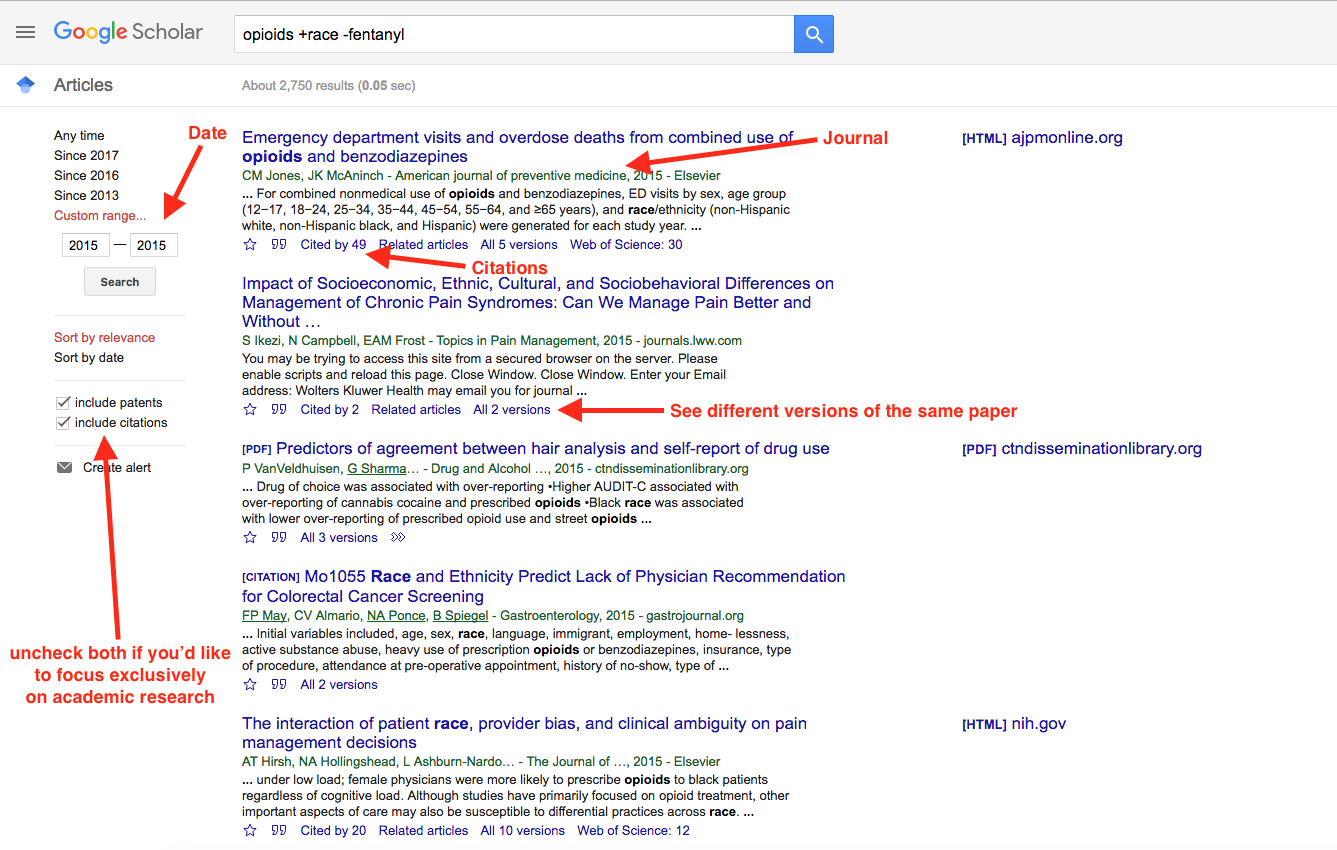 Unless you tell Google to "sort by date," the search engine will generally weight the papers that have been cited most often so you will see them first.
Try different keywords. If you're looking for a paper that studies existing research, include the term "meta-analysis." Try searching by the author's name, if you know it, or title of the paper. Look at the endnotes in papers you like for other papers. And look at the papers that cited the paper you like; they'll probably be useful for your project.
Paywalls
If you locate a study and it's behind a paywall, try these steps:
Click on "all versions." Some may be available for free. (Though check the date, as this may include earlier drafts of a paper.)
Reach out to the journal and the scholar. (The scholar's email is often on the abstract page. Also, scholars generally have an easy-to-find webpage.) One is likely to give you a free copy of the paper, especially if you are a member of the press.
In regular Google, search for the study by title and you might find a free version.
More tips on using Google Scholar from MIT and Google.
Other databases
PubMed Central at the National Library of Medicine: If you are working on a topic that has a relationship to health, try this database run by the National Institutes of Health. This free site hosts articles or abstracts and links to free versions of a paper if they are available. Often Google Scholar will point you here.
If you have online access to a university library or a local library, try that.
Subscription services include org and Web of Science.
For more on efforts to make scholarly research open and accessible for all, check out SPARC, a coalition of university libraries.
Citations as a measure of impact
How do you know if a paper is impactful? Some scholars use the number of times the paper has been cited by other scholars. But that can be problematic: Some papers cite papers that are flawed simply to debunk them. Some topics will be cited more often than others. And new research, even if it's high-quality, may not be cited yet.
The impact factor measures how frequently a journal, not a paper, is cited.
This guide from the University of Illinois, Chicago, has more on metrics.
What else?
Here's a useful source of new papers curated by Boston Globe columnist Kevin Lewis for National Affairs.
Another way to monitor journals for new research is to set up an RSS reader like Feedly. Most journals have a media page where you can sign up for press releases or newsletters featuring the latest research.
Relevant tip sheets from Journalist's Resource: