In the opening lines of their multiyear "Wires and Fires" investigation, Milwaukee Journal Sentinel reporters Raquel Rutledge, John Diedrich and Daphne Chen explain that fires caused by an inanimate force — electricity — discriminate by ZIP code.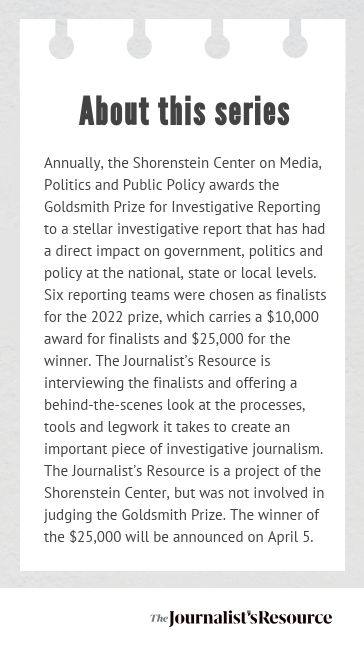 The story quickly moves to Patricia Colston, a mother and grandmother, and her friend Clarence Murrell. Both died in an Oct. 2019 electrical fire in a bungalow situated in the "already distressed 53206 ZIP code," the reporters write. 53206 and the surrounding areas are the "epicenter for electrical fire danger in the city."
Officials had done little to mitigate the electrical fire risk, the reporters explain in their Aug. 2021 story, the first in the three-part series. "The people affected the most: low-income Black renters," they write.
Opening their investigation with a description of electricity coursing through wires in residential walls — "out of sight" and "hardly noticed," taken for granted, "unless it jumps off course, escaping through a frayed wire, loose connection or overheated outlet" — was a conscious, deliberative choice.
"We really felt as we got into this that the electricity could be a character," Diedrich says. "It could be a tutorial moment for our readers and really for us. The reporting that went into that top, it really brought Raquel and us as well to become experts."
None of the reporters knew much about electrical wiring at the onset of the investigation. In an email to The Journalist's Resource, Rutledge recalls diving headlong into reports from fire investigators, trade journals and primers on electricity — plus watching video tutorials and reading product manuals related to wiring, in order to achieve a baseline of relevant concepts and installation procedures.
"I wanted to understand not only how the electrons move but how homes are wired," she explains. "And what happens, technically, when the wires and systems break down. Once I had a bit of foundation, I reached out to electrical engineers and interviewed multiple experts."
Story origins
The investigation began the Saturday morning when a fire, likely caused by faulty wiring, killed Colston and Murrell. Diedrich covered the fire shortly after it happened. He spoke with the families of the victims. Fire officials said it was a suspected electrical fire and would likely be ruled accidental, Diedrich recalls.
On Monday, Diedrich and Rutledge searched code violations at the property and began to examine its history of electrical violations gone unfixed. They realized the standard line from fire officials, that electrical fire equals accidental fire, meant the department didn't further investigate those fires.
"It's sort of the classic little brief in the paper that turns out to be a much bigger story when some digging happens behind it," Diedrich says.
Chen joined Rutledge and Diedrich on the story in Feb. 2021 to examine a large set of federal data related to fires. Chen specializes in data analysis. The reporters consulted industry and academic experts to understand which categories of information within the dataset indicated a suspected electrical fire. Once Chen cleaned the data, she mapped it.
"It was visually obvious that this was happening on the North side of Milwaukee, which is predominantly Black neighborhoods," Chen says. "Then we did some more data analysis, to prove that quantitatively."
They found that renters occupied around one-third of homes in the city from 2009 to 2019. But nearly two-thirds of suspected electrical fires happened in rental units.
"And nearly two-thirds of the fires took place in ZIP codes that are predominantly Black," the reporters write.
Providing readers with life-saving know-how
In the online presentation of the Aug. 2021 story, a map appears roughly a quarter of the way through the first article, with dozens of red dots representing the sites of electrical fires over the past decade in the 53206 ZIP code.
Then, about halfway through the article, a graphic appears showing a room with weathered green wallpaper and a framed picture hung between two sconces. Keep scrolling and the image zooms onto a wall switch with this explanation: "Sparks coming from a light switch are a sign of an incorrectly installed switch or damaged wiring."
The graphic continues to move around the room providing readers with information on signs of potential electrical trouble: flickering lights, discolored outlet plates, outlets overloaded with power strips and wires damaged by rodents or from nails used to hang pictures.
"We knew early on that visually we would have to go above and beyond," Chen says. "Electrical fires aren't that dramatic looking because they often start behind walls, they're not huge blazes necessarily."
It's a useful interactive graphic, placed in the middle of a compelling narrative in order to grab readers' attention — and to educate. Diedrich says that while reporting on the problem itself was important, the team also had an "obligation" to offer pragmatic information to help people recognize electrical problems in their own homes.
Leaning on academic and industry expertise
John Johnson, a research fellow who studies housing at Marquette University, and other academic researchers provided the investigative team with critical insights as they analyzed data and reported around Milwaukee.
"To have someone who's willing to double check you, make sure that what you're doing is statistically significant, that is huge," Chen says. "Oftentimes, there is someone who, they've made this their life's work. One of the experts we quoted, they call him Dr. Fire."
The reporters document landlords the city had notified of code violations but who hadn't fixed those problems, with some owing tens of thousands of dollars in fines. It illustrates the city government's lack of insight into the extent of electrical issues in Milwaukee homes.
To shed some light, the reporters, along with master electrician Bruce Janczak, visited a randomly selected sample of 50 single- and two-family rentals in 53206 during the spring and summer of 2021, as a follow-up to their initial investigation. (The idea originated with Milwaukee Journal Sentinel editor Sam Roe, Diedrich says.)
They offered renters a free electrical inspection, paid for through a grant from the Pulitzer Center on Crisis Reporting. "Renters in 15 units agreed to participate in the study," allowing the electrician into their homes, the reporters write.
The electrician found electrical fire hazards in every unit but one. Johnson, the Marquette researcher, told the reporters "considering the margin of error, the study indicates at least 80% of the 3,300 single and two-family rental properties in the ZIP code studied have electrical code violations."
Wisconsin Gov. Tony Evers called the initial investigation "gut-wrenching." The city is now considering bringing back an inspection program that had been shuttered and is launching a tenant education program about electrical safety. Several landlords who own the properties Janczak inspected said they would fix the problems right away.
In one of the stories in the series, Vytenis Babrauskas — the fire safety expert known as Dr. Fire within that research community — calls the reporters' study of randomly inspected properties "pioneering work."
Keep reading for tips on talking to sources about complex topics, working around official sources to obtain documents and conducting challenging interviews.
Tip 1: Ask sources, especially experts in a technical field, to explain their world as simply as possible.
If you don't understand what a source is telling you, odds are you will be unable to convey that information clearly to your audience. Particularly when interviewing someone who has years of experience in a specialized field, like home wiring, it's OK not to immediately grasp every concept or process they're telling you about. If something is unclear, ask them to go back through it again.
"I frequently found myself saying 'If you could please try to explain it to me as if I were a fifth grader, that would be great,'" Rutledge writes to The Journalist's Resource by email. "Then I would repeat back to them my understanding in the simplest terms to confirm."
Tip 2: Lean into the push-and-pull process of crafting a compelling narrative.
When writing an investigative series as a team, it's not unheard of to butt heads with colleagues about the direction of the narrative.
For the "Wires and Fires" lead, Rutledge was adamant that she wanted to start by framing electricity itself as a key character in the 53206 fires. Her editor wanted to start with a more traditional lead, with three stories of electrical fires, she recalls.
Rutledge won out. She explains that she and her editor "get along well enough to have heated conversations that usually, maybe always, make our stories better in the end."
Tip 3: Get involved with producing graphics, even if you don't specialize in multimedia.
Milwaukee Journal Sentinel senior video and multimedia producer Bill Schulz created the interactive graphic that informs readers about signs of electrical trouble in their homes. But the investigative team was involved every step of the way, from writing text to making sure the visuals matched their reporting.
"It was to the point where we were like, 'Hey, Bill, can you make the wallpaper look a little bit older because these electrical fires usually happen in older homes,'" Chen says. "It took a lot of effort and a lot of team collaboration, but I think it was worth it just to bring this issue that can be pretty technical alive in the eyes of viewers."
Tip 4: Work with people affected by an incident to obtain documents.
A government agency might be unwilling or unable to share official reports because of privacy laws or other reasons, but a person affected by an incident typically has the right to obtain those documents.
"When you're trying to get documents, and they might be fire documents as they are in this case, but particularly medical documents, it's very helpful to go with the person who is affected by it," Diedrich says.
He adds that he helped a source affected by a fire obtain the official report. It wasn't a quid pro quo — Diedrich's assistance navigating the official systems to get the report wasn't contingent on his being able to review it. But the source was willing to share.
Tip 5: Remember that even incomplete data can still be informative.
You might dream about compiling a comprehensive dataset that clearly exposes wrongdoing or systemic bias. That's not always going to happen. But remember that some data is better than none.
For example, the reporters obtained samples of rental assistance data spanning 2018 to 2020, finding that nearly $200,000 in tax dollars went to the owners of 62 single- and two-family homes with outstanding electrical violations.
"The actual numbers are likely much higher," they write.
Chen says that "data lives with a lot of different nonprofits and different branches of government who are all involved in distributing rent assistance. Not all of them were willing to give it to us, so we ended up with a small slice of that data. We were able to at least say, 'Hey, based on this small slice, here's what we can say about what's probably happening across Milwaukee.'"
Read the stories