Estimates vary for the economic value that commercial and wild bees provide to the U.S. economy through crop pollination, but they all boil down to "a lot." A 2014 fact sheet from the White House cites annual figures of $15 billion for commercial bees and $9 billion for their wild cousins. According to a 2014 report from the University of California, Davis, almonds alone add as much as $11 billion a year to the economy of California, the source of 80% of the world's crop — and 90% of it is pollinated by honeybees trucked from field to field.
But as much as we depend on bees and other pollinators, they're in trouble: Over the past 60 years the number of commercial beehives in the United States fell by nearly 60%, from 6 to 2.5 million. Historically, 10% to 15% of hives die each winter, but beginning in 2006, beekeepers were reporting loss rates of 30% to 90% — not just expensive, but unsustainable. While there had been reports of similar events as far back as the 1800s, the scale and scope of the phenomenon were unprecedented. Because the cause was unclear, it was given a descriptive name: colony collapse disorder (CCD).
As recently as 2012 CCD was described as a "mystery malady" — no clear villain, just empty hives and panicked farmers. Potential factors were everywhere: decreasing genetic diversity of wild and managed bees as well as the crops and plants they pollinate; the increase in parasitic varroa mites; a possible one-two punch from a virus-fungus combination; and a correlation between fungicides and bee infections. (Accusations were even leveled at cell phones based on the misinterpretation of a small study in Germany.)
Attention has also focused on the industrial substances so omnipresent in conventional agriculture in the United States — herbicides, pesticides and chemical treatments of all sorts. In the late 1990s "systemic" insecticides were developed, including neonicotinoids such as Imidacloprid and Clothianidin. While they were judged safe by the EPA at the time of release, some of the initial research was funded by the companies themselves. Based on more robust studies, the European Union temporarily banned neonicotinoids in January 2013, and subsequent research from the Harvard School of Public Health found that they can have "sublethal" effects on bees. And yet new factors continue to emerge: In January 2015, the tobacco ringspot virus was found to have made the leap from plants to bees and even the varroa mites that afflict them.
Angles for journalists covering these and related issues can include the crop and pollination practices of local farmers, the challenges of sustainably managing crop pests, urban beekeeping, and the status of local varieties of wild bees and conservation efforts. But before reporting, journalists should have a solid understanding of the latest science, which is complex and nuanced.
A 2015 research review published in Science, "Bee Declines Driven by Combined Stress from Parasites, Pesticides and Lack of Flowers," examines a broad range of risk factors for bees, including declining plant and insect diversity, the role of agrochemicals and climate change. The authors — Dave Goulson, Elizabeth Nicholls, Cristina Botías and Ellen L. Rotheray of the University of Sussex — review 170 studies in all, giving a comprehensive overview of the current state of knowledge on honeybee colony collapse disorder, its larger causes and potential impacts, and steps that can be taken to protect managed and wild insect pollinators.
Overview: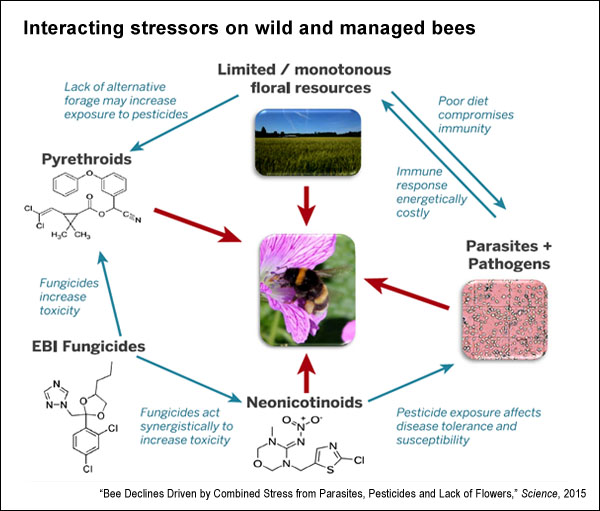 Factors that negatively impact managed and wild bee populations:
"Bees of all species are likely to encounter multiple stressors during their lives, and each is likely to reduce the ability of bees to cope with the others," the researchers conclude. "A bee or bee colony that appears to have succumbed to a pathogen may not have died if it had not also been exposed to a sublethal dose of a pesticide and/or been subject to food stress (which might in turn be due to drought or heavy rain induced by climate change, or competition from a high density of honeybee hives placed nearby)." While verifying the precise interactions is difficult, "a strong argument can be made that it is the interaction among parasites, pesticides and diet that lies at the heart of current bee health problems."
Solutions and best practices
The study indicates that many factors have contributed and continue to contribute to losses of managed and wild bees. Because there is no single key factor, taking steps to reduce the severity and number of stressors on bees is crucial. These include:
Because crop yields are more highly correlated with an abundance of wild pollinators than managed honeybees, maintaining the diversity of wild bee populations is particularly important. "Increasing honeybee numbers alone is unlikely to provide a complete solution to the increasing demand for pollination," the researchers note.
Related: The White House is also leading a cross-agency effort to improve the response to promote honeybee health.
Keywords: colony collapse disorder, Bayer CropScience, Monsanto, pollution, biodiversity, insects, bee hives, apiary, bee keeper