Fall 2014 highlights at the Shorenstein Center: Charles M. Blow, Miriam Elder and more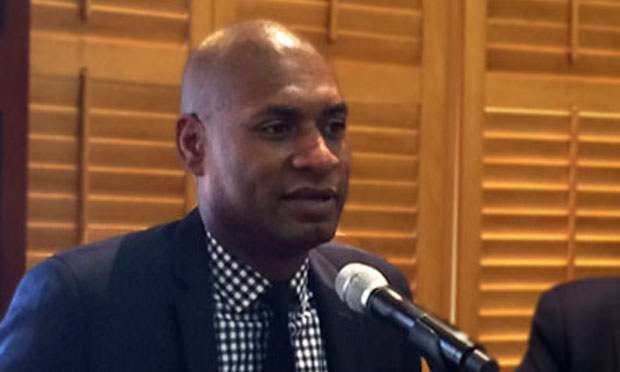 Throughout the academic year, the Harvard Kennedy School's Shorenstein Center hosts a weekly Speaker Series. Over the fall 2014 semester, these events have featured a wide variety of journalists and media thinkers, from Charles M. Blow of The New York Times to Miriam Elder of BuzzFeed. The topics of conversation have ranged from the rise of citizen journalism to the need to reform the U.S. presidential election system to promote greater democracy.
The following are six highlights from this fall's discussions. A full list of past Shorenstein Center events can be found in the calendar archive. You can also subscribe to the iTunes feed to hear these and future conversations.
______
Charles M. Blow of The New York Times: "Equality for everyone is not only right but is a moral imperative"
Journalist Charles M. Blow, author of the new memoir Fire Shut Up in My Bones, discussed his early career in journalism and the development of his distinctive, data-driven columns for The New York Times, which he said are motivated by "passion." Asked about his engagement with social media, where he has a wide audience, Blow said he uses Twitter in a range of ways: It functions as a "writer's notebook" and also as a "crowdsourcing" platform for early editing. Further, "people can help direct you to things you are not thinking about," he said, citing the Trayvon Martin case.
______
Investigative journalist Charles Lewis: Media-university partnerships needed to boost journalism — and civic integrity
Charles Lewis, a pioneering journalist who founded the Center for Public Integrity and who now serves as a faculty member at American University, said part of the future of investigative news involves new "hybrid" models that pair universities and media outlets. "These worlds are merging, and we need to acknowledge it and we need to tap it," he said, calling for the creation of a new discipline that he labeled "accountability studies."
______
Amy Walter of the Cook Political Report: Republicans likely to take U.S. Senate in 2014
Walter, the national editor of the Cook Political Report, said that the outcomes of the 2014 midterm elections have the potential not only to shift control of the Senate, but also to give a strong indication of where the country is headed into the 2016 presidential election. Still, Walter noted that despite perceived momentum on the Republican side in this election cycle, "Democrats are actually outspending Republicans right now in a lot of these races." And if Republicans don't pick up seats in competitive states, it could spell trouble for the GOP's future.
______
BuzzFeed's Miriam Elder: Thinking of new ways to cover the world
Putting the "new" back in "news" is the goal of BuzzFeed's growing coverage of global affairs, said Miriam Elder, foreign editor for the online media outlet. BuzzFeed World, which started in August 2013, has been hiring correspondents and "trying to think of new ways to cover the world," she told a Shorenstein Center audience. Elder, who previously worked for The Guardian in Russia, said that reporting for BuzzFeed has more similarities than differences compared with legacy news organizations: "What we do, at the end of the day, is meet people and pick up phones."
______
Hendrik Hertzberg, the New Yorker: Reform the presidential election system to promote greater civic health
Hertzberg, senior editor at the New Yorker and a longtime political commentator, discussed reform of presidential elections, advocating revision of the Electoral College system through a new state "compact" that would honor the national popular vote. The structural change would mean the end of "swing states," he said, and a greater focus on states that are frequently neglected by campaigns. It would promote greater "civic health" by helping to spur greater voter turnout.
______
Robin Sproul, ABC News: Reporting 'bundled' news in a highly competitive market
Sproul, recently promoted to vice president of public affairs for ABC News, outlined several ways that the news industry is evolving, and how a legacy news organization like ABC must work to maintain a high level of reporting. In particular, the rise of citizen journalism has changed the nature of reporting, Sproul observed. She said that she was "moved by the Ferguson coverage," when a local community came together to tell their own story in real time, and start conversations all around the country through social media.
Writer:
Journalist's Resource
| Last updated: October 23, 2014
We welcome feedback. Please contact us here.