Equal pay, gender wage gaps and "constantly moving goalposts": Review of 40 years of research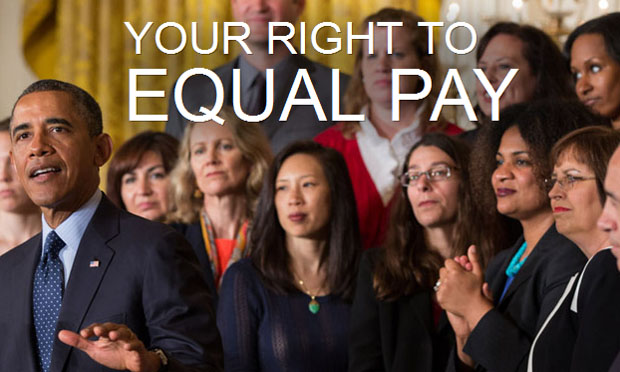 By Pooja Gupta
October 24, 2015
Despite progress in the fight for gender equality in the workplace, women continue to face a broad range of difficulties. While they've made strides in breaking through the "glass ceiling," they often face other challenges, including discrimination and sexism. A substantial gender pay gap persists around the world. In America, it is present from Wall Street to Silicon Valley to Hollywood. Even in the medical profession, there are substantial pay gaps.
The U.S. National Equal Pay Task Force issued a report in 2013 — 50 years after the 1963 Equal Pay Act, signed by President Kennedy as part of the "New Frontier" programs — and noted the following:
Over the last 50 years, the wage gap between women and men has closed by 17 percentage points. Women earned on average 59.8% of men's pay in 1963, and today, the wage ratio is 77%. The narrowing of the wage gap reflects in part larger economic changes affecting men and families. For instance, a change in the wage gap results not only from a raise in women's real earnings (those adjusted for inflation), but also from a drop in real earnings for men since the mid-1970s. Women's real earnings have increased by about 71% from $21,646 in 1960 to $37,118 in 2011, while men's earnings have increased at a significantly lower rate, 35%, from $35,675 in 1960 to $48,202 in 2011.
To better understand the causes and remedies for this gap, scholars have examined the role of workplace competition and its effect on female employment, as well as how long days and "overwork" could affect wages. Yet the precise causes of the gap are complicated, and it can be difficult to keep up with the nuanced research history (see the Gender Action Portal, from the Women and Public Policy Program at Harvard Kennedy School), even as progress slowly moves forward. In 2009, President Obama signed the Lilly Ledbetter Fair Pay Restoration Act, which removed the statute of limitations for persons filing pay discrimination claims with the U.S. Equal Employment Opportunity Commission (EEOC).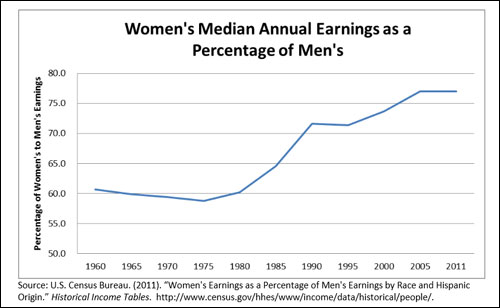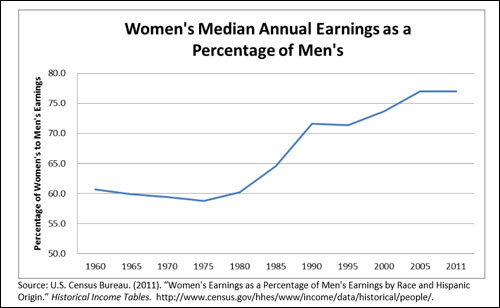 In a 2014 article in the Cambridge Journal of Economics, "The 40-year Pursuit of Equal Pay: A Case of Constantly Moving Goalposts," authors Jill Rubery and Damian Grimshaw of the University of Manchester examine scholarly literature relating to Europe and the United States within four analytical perspectives: economic, sociological, institutional and organizational. Their thesis is that when there has been identifiable progress toward improved equality, the "goalposts" have moved, and thus gender pay equality proves to be an elusive target.
The paper usefully reviews and defines the long research history, noting highlights and turns: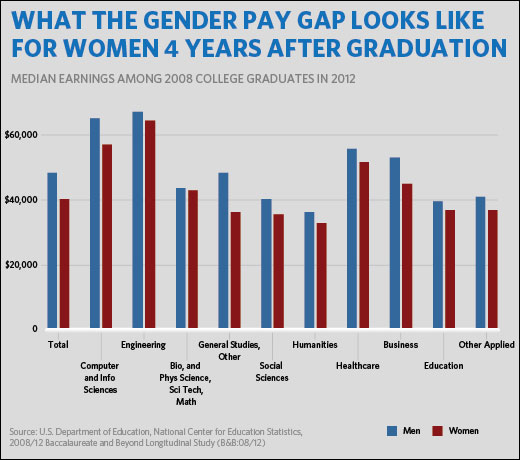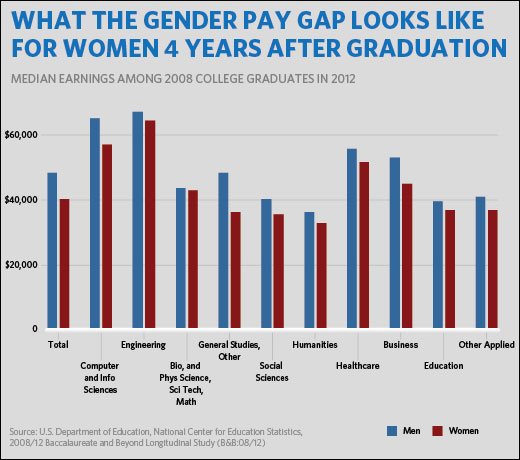 Rubery and Grimshaw conclude that there is no all-encompassing explanation for the persistence of gender pay inequality, but certain rules of the game have made achieving gains difficult: "The moving goalposts are clearly related to the ever-widening wage distribution, the changing principles of pay formation and the reduced capacity of trade unions to promote equal pay due to the shrinkage of collective bargaining coverage." Furthermore, "gender equality in pay is perhaps unlikely to be achievable while gender inequality and misogyny still pervade public and private life…. Policies and measures to reduce gender pay gaps thus need constant monitoring and reinforcement; the search for gender pay equality can perhaps be expected to remain both elusive and in need of continuous attention."
Related research: A 2015 study in the Cambridge Journal of Economics, "Equal Pay as a Moving Target: International Perspectives on Forty Years of Addressing the Gender Pay Gap," offers insight into the factors impacting the gender pay gap in the United Kingdom, Europe and Australia. A 2014 paper in the American Political Science Review, "Uncovering the Origins of the Gender Gap in Political Ambition," highlights a number of possible explanations for the gender gap in terms of political ambition of females in the United States. In "A Grand Gender Convergence: Its Last Chapter," Harvard University's Claudia Goldin presents the case for why temporal flexibility in job structure is the last remaining hurdle for women to achieve pay parity. In "A Nuanced Approach to Leaning In," Hannah Riley Bowles of the Harvard Kennedy School investigates the gender dynamics of negotiating over salary.
keywords: gender discrimination, misogyny, parenting, women and work

We welcome feedback. Please contact us here.
Citation: Rubery, Jill; Grimshaw, Damian. Cambridge Journal of Economics, 2014. doi: 10.1093/cje/beu053.