Pew Research: Twitter and the 2012 campaign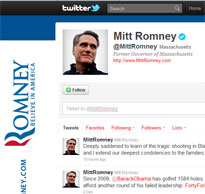 By John Wihbey
December 9, 2011
The widespread adoption of Twitter as a platform on which to talk about politics and advocate for candidates has changed the way campaign operatives think about strategy — and the way that many citizens engage in the campaign.
According to a December 2011 analysis of the current presidential nominating contest by the Pew Research Center's Project for Excellence in Journalism, the "number of statements about candidates on Twitter vastly outnumber those offered in blogs by a factor of more than 9 to 1." Because of Twitter's intrinsic speed and flexibility, this means that certain dynamics around the campaign may be becoming more volatile and "fluid," subject to shifts and the viral proliferation of information.
The Pew Research report, "Twitter and the Campaign," looks at media data from May to November of 2011 — comparing traditional press coverage and blog discourse with that displayed on Twitter — to see how this important trend is affecting American politics.
Key findings in the report include:
Overall, discussion about presidential candidates on Twitter is more negative: "One distinguishing factor about the campaign discourse on Twitter is that it is more intensely opinionated, and less neutral, than in both blogs and news. Tweets contain a smaller percentage of statements about candidates that are simply factual in nature without reflecting positively or negatively on a candidate."
Discourse about former House Speaker Newt Gingrich has changed in late 2011: "People are not only talking about Gingrich more in tweets in recent weeks, they are also talking more positively. Indeed, after 25 straight weeks in which the discussion about Gingrich on Twitter was more negative than positive — usually by double-digit differentials sometimes as large as 57 points — the Twitter consensus has shifted with Gingrich's new poll numbers. He enjoyed two clearly positive weeks in late October, though that eased to a more mixed view in November."
This Twitter trend stands in contrast to Gingrich's coverage in the traditional press: "For the full seven months studied, Gingrich has had the most unflattering narrative in news coverage of any GOP contender — 17% positive, 33% negative and 50% neutral."
For former Massachusetts governor Mitt Romney, the overall tone on Twitter was "far more negative than positive — 19% positive, 40% negative and 41% neutral. That is distinctly different from and less flattering than the mixed assessments he generated both in blogs (33% positive, 35% negative, 32% neutral) and in the news media (25% positive, 28% negative, 47% neutral)."
"President Obama's negative evaluations on Twitter outweighed his positive ones by 3 to 1. But overall on Twitter, as is true in blogs, other candidates have received rougher treatment than the president. Obama's most sharply negative assessment has come from the news media, not social media."
Of all the candidates examined, Congressman Ron Paul has enjoyed the most favorable tone on Twitter. "From May through November, fully 55% of the assertions about the Texas Republican on Twitter have been positive — the highest of any candidate — while 15% have been negative — the lowest percentage of any candidate. That is a differential for Paul of 40 points on the positive side."
For the authors, the findings suggest that "neither Twitter nor blogs function in general as a form of vox populi that either reflects or anticipates changes in public mood as expressed in representative samples of the population in polling. Sometimes these social media move with polls, but often they do not."
Tags: technology, elections, presidential primary, Twitter, campaigns and media, social media

We welcome feedback. Please contact us here.