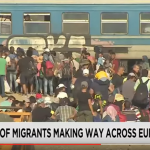 Migration patterns: Are more people immigrating?
Last updated: September 18, 2015
2014 study from the University of Oxford that examines global migration patterns during the second half of the 20th century with a focus on trends related to the direction, intensity and distance of international migration.
The untold story of Chinese restaurants in America
Last updated: June 10, 2015
2015 research brief highlighting the dynamic interaction between exclusionary legal policies and immigrants' adaptive strategies, by Heather R. Lee, Massachusetts Institute of Technology.