Predicting Tie Strength With Social Media
Tags: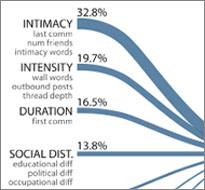 Research Findings
As social media ecosystems have developed over time, questions over the dynamics between the online and real worlds — the degree to which they overlap — have been the subject of speculation, debate and research. What sorts of correlations can be drawn between online interactions and face-to-face friendships?
A 2009 paper by the University of Illinois at Urbana-Champaign, "Predicting Tie Strength With Social Media," used 70 different numerical indicators from more than 2,000 Facebook friendships to predict the real-world tie strength of the interpersonal relationships.
Findings of the paper include that:
A model based on seven factors, including the level of Facebook intimacy, communication intensity and friendship duration, was able to predict with 85% accuracy the strength of real-world interpersonal ties between Facebook friends.
Structural factors such as "common stated interests" and "shared online groups" were not individually predictive of strong ties; however, when they were viewed in conjunction with other factors of online intimacy, they were strongly predictive of tie strength.
Factors not available to the researchers — who "friended" whom, for example — are hypothesized to be strongly predictive of tie strength when analyzed alongside traits of the online relationship.
This study has implications for social-network services, including mechanisms of friend introductions, privacy controls and group creation, the researchers note.
Tags: technology, Facebook, Twitter

Teaching Notes
Analysis assignments
Read the study titled "Predicting Tie Strength With Social Media."
Summarize the study in fewer than 40 words.
Express the study's key term(s) in language a lay audience can understand.
Evaluate the study's limitations. (For example: Do the results conflict with those of other reliable studies? Are there weaknesses in the study's data or research design?)
For more analysis, see the study-related blog post, "Predicting Tie Strength With Social Media."
Newswriting assignments
Write a lead (or headline or nut graph) based on the study.
Spend 60 minutes exploring the issue by accessing sources of information other than the study. Write a lead (or headline or nut graph) based on the study but informed by the new information. Does the new information significantly change what one would write based on the study alone?
Interview two sources with a stake in or knowledge of the issue. Be prepared to provide them with a short summary of the study in order to get their response to it. Write a 400-word article about the study incorporating material from the interviews.
Spend additional time exploring the issue and then write a 1,200-word background article, focusing on major aspects of the issue.
3 comments
Leave a comment