Pew Research Center: Cell Internet Use 2012
Tags: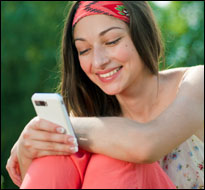 Research Findings
Cell phone ownership rates in the United States grew from 82% in 2007 to 88% in 2012, according to a Pew Internet and American Life Project survey. As access to free or low-cost networks continues to grow, to what extent are these mobile devices being used to access the Internet?
The 2012 Pew survey, "Cell Internet Use 2012," investigated the extent to which cell phones are being used for online activities. The project conducted a national cell phone survey of 2,254 adults and 903 interviews from March 15 to April 2, 2012.
Key study highlights include:
Among American adults who owned a cell phone in spring 2012 — an estimated 88% of the population — a majority of these owners (55%) used their phones to access online content. This represents a 24 percentage point increase from the number of cell phone owners who accessed the Internet from their mobile phones in 2009 (31%).
High rates of mobile Internet use were found among 18-24 year olds (75%) and 35-44 year olds (68%), Blacks and Latinos (approximately 67%), urban (62%) and suburban (56%) residents. "The fastest-growing group… is 25-34 year olds — fully 80% of cell owners in this age group now use their phones to go online, a 37-point increase from the 43% of such cell owners who did so in 2009."
While nearly 70% of senior citizens own a cell phone, only 16% of them used them to access the Internet. (This may be connected to the proliferation of low-cost calling plans tailored for elderly users that typically offer limited online access.)
Of those who access the Internet from their cell phones, 31% — and 17% of all adult phone owners — reported that they go online primarily from their mobile devices. Phone owners with education levels of some college or less (84%), and household incomes of less than $30,000 (43%), used their phones as the primary method of accessing online content, as did Blacks (51%).
The most common reasons cited for using a cell phone instead of a computer to go online were the convenience and availability of mobile devices. However, 10% of those who used their phones primarily to go online stated that they did so because of unreliable Internet access at home, school or work.
The report notes that the large increase in cell phone Internet usage in the past two years corresponds to the increase of smart phone users in the same time period.
Tags: consumer affairs, infrastructure, technology, telecommunications, mobile tech

Teaching Notes
Media analysis
Read the issue-related Austin-American Statesman article titled "Can Mobile Phones Narrow the Digital Divide?"
What key insights from the news article and the study in this lesson should reporters be aware of as they cover issues relating to the digital divide and cell phone use?
Study analysis
Read the full study titled "17% of Cell Phone Owners Do Most of Their Online Browsing on Their Phone, Rather than a Computer or Other Device."
What are the study's key technical term(s)? Which ones need to be put into language a lay audience can understand?
Do the study's authors put the research into context and show how they are advancing the state of knowledge about the subject? If so, what did the previous research indicate?
What is the study's research method? If there are statistical results, how did the scholars arrive at them?
Evaluate the study's limitations. (For example, are there weaknesses in the study's data or research design?)
How could the findings be misreported or misinterpreted by a reporter? In other words, what are the difficulties in conveying the data accurately? Give an example of a faulty headline or story lead.
Newswriting and digital reporting assignments
Write a lead, headline or nut graph based on the study.
Spend 60 minutes exploring the issue by accessing sources of information other than the study. Write a lead (or headline or nut graph) based on the study but informed by the new information. Does the new information significantly change what one would write based on the study alone?
Compose two Twitter messages of 140 characters or fewer accurately conveying the study's findings to a general audience. Make sure to use appropriate hashtags.
Choose several key quotations from the study and show how they would be set up and used in a brief blog post.
Map out the structure for a 60-second video segment about the study. What combination of study findings and visual aids could be used?
Find pictures and graphics that might run with a story about the study. If appropriate, also find two related videos to embed in an online posting. Be sure to evaluate the credibility and appropriateness of any materials you would aggregate and repurpose.
Class discussion questions
What is the study's most important finding?
Would members of the public intuitively understand the study's findings? If not, what would be the most effective way to relate them?
What kinds of knowledgeable sources you would interview to report the study in context?
How could the study be "localized" and shown to have community implications?
How might the study be explained through the stories of representative individuals? What kinds of people might a reporter feature to make such a story about the study come alive?
What sorts of stories might be generated out of secondary information or ideas discussed in the study?