2008 Presidential Election, 2.0: Content Analysis of User-Generated Political Facebook Groups
Tags: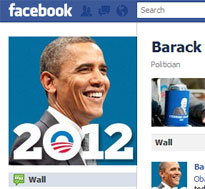 Research Findings
Political campaigns embraced online media such as websites and blogs in the 2004 presidential election. However, campaign 2008 was truly the first time that Web 2.0 technologies — those that allow for more wide-open social interactivity and networking — played a major role in a presidential race. One outstanding research question remains whether or not such technologies will ultimately narrow or broaden the marketplace of ideas to which citizens are exposed.
A 2010 study by Pennsylvania State University researchers published in the journal Mass Communication and Society, "The 2008 Presidential Election, 2.0; A Content Analysis of User-Generated Political Facebook Groups," examines the dynamics of user-generated Facebook groups relating to presidential candidates Barack Obama and John McCain. The researchers examine 139 candidate-themed Facebook pages for visual and textual references on November 3, 2008 (the day before the election), and coded each referent as conveying a positive, negative, or neutral connotation. The researchers look broadly at questions of Internet polarization — the phenomenon of citizens gathering in increasingly more narrow ideological groups and information environments.
Key study findings include:
User-generated Facebook pages pertaining to Barack Obama were more popular and more active than those pertaining to John McCain; an Obama page averaged 10,345 friends and 635 posts, while a McCain page averaged 1,350 friends and 264 posts.
Comments referring to Obama were 47% positive and 19% negative; comments referring to McCain were 31% positive and 28% negative.
 "Obama-focused pages also contained a higher number of references to race, whereas McCain-focused pages featured a significantly greater number of instances of profanity."
 Age and race comments with positive connotations on McCain-focused sites were virtually nonexistent; however, 56% of all age-related comments were negative ones directed towards McCain.
"The presence of [age-related, race-related] referents could be reflective of the dominant themes on Facebook but more plausibly reflect themes that were prevalent in mainstream media at the time."
The findings "may suggest that people are using Facebook groups to gather rather than share information, or possibly as a mere token gesture of support for a certain candidate or publication of their political allegiances."
The researchers note that Facebook groups featuring McCain were "overwhelmingly negative. Although this might not be surprising given the fact that younger demographics of people more heavily supported Obama, it leads to greater questions about the use of social media as a tool for promoting dialogue between people of different political allegiances."
Tags: Facebook, presidency, campaigns and media, social media

Teaching Notes
Note to instructor: The suggested assignments are designed for flexibility. They can be used in whole or part and can be adapted to a particular task -- for example, the newswriting assignments could be applied to the writing of the headline, the lead, the nut graph or the full story. Material from the assignments could also be combined with other material, for example, in the writing of a background, feature or local-angle story.
Analysis assignments
Read the Mass Communication and Society study "The 2008 Presidential Election, 2.0; A Content Analysis of User-Generated Political Facebook Groups."
Summarize the study in fewer than 40 words.
Express the study's key term(s) in language a lay audience can understand.
Evaluate the study's limitations. (For example: Do the results conflict with those of other reliable studies? Are there weaknesses in the study's data or research design?)
View this TED Talk by Eli Pariser, author of "The Filter Bubble."
How might journalists report on the issues raised in the study and talk -- namely, the connection between Internet communications platforms and ideological narrowness?
Newswriting assignments
Write a lead (or headline or nut graph) based on the study.
Spend 60 minutes exploring the issue by accessing sources of information other than the study. Write a lead (or headline or nut graph) based on the study but informed by the new information. Does the new information significantly change what one would write based on the study alone?
Interview two sources with a stake in or knowledge of the issue. Be prepared to provide them with a short summary of the study in order to get their response to it. Write a 400-word article about the study incorporating material from the interviews.
Spend additional time exploring the issue and then write a 1,200-word background article, focusing on major aspects of the issue.