Who Doesn't Value English? Debunking Myths About Mexican Immigrants' Attitudes Toward the English Language
Tags: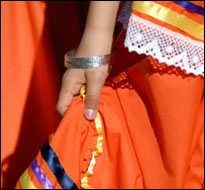 Research Findings
Though migration from Mexico to the United States has slowed considerably in recent years, one persistent point of controversy embedded in the immigration reform debate relates to the use of Spanish in communities across America — and some new arrivals' alleged unwillingness to learn and use English.
A 2012 study published in Social Science Quarterly, "Who Doesn't Value English? Debunking Myths About Mexican Immigrants' Attitudes Toward the English Language," examined the importance that U.S. immigrants, particularly those from Mexico and Latin America, placed on learning English. The researchers, from the University of Illinois at Urbana-Champaign, the University of Texas at San Antonio and the University of Texas at Austin, analyzed data from the Survey of Texas Adults, which included 1,500 participants over the period 2003-2004. Respondents answered the question "How important is it that citizens be able to speak and understand English?" and provided additional demographic background.
Half of the respondents were Anglo and about a third of Mexican origin or descent. The average survey respondent was 35 years old with some college education but no degree; earned an annual income between $35,000 and $84,900; and leaned conservative politically.
Key study findings include:
Only 2% of all study participants, regardless of race or immigration status, claimed that learning English was "not too important" or "not important at all."
"Spanish-dominant speakers place a high importance on speaking English, more so than do English speakers. While this might seem counterintuitive to some, it is easy to see how immigrants are constantly reminded of the problems they face in the workplace and the public sphere without English proficiency."
Participants who chose to have their telephone interviews conducted in Spanish were three times more likely than Anglos to claim that English-language ability is "very important." On average, women also valued learning English more than men did. Further, the researchers "found no evidence of income variations in the emphasis placed on English."
Respondents ages 50 to 64 were nearly four times more likely than those younger or older to believe that English fluency is "very important."
Texas-born Mexican-Americans and immigrants who have become American citizens placed less emphasis on learning English. "For the former, this may indicate a show of solidarity with immigrants who face increasing hostility in the media; for the latter, this may reflect an acknowledgment that in some areas with a high concentration of Spanish speakers, immigrants may be able to get by without English. It is important to note that both groups still overwhelmingly believe that English is 'important,' if not 'very important.'"
This controversy should be seen in the context of a large body of prior research on assimilation in the United States, relating to generations of previous immigrant groups. "Studies suggest the second generation is increasingly proficient in English as their dominant language, and by the third generation, the grandchildren of immigrants are often no longer proficient in any language other than English."
"Our findings raise serious questions about the accuracy of widespread claims by commentators, politicians and the general public alike that Mexican immigrants simply do not desire to learn English," the researchers conclude.
Tags: campaign issue, Hispanic, Latino
Teaching Notes
Media analysis
Read the issue-related U.S. News and World Report article titled "Mexican Immigrants Prove Slow to Fit In."
What key insights from the news article and the study in this lesson should reporters be aware of as they cover issues related to Latino assimilation in the United States?
Study analysis
Read the study titled "Who Doesn't Value English? Debunking Myths About Mexican Immigrants' Attitudes Toward the English Language."
What are the study's key technical term(s)? Which ones need to be put into language a lay audience can understand?
Do the study's authors put the research into context and show how they are advancing the state of knowledge about the subject? If so, what did the previous research indicate?
What is the study's research method? If there are statistical results, how did the scholars arrive at them?
Evaluate the study's limitations. (For example, are there weaknesses in the study's data or research design?)
How could the findings be misreported or misinterpreted by a reporter? In other words, what are the difficulties in conveying the data accurately? Give an example of a faulty headline or story lead.
Newswriting and digital reporting assignments
Write a lead, headline or nut graph based on the study.
Spend 60 minutes exploring the issue by accessing sources of information other than the study. Write a lead (or headline or nut graph) based on the study but informed by the new information. Does the new information significantly change what one would write based on the study alone?
Compose two Twitter messages of 140 characters or fewer accurately conveying the study's findings to a general audience. Make sure to use appropriate hashtags.
Choose several key quotations from the study and show how they would be set up and used in a brief blog post.
Map out the structure for a 60-second video segment about the study. What combination of study findings and visual aids could be used?
Find pictures and graphics that might run with a story about the study. If appropriate, also find two related videos to embed in an online posting. Be sure to evaluate the credibility and appropriateness of any materials you would aggregate and repurpose.
Class discussion questions
What is the study's most important finding?
Would members of the public intuitively understand the study's findings? If not, what would be the most effective way to relate them?
What kinds of knowledgeable sources you would interview to report the study in context?
How could the study be "localized" and shown to have community implications?
How might the study be explained through the stories of representative individuals? What kinds of people might a reporter feature to make such a story about the study come alive?
What sorts of stories might be generated out of secondary information or ideas discussed in the study?